The Magic of an Intimate Christmas Dinner
---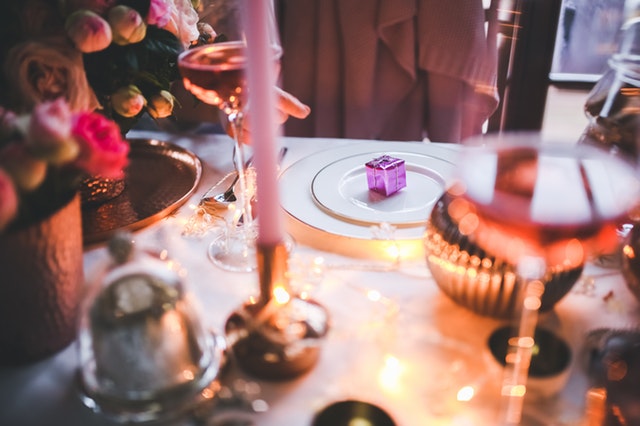 It's fun to invite a large group for Christmas or Christmas Eve dinner but hosting an intimate gathering for four is a special opportunity to show you care. You will have a chance to plan and prepare a special meal and serve dishes that might not work well for a crowd. Plus, there will be plenty of time to savor your friends and family and cherish favorite memories. Here are a few tips to make your Christmas dinner an event to remember long after the holiday season is gone.
Start with Your Table
You may have heard your mom say she'd rather spend money on flowers than an extra desert. When it comes to setting a magical holiday table, we think that's excellent advice. Start planning your Christmas dinner by deciding where you want to serve it and how you want to decorate the room. If you live in a small apartment, a card table accented with a festive tablecloth and pretty dishes is fine. (Just remember to serve the wine in real glasses and to light plenty of candles.) And if your table is too small for a centerpiece, head to your local farmer's market and fill the room with flowers. If you live in a wintry climate, create a holiday wonderland with lots of evergreens and pretty branches.
Next, Plan and Plan Again

Planning a successful dinner party is all in the details. First, a few weeks before the big day, check and be sure you have enough dishes, glasses, serving pieces, etc. (Mixing and matching is a popular trend.) Next, decide what beverages you'd like to serve and order or purchase your wine in advance.  In addition, buy any non-perishable extras such as nuts and condiments.[1]  Then decide on your menu and choose dishes that won't keep you tethered to the kitchen. (When you are hosting an intimate Christmas dinner, you will want to spend time at the table!) Finally, a few days before Christmas, pick up your fresh veggies, flowers and the meat, fish or poultry. However, order turkeys, etc. in advance or you might discover the organic bird or cut of grass-fed beef you want is sold out.
And Now the Menu

You've decked the halls and chosen your menu with care. Now it's time to pick recipes for your special holiday dinner. We like these classic selections from the chefs at Montage Laguna Beach. From a seared diver or pomegranate-apple salad to truffle butternut squash puree to a duck confit with the carrots of your dreams, you will wow your guests with these festive holiday dinner recipes.
Invited to a holiday party? Surprise your host or hostess with a Spafinder Gift Card.
Find more holiday recipes and entertaining tips.
[1] Food & Wine, "The Ultimate Holiday Dinner Party Guide," Christine Quinlan, November 2018