The Spas of Ireland
---
Céad míle fáilte romhat, a hundred thousand welcomes to you, is an old Irish blessing and also sums up the way of life on the Emerald Isle. The people of Ireland create a welcoming, almost whimsical atmosphere that permeates nearly ever facet of life here.
The openness of the Irish people can also be found in the country's spas, each of which takes a different approach to health and beauty. Some are more about indulgence than deprivation. At these spas it's considered perfectly normal to settle down with a pint or two at a now smoke-free local pub after a vigorous day of yoga. At others (mainly health farms), strict regimens of detoxification or weight loss can be found.
Spa treatments are also more varied than ever. Due to a thriving economy and an influx of immigration (for the first time in more than a century more people are moving to the country than are leaving), Ireland is able to import spa services from around the world. It's now common to find Ayurveda, reiki, lomi lomi massage, and balneotherapy—all at one spa.
Ulster
Located at the northern tip of Ireland, and almost entirely surrounded by water, Ulster is comprised of cliffs, rolling hills, lakes, and mountain ranges. The variety of landscapes provides environmental wonders such as Giant's Causeway — thousands of hexagonally-shaped basalt columns formed 60 million years ago by cooling volcanic lava. An ancient Irish legend claims the formation was the path that giants took to Scotland.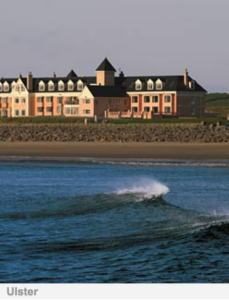 As is common in Ireland, many of Ulster's spas make use of their proximity to the ocean by offering balneotherapy, treatments that use water to restore and revitalize the body. Since antiquity, balneotherapy has been used to improve circulation, fortify the immune system, and relieve pain and stress. Mineral salts and seaweed are also often found in treatments.
While not in the spa, you can take a relaxing walk through the Mourne Mountains or enjoy a pint and folk music at a local pub.
Munster
The province of Munster can be summed up in one word: contrast. You can travel through its verdant countryside and see some of the country's oldest castles and small harbor towns. Or you can witness the workings of the Celtic Tiger (the name the Irish give to the recent economic boom) in the bustling cities of Cork and Killarney.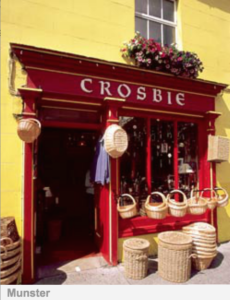 The Celtic Tiger not only brought about change to Munster's cities, but also changed the varieties of spa treatments offered. The economic boom brought with it the presence of foreign cultures and can be seen in treatments such as endermologie and La Stone therapy.
It's easy to enjoy the natural beauty of the region. The five peninsulas, formed by a mountain range, are made up of alternating rocky and sandy coves that extend from the southwest corner of the island into the adjoining sea like a hand. Sailing is popular in small harbor towns such as Dingle, and biking through the mountains and rolling hills allows for enjoyable exercise.
Leinster
Despite containing more than half the population of the Republic of Ireland, Leinster is far from crowded. The province is a series of mini-regions, all distinctive in their geography, culture, and attractions. One can visit the bustling city of Dublin or the leisurely Wicklow countryside, also known as the "Garden of Ireland."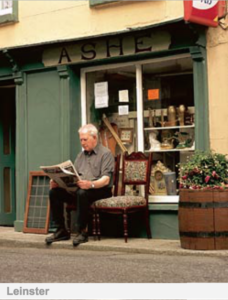 In addition to the standard hydrotherapies of Ireland, many Leinster spas also offer cryotherapies (which use a cold, sea-based solution) or a variety of algotherapies made up of algae indigenous to Ireland.
When touring the province of Leinster, you can see the appreciation of nature that has long been incorporated into the local culture. Boyne Valley contains Neolithic ruins such as Newgrange, a 5,000-year-old tomb illuminated internally each year by the sunrise of the winter solstice. Spa-goers can also walk along the Cooley peninsula, which is said to be the ancient route that the mythological pre-Celtic lords of Ireland took to battle.
Connaught
Connaught served as the muse for W.B. Yeats, inspiring his poetic masterpieces. This province is exemplary of the images most people have of Ireland: wild landscapes, dry stone walls, the undulating waves of the Atlantic Ocean, rolling fog, rugged cliffs, limestone formations, and an ever-present Gaelic language and culture. Many of the spas of Connaught incorporate the natural environment into their treatments by offering guests cold fog showers and rock saunas.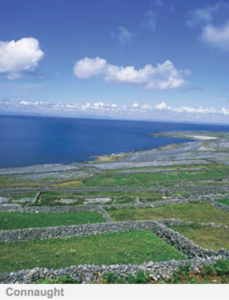 Spa-goers can become immersed in traditional Irish culture here: Celtic motifs adorn buildings' facades, and shops are given Gaelic names in cities and villages across the province. Medieval Gaelic and Norman castles line the coastal areas.
Maireann croí éadrom i bhfad, or a light heart lives longest, is an old Irish proverb that the inhabitants of Connaught live by and pass on to all who visit their beautiful province.