Top Four Spa Getaways You Need to Try
---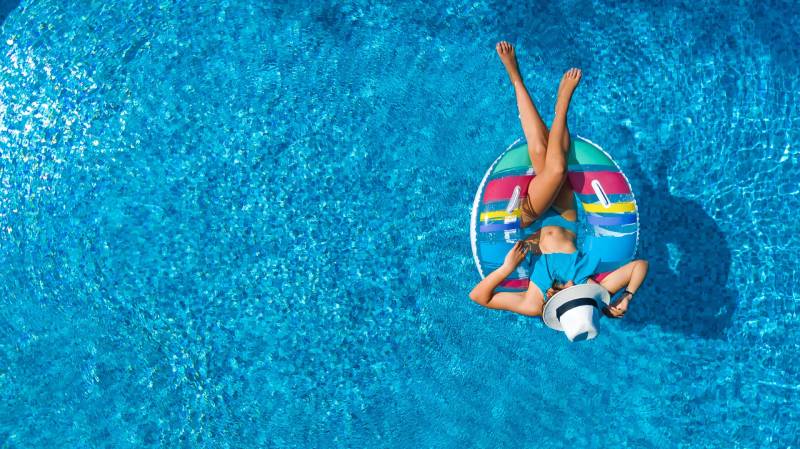 We love the act of self-care in the form of a spa day or weekend getaway. However, the ideal setting is different for all. Some like to stay active on spa-cations, taking hikes, tennis lessons, or Pilates classes in between hot stone massages. Others, however, are all about relaxing and doing nothing but enjoying themselves. We're all for it! Whether you're lying on your cozy bed, a massage table, or a poolside recliner, this relaxation love language has been celebrated for centuries. And we can help find the ideal spa day getaway for activity enthusiasts, mellowness fiends, and everybody in between.
Whether you're hoping to swim between spa treatments, sweat it out, or lay poolside with your favorite people, the best spa vacations are right within your reach. Try our picks for the top four spa getaways to get the best spa experience for you and your crew.
Wellness Jumpstart
Wellness is defined as the act of developing positive habits to improve physical and mental health. Miraval does precisely this and so much more. There are three Miraval resort locations around the country — Arizona, Massachusetts, and Texas. Each one delivers its own brand of wellness activities to calm the mind and body, while also having things in common. For example, the unplugged aspect called "Miraval Mode" prohibits residents from using technology except for certain areas. This helps you live in the moment, along with a variety of other activities that decrease stress levels and improve self-care. We've established that Miraval is a top spa getaway for wellness enthusiasts, but which location should you choose? That's up to you.
The Austin, TX, location is action-packed and ideal for the outdoor enthusiast, complete with an equestrian station, challenge course expansion, and archery area to get your body moving. Berkshire is a bit more tranquil, located in a small New England town with lush green backdrops and homey vibes that help you relax and reflect. As for the original Miraval resort in Tucson, Arizona? It's a beautiful mix of nature and nourishment that lets you hike along with cactuses and soak up the sun one day before relaxing poolside and getting a perfect facial the next.
Outdoor Adventure
Looking for an outdoor adventure that includes hot yoga and healthy skin in a beautiful setting? Look no further than Sanctuary Camelback Mountain Resort & Spa as one of our favorites spa getaways. This Scottsdale, AZ, treasure is an extraordinary boutique resort set on 53 acres and enhanced by perfectly Instagram-worthy sunsets over the deep red rocks. The best part? You'll get a full view of these natural landscapes while doing your favorite outdoor activities. Activities includes yoga, tennis lessons, hiking, and more! There's also a full fitness center that's indoors but features glass windows for the best view of that mega-blue Arizona sky. The outdoor amenities are destined to tire you out. So don't forget to visit the critically-acclaimed spa at Sanctuary Camelback for Asian-inspired treatments that combine ancient beauty rituals with modern wellness techniques.
Pure Pampering
There's absolutely nothing wrong with wanting to be pampered, and those with the urge to splurge need to spend their spa-cation at The Ritz-Carlton in Fort Lauderdale, FL. If the name alone sounds fancy, that's because it is… and just wait until you see the relaxing amenities. This seaside resort has everything for your pampering needs — including a heated infinity pool on a 29,000-square-foot tropical deck, VIP oceanfront cabanas, and a signature waterfront restaurant. Practically every inch of this resort comes with a breathtaking ocean view, even the spa!
If you need context for just how extravagant the spa is at The Ritz-Carlton, it's 8,500 feet. That's around the size of your typical Florida mansion! It features 10 treatment suites for solo spa-cationers, couples, and girls getaways. Plus, treatments provide organic and active botanical treatments that incorporate the magic of the sea into your skincare routine. Will you be getting a seaweed wrap, ocean-sea salt glow facial, or sapphire sea ritual? Our suggestion is to stretch out your stay. And try all these treatments throughout the week, because you deserve to pamper yourself at this Florida paradise.
Ocean Extravaganza
Surf's up on your spa getaway! Those who love the ocean will be enamored by the Hyatt Regency Huntington Beach Resort & Spa, as H2O is basically the central focus of this resort. First, you are you located right on the water with a perfect view of the Pacific Ocean. Next, you are also surrounded by a big pool with access to water-themed, wellness-inducing spa treatments. (Think Sea Stone and Coconut Island massages.) The shopping and spa treatments are enough reason to lounge inside the resort all day.
But we also recommend you explore outside at this favorite of our spa getaways. You're located mere steps from the shores of Huntington Beach, the Orange County paradise known for its excellent surfing, beachside bonfires, and laid-back atmosphere. You'll be in full beach babe mode with a spa-cation at Hyatt Regency Huntington Beach Resort & Spa, and we can't wait to help you take advantage of the surfing, shopping, and spa days.