Seasonal Eating: September
---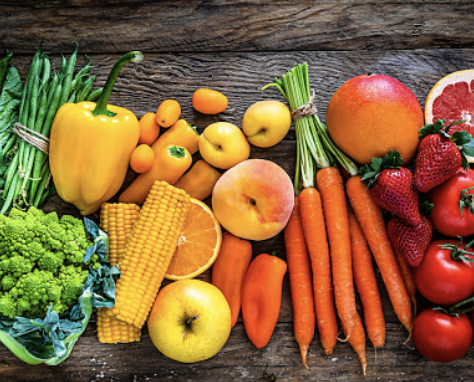 Seasonal eating means consuming foods that are ripe or 'in season' during a specific month or time period. If it's in season, you can eat it without thinking of harmful preservatives. This recommended food nourishment exists to encourage consumption of food with relevant shelf life.
So what's in season this September?
From fruits to veggies, slice, dice, roast, pan fry or grill these delicious nutritive delights.
Apples- We all love the taste of apples. As the adage states, an apple a day keeps the doctor away.
Blackberries- The berry family is full of different colors and flavor. Blackberry jam is a delicious way to sprinkle berries into your cuisine.
Broccoli- Steam them, pan fry, season with truffle oil or simply add salt and pepper to make this a flavorful side dish.
Cabbage- This great side can upgrade your meal to dense and filling.
Carrots- Great with hummus, chopped and stirred into broths and pan steamed into a tasty side dish. Great for the eyes and a go to snack, carrots add flavor and color to any meal.
Cauliflower- This veggie has seen a resurgence recently. Now mashed cauliflower, cauliflower pizza and other tasty cauliflower implementations are staples for paleo and keto diets.
Cucumbers- Salt them, slice them and serve these up as a great snack. Cucumbers topped with tuna also make for a delicious bite.
Eggplant- Have you tried eggplant lasagna? Delicious and incredibly filling, top it with ground chicken or turkey.
Fennel- Tiny but mighty, fennel makes any meal tasteful.
Additionally, these can be found at local markets or supermarkets easily.
Grapes- In latin culture, this is normally a wish food. On New Year's Eve, 12 grapes bring about a year of good luck. Well, daily this water rich food makes for a great early morning snack.
Green Beans- Pan fry, steam and use this as a side dish.
Kale- The superfood of all superfoods. Kale is great for gut health and easily incorporates into salads.
Melons- A slice of melon refreshes throughout the day. A great midday snack and wonderful to incorporate in salad to add a little airiness.
Peaches- This refreshing fruit makes for a healthy snack. Add cottage cheese for a midday break.
Pears- Dice, slice and snack on this delicious fruit. Pears provide digestive relief as well as make for a great topping on salads and snacks.
Peppers- What is a meal without peppers? Sliced into ground chicken, turkey, tuna and more peppers provide density and flavor to most meals. A must have for paella and delicious when stuffed with protein and cauliflower rice as well.
Pumpkins- Boil, bake, top with onions, pumpkins really are so delicious. Remember the shell makes for a great decorative item.
Radishes- By itself, this vegetable complements most dishes. Great with dips, this makes for a great snack.
Raspberries- Reinvented as a great shake ingredient, raspberries provide a tangy complement to morning dishes.
Squash- Shaved, used for squash boat recipes, this delicious tuber satiates hunger and is a healthy carb the body processes easily.
Tomatoes- Great with balsamic vinegar, tasty when paired with mozzarella, tomatoes are a great snack peppered with salt and served as a side.
So whether you're planning to grow your own plants or simply shop for these foods, the guide above should be helpful.
Still hungry? Here are some great recipes
3 Apple Delights: Pies, Cinnamon and Carmel Yumminess
Cauliflower Pizza: The Healthy Alternative to a Quick Cheat Meal
Give the Gift of Wellness with Spafinder. Now you can also buy spa and wellness items with the Spafinder Gift Card.