Your Guide to a Stress-Free Season: 5 Tips to Avoid Holiday Stress
Published: Saturday, November 21st 2015
in Mindset
---
by Dr. Mark Pirtle, Stress-Illness Specialist at Miraval Arizona Resort & Spa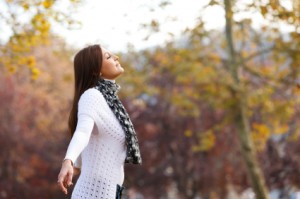 While the holidays signify a joyous time of family togetherness and giving, we often find ourselves becoming stressed with the pressures of it all – from crowded shopping malls to an onslaught of holiday parties and family get-togethers. Here are five tips to maintain a stress-free holiday season this year:
Open to the Spirit
In addition to spending time with family, take a moment to step back and listen to your own needs. Nurture that connection with spirit. Spend time each day in deep reflection, meditation, or prayer. Such practices will calm you and help you to remain mindful of the true meaning of the holidays.
Give Grace
Most of us are doing the best we can given the circumstances. Understand that our loved ones may be under more stress than usual, so give a little grace. Instead of judging, offer empathy and support.
It Doesn't Have to be Perfect
The old saying, "don't stress the small stuff…and it's all small stuff," applies here. Stress comes from fixating on external factors. Worried there aren't enough decorations for that holiday party you're hosting? What if the guests hate the food? Step back and recognize that the emotional experience is the most important aspect. Is everyone relaxed and happy? Choose to spread the joy!
Accept Help
Just because you're the host/hostess doesn't mean you have to do everything yourself. If people want to help, let them! Most people are more than willing to lend a helping hand. If doing it all yourself is your way of avoiding connection with your family and friends, well, you've been called on it. Be strong and accept the help – you'll be happy you did.
Be Kind
This may seem obvious, but it's important to remember. Before you speak, think about how the person receiving your communication might best receive it. My Tibetan meditation teacher once told me that love means "wanting someone to be happy." Hold that wish in your heart when you interact with each of your family members and friends this holiday season.
About Mark Pirtle: Dr. Pirtle brings his clinical expertise to Miraval after practicing mindfulness meditation and the promotion of individual self-care for over twenty years. Coupling science with meditation practice and time abroad in a Buddhist monastery Mark gained both the insight and understanding to develop an evidenced-based mindfulness program he calls Skillfully Aware™. Dr. Pirtle now brings this program to Miraval to help guests deal more effectively with their anxiety, depression, pain, addictions, insomnia, and other stress-related health problems. For more tips and information from Dr. Pirtle, please visit skillfullyaware.com. Click here for more information about Dr. Pirtle.