6 Tips to Stress Less the Ayurvedic Way
Published: Saturday, December 19th 2015
in Mindset
---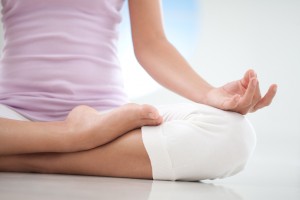 It's the hap, happiest season of all!
But being jolly every second isn't for the faint of heart. From planning festivities to wrapping presents to sticking to a gift-giving budget, sometimes the stressors of the holiday season can get to us—and before we know it, here comes our inner Grinch. It's not all that surprising that almost a quarter of Americans feel "extreme stress" at holiday time, according to a poll from the American Psychological Association.
So how to cope? Experts from Shankara Ayurveda Spa at the Art of Living Retreat Center in Boone, North Carolina, suggest incorporating the ancient science of Ayurveda.
Use these six tips to stress less not only during the holiday season but all year round. Goodbye Grinch, hello jolly!
Practice meditation. "One of the benefits of meditation is that it helps create a calm, clear mind," says Venkat Srinivasan, PhD, manager of operations & guest experience at Shankara. "When the mind is at ease and comfortable, it's easier to handle stresses or anxiety when they appear."
See the larger picture. When we see the bigger picture in the larger context of space and time, we are able to relax and handle the situation with a clear mind.
Give attention to your breath and take a few deep breaths. This helps settle the anxiety in the mind. "When breathing techniques and meditation become part of our daily practice, stressful situations are much more easily handled and anxiety doesn't stay with us for long," adds Srinivasan.
Keep energy levels high. A high energy level can help in handling situations with a positive outlook. Drinking more water, eating more fresh fruits and vegetables, sleeping at regular times, and an Ayurvedic lifestyle all contribute to higher energy levels.
Feel grateful. Focusing on gratefulness can uplift our state of mind. Srinivasan suggests, "When we feel grateful, we focus on the positive, which enables natural contentment and abundance to grow."
Take a break. A few minutes of deep rest, such as during meditation, calms the mind and gives it the space needed to handle situations with skill.