De-Clutter, De-Stress
Published: Tuesday, March 20th 2012
in Mindset
---
by Tracy McCubbin
Most of us live very busy and very stressful lives…too many emails to return, too many friends to stay in touch with, too much on our to-do list, too many decisions to make and NEVER enough time. We're all walking around wondering, How am I going to get it all done? Our stress levels are through the roof.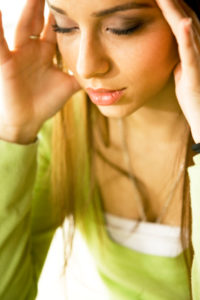 Scientists have found that a lot of us suffer from what is called "Decision Fatigue."  What they've discovered is we can only make so many decisions in a day, and the more decisions we make, the more likely we are to make bad decisions. Each piece of clutter is another decision that needs to be made; if there's lots of clutter, then that's lots of decisions, with lots of potential to make bad ones. Sounds stressful to me.
And when we walk through the front door at the end of the day, our goal should be to calm down, de-stress.  Our home is our sanctuary, right?  Except when you're dealing with CLUTTER.  When you live in a cluttered home and walk through the front door and are confronted by your clutter, all you can think is, "I've got to deal with all this stuff."  Clutter is a constant to-do list, a very, very stressful to-do list.
Here's what happens when we encounter the clutter that fills our homes:
First thing we see are the boxes of things to return by the front door.  "Another round of late-night online shopping. I should have never bought all that stuff."
Then come the piles of mail on the kitchen counter top. "What is in there, bills to pay, papers to file?  My files are already stuffed to the gills, so I'll just shove all my papers in a grocery bag until tax time. But what if I need something? I'll spend hours looking for it."
While trying to cram clothes into the closet to shut the door, we think, "I really need to purge this closet, but what if I gain the weight back? Then I'll have to buy the bigger clothes all over again.  I'd better start going back to the gym. Where are my gym clothes? I can't find anything in this closet!"
Do you see the cycle of stress clutter creates? Each pile, each overstuffed drawer is something to be dealt with. The equation is simple…eliminate the clutter, eliminate the stress. Less stuff means less stuff to deal with. Simple. Not easy, but simple. Eliminating clutter takes time and work, but the pay-off is huge.  Think how good it feels to walk into the kitchen that doesn't have a sink full of dishes, or to open your closet to see everything hanging neatly and by category.  Order creates calm, and calm equates to less stress.  If you want to de-stress…DE-CLUTTER.
Here are some simple steps to eliminate the clutter in your life:
Stop buying so much stuff. The less you bring in, the less you have to deal with.
Don't be a weekend warrior and try to clear all the clutter in one day. It took a long time to build up, so you're not going to be clutter-free overnight.
Start in one room and work clockwise.
In the beginning, work in 20-minute increments. Set a timer and tackle one pile.  Start with the easy stuff, trash, recycling or things that already have a home.
Sort clutter into three piles: to keep, to recycle and to donate. Don't forget to follow-up on donations. Take them immediately to your car or call and schedule a pick-up.
Color coordinate your closet.  It's the cheapest, easiest way to create order.
Sort your mail over the shredder.  That way, the junk mail is immediately dealt with and won't pile up.
Enlist help if you need it.
Tracy McCubbin is owner of dClutterfly and guest blogger.