EcoChi® Introduces: Healing Through Your Five Senses
Published: Monday, March 21st 2011
in Mindset
---
By Debra Duneier, Master Feng Shui Practitioner, LEED® Green Associate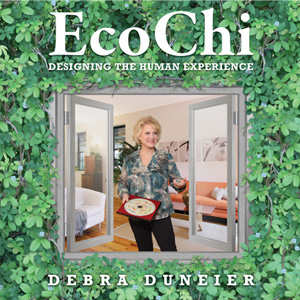 When we connect with nature we feel happier and regain our natural rhythm. All of our senses become alive and we are reminded of our innate ability to heal ourselves. This is why I created the EcoChi® system− because I was searching for ways to heal in my own life. For the first time today, I am introducing this new concept that blends both the ancient and the modern disciplines of Classical Feng Shui, Green and Sustainable Living and Environmental Psychology. EcoChi® allows you to design the healthy life that you desire by bringing nature's elements indoors in a whole new way. Think about your favorite spa experience and how it soothed and healed you through your senses. With EcoChi® you can now bring these healing techniques home with you.
1. Your Sight
"What you see is what you get." What do you look at every day?
Art: beautiful pictures of nature on your wall will create a peaceful, healing environment.
Plants: Indoor trees and plants are not only pleasurable to look at but bring additional health benefits. Plants purify the air through tiny pores in their leaves that act as air filters.
2. Your Hearing
The sounds of nature have a healing affect on us.
Nature: A nature CD is a great way to capture the sounds of nature which soothes us into relaxation.  Or if you are in the country or near the ocean, open the windows or doors so you can hear the birds, ocean, wind and rain.
Music: Play music that makes you happy, and smile. Studies have shown that smiling improves your health, your stress level, and your attractiveness!
3. Your Touch
Infants cannot survive without the human touch. For maximum health human beings need to touch and be touched.
Massage: Bring home massage oil from your favorite spa warm it up over a candle and massage your feet, legs and hands before starting your day.
Clothing: Choose all natural fibers. You will feel the difference on your skin because these materials breathe. An organic night gown or pajamas will improve your chances for a good night's sleep.
4. Your Sense of Smell
Healing with aromatherapy is so pleasurable and easy.
Incense and Candles: Light up to recreate the healing scents of flowers, fresh rain, and the ocean air, which are essential to our well-being.
Food: Nothing reminds us of good times like the smell of chocolate chip cookies in the oven. Try a variety of ingredients like vanilla, cinnamon, or experiment with baking an old family recipe.
5. Your Taste
Your path to healing can begin right on the tip of your tongue.
Sweet, Salt, Bitter or Sour: It takes all kinds of tastes to keep us happy and healthy. Give in to your cravings within reason. Your body tells you what you need. Choose healthy options like fruits to satisfy a sweet tooth or sea salt to gratify your desire for salt.
Organic produce: There is nothing like the taste of home grown vegetables and fruits. Live in the city or have no garden? Grow food and herbs in organic soil near your window. They smell great, taste good, and nourish you!
For more EcoChi​®  tips visit www.LivingHomeByDebra.com
AVAILABLE SPRING 2011