What Heals You? Sabbaticals do!
Published: Monday, March 21st 2011
in Mindset
---
By Rita Foley
Did you recharge your cell phone yesterday? What about your laptop? Have you taken your car in for a check up lately? When was the last time you took time to recharge your battery? Not just for a day, a week or even a month – when was the last time you took at least three months for yourself?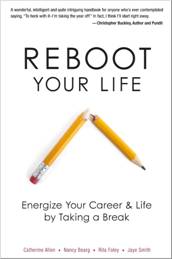 According to a 2009 Gallup Poll and statistics from Monster.com, 86% of workers are experiencing job stress, and half describe their stress as "extreme fatigue" or "feeling out of control." Sixty percent of workers feel pressure to work too much, and 83% of employees want more time with their families. Over 50% of employees are either somewhat or completely dissatisfied with their jobs, and 83% of workers plan to look for a new job when the economy improves.
Grim statistics, but there is a cure: take a sabbatical! We take care of our "things," and now it's time we take care of ourselves. It just might be what heals you. My co-authors, Catherine Allen, Nancy Bearg, Jaye Smith, and I (the Sabbatical Sisters), authors of Reboot Your Life: Energize Your Career and Life by Taking a Break have collectively taken over 12 sabbaticals. Each time we came back to work and our personal lives better off. We are so passionate about this as a way to heal you, recharge and renew your life that we decided to research the topic and did so by talking to over 200 individuals who have taken time off and over 50 corporations who offer formal sabbatical programs. The results of a Reboot Break are profound and long lasting.
Some benefits of disconnecting from work for a period of time include time to:
Reflect on what is really important to you in your life,
Reconnect with friends and loved ones,
Have time and space to heal physically, emotionally, or spiritually
Explore new hobbies or career directions,
Get back to exercising and in shape,
Travel or explore (and exploring might just be in your own locale)
Spas offer the perfect atmosphere in which to experience each of these benefits.
Think you can't take time off? Think again. Taking a Reboot Break is a movement attracting thousands of people. With proper planning, which includes how to approach your boss, how to fund you dream time, how to communicate with your family and loved ones and how to handle the naysayers, you can indeed do it. After taking a Reboot Break, you'll say to yourself, "why didn't I do this before?" The best part is that you will turn some of the nuggets you learn by giving yourself the gift of time into being able to live the lifelong sabbatical.
Guest blogger: Rita Foley is a corporate director, retired Fortune 500 global president, and a committed leader in numerous organizations dedicated to improving the health and lives of individuals. Today Foley is an advisor with Crenshaw Associates, leading their board services practice. She has taken 4 sabbaticals and currently divides her time between NYC and the Berkshires.