4 Calming Drinks to Help You Catch Some Zzz's
Published: Monday, February 28th 2011
in Mindset
---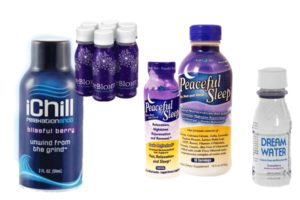 Anyone who has trouble sleeping knows that it's not just those nighttime hours that become miserable while you're tossing and turning – the waking hours can be just as bad when you just feel too exhausted to function.  But beyond drugging yourself with Ambien and Lunesta, there are healthy alternatives that will help you get the sleep you need, just by sipping!  The opposite of energy drinks, sleep drinks are designed to help you achieve the relaxation level necessary to be able to fall asleep, giving you the rest you need to support a healthy lifestyle.  With natural ingredients like lavender and chamomile, these bed-time beverages are full of the things we know are proven to aid relaxation!
reBloom Beauty Sleep Drink:  Clinically proven to promote and improve sleep, reBloom was invented when the founder's wife could no longer handle the effects of Ambien and desired something more natural, yet still effective.  $28 for seven, www.rebloom.com
Dream Water Snoozeberry:  For those nights when you need to completely de-stress and get a good night's sleep, there's nothing better than Dream Water.  These all natural water-based drinks help relax and reduce anxiety before you drift off to dream land.  $3, www.drinkdreamwater.com
iChill:  Instead of relying on pills that put you to sleep, try iChill, a single serving shot with two natural sleep aids.  $3, www.ichill.com
AgroLabs Peaceful Sleep: This 3–ounce drink promises rest, relaxation, and sleep with chamomile and lavender extracts, healthy alternatives to sleeping pills!  $14.99 for 16 servings, www.agrolabs.com
Look for sleep therapy offerings from participating Wellness Week™ businesses like Yelo Spa in New York City!