Beauty From Within: 6 Foods for Glowing Skin
Published: Tuesday, August 11th 2015
in Nutrition
---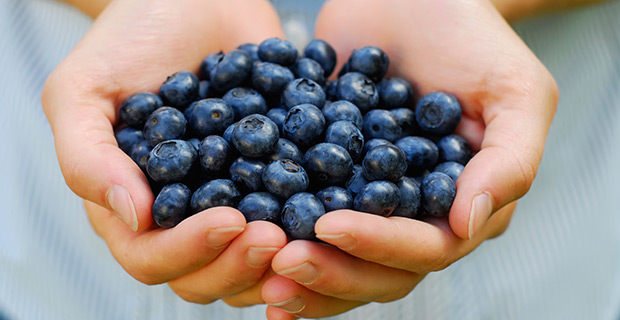 by Vanessa Voltolina
Warm weather causes many of us turn to our exfoliating scrubs, self-tanners or even (gasp!) tanning beds to give skin that glowing, beach-ready look. What you may not realize, though, is that what you eat daily can have an amazing, natural impact on your skin.
"The right foods in your diet can help you put your best face forward–literally!" says registered dietitian and healthy living expert Corinne Dobbas, MS, RD. These eats can help your skin glow from the inside out. Ultimately, "the right combination of 'beauty foods' allows your skin to stay moisturized and supple, blemish free, and appear radiant for the summer months," Dobbas adds.
This radiant glow results from foods that help eliminate damaging free radicals, promote collagen and elastin, diminish blemishes, and reduce inflammation. "Typically, these foods are loaded with antioxidants, omega-3 fatty acids, vitamin C, zinc, selenium, vitamin A, and vitamin E," adds Dobbas.  While not a food, water is also essential for achieving a healthy glow. It hydrates your cells, diminishes the appearance of wrinkles, and helps remove toxins. "Remember to keep it real and natural by watching out for 'water beverages' full of sugar or artificial ingredients. Just drink water."
While there are a variety of foods that fit the bill, integrating these six into your diet will keep skin looking its best during the warmer months.
1. Tomatoes are packed with the antioxidant lycopene. Research shows that lycopene helps protect against skin-damaging (aka wrinkle-causing) UV rays. "Surprisingly enough, your body better absorbs lycopene from cooked tomatoes," says Dobbas. "So say hello to tomato soup, marinara sauces, and hearty stews!"
2. Blueberries are considered to be one of the highest food sources of antioxidants. They protect your skin from damage and disintegration keeping you looking younger, longer. Add ½ cup to yogurt, oatmeal, smoothies or salads for skin-boosting nutrients.
3. Wild salmon is one of the best sources of inflammation-fighting omega-3 fatty acids. These healthy fats give your skin a radiant glow by keeping skin hydrated and supple. Dobbas suggests baking and serving wild salmon over dark leafy greens mixed with berries for the perfect summer-ready meal!
4. Avocados do double duty for your skin. This fruit contains protective antioxidants and essential fatty acids, which help protect your skin from damage. They also keep it smooth by replenishing the protective layer of fatty acids that surround skin cells, locking in moisture and preventing dehydration, says Dobbas. Begin your day with a slice of whole-grain toast topped with avocado slices, hummus and lox.
5. Green tea is rich in inflammation-reducing antioxidants and protects cell membranes. The brew has shown to help reduce the damage of sunburns and overexposure to UV light. University of Maryland Medical Center research shows that the polyphenols (the most abundant antioxidants in the diet) in green tea act as a "fountain of youth," reactivating dying skin cells. Sip up or get creative and use the brew as a poaching liquid, says Dobbas.
6. Yogurt contains zinc, which can help blemishes clear up. "Be sure to look for varieties that don't contain a lot of fat or sugar," says Dobbas. Better yet, she recommends opting for Greek-style yogurts, which contain double the amount of protein than regular yogurts. (Protein is an essential nutrient for the production of collagen, a fibrous substance that keeps your skin looking youthful.)  Blend one cup of non-fat plain Greek yogurt with ½ cup of berries and a banana for a delicious, satisfying smoothie.
For more ideas to integrate these beauty foods, try these three recipes from Miraval Arizona Resort & Spa!
Recipes from Miraval Resort:
Blue-Corn Crab Cakes with Avocado-Corn Salsa
Makes 8 crab cakes, or 4 servings
1 ¾ tsp. Miraval Oil Blend or Canola oil
3 tsp. chopped yellow onion
4 tsp. chopped red bell pepper
8 oz. lump crabmeat, picked over for shell and cartilage
2 large egg whites
2 tbsp. plus 1 tsp. Dijon mustard
1 ½ tbsp. prepared horseradish
2 tsp. Worcestershire sauce
¾ tsp. garlic powder
¾ tsp. baking powder
¼ tsp. Tabasco sauce, or other hot red-pepper sauce
Pinch kosher salt
¾ c. panko bread crumbs
2 tbsp. blue cornmeal
Preheat the oven to 400° F
Heat ¼ tsp. of the oil in a small skillet over medium-high heat.  Add the onion and bell peppers, and cook, stirring until fragrant and soft, 2 minutes.  Spread onto a plate to cool while assembling the other ingredients.
Combine the remaining ingredients except the oil, panko, salsa, and blue cornmeal in a large bowl, and fold together gently so as to not break up the lumps of crabmeat.  Add the onions, peppers, and panko; and fold just to incorporate.  Divide in eight portions and form the crab cakes.
Spread the cornmeal on a clean plate.  One at a time, place the cakes in the meal, turning to lightly coat on both sides.  Place the cakes on a clean plate until ready to cook.  (The crab cakes can be assembled up to this point, covered with plastic wrap, and kept refrigerated for up to four hours.)
Heat a medium skillet over medium-high heat.  Add ¾ tsp. of the oil and four of the crab cakes, and lower the heat to medium.  Cook until the crab cakes are golden brown, 2 minutes.  Turn and cook for 1 ½ minutes.  Turn and cook for 1 ½ minutes and transfer to a baking sheet or baking dish.
Heat the remaining ¾ tsp. of oil in the skillet over medium-high heat.  Add the remaining four crab cakes, lower the heat, and cook the same way as the first batch.  Transfer to the baking sheet with the other crab cakes and bake until cooked through and hot, 5 to 6 minutes.
Remove the crab cakes from the oven and place two on each of four plates.  Arrange the salsa to the side of the crab cakes and serve immediately.
Calories: 240; total fat: 8g; Carbohydrate: 25g, dietary fiber: 4g; protein: 18g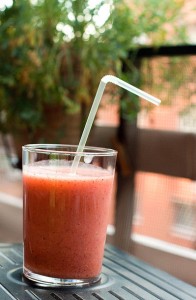 Berry Berry Smoothie
Makes 14 ounces
1 c. soy milk
½ banana
¼ c. fresh or frozen blueberries
¼ c. fresh or frozen raspberries
¼ c. fresh or frozen strawberries
1 Tbsp. agave syrup or honey
½ c. crushed ice
Combine all the ingredients in the bowl of a blender, and process on high speed until smooth and frothy.
Pour into a tall glass and serve immediately.
Calories: 300; total fat: 5g; Carbohydrate: 57g, dietary fiber: 7g; protein: 10g
Cherry Tomato and Provolone Salad
Makes 5 half-cup servings
1 ½ c. halved cherry tomatoes
1 c. provolone cheese, cut into half-inch cubes
1 Tbsp. minced red onion
1 Tbsp. chiffonade fresh basil
1 Tbsp. balsamic vinegar
1 tsp. extra-virgin olive oil
⅛ tsp. kosher salt
Pinch freshly ground black pepper
Place all the ingredients in a medium bowl and stir well to combine.
Cover and refrigerate until well chilled before serving, at least 30 minutes and up to 4 hours.
Toss the salad before serving.
Calories: 110; total fat: 8g; Carbohydrate: 3g, dietary fiber: 1g; protein: 7g
You might also like:
Dinner-Worthy Salads Spotlight: 4 Delicious, Healthy, and Filling Salads!
Curves Complete Recipe: 30-Minute Farro Salad with Chicken and Green Beans
6 Teas to Help Fight Winter Colds
Forest Farro Stuffing with Fennel, Wild Mushrooms and Sage
5 Surprisingly Tasty Healthy Snacks for Picky Eaters