Celebrate National Pancake Day With Healthy Pancakes, Flapjacks and Add Some Waffles!
---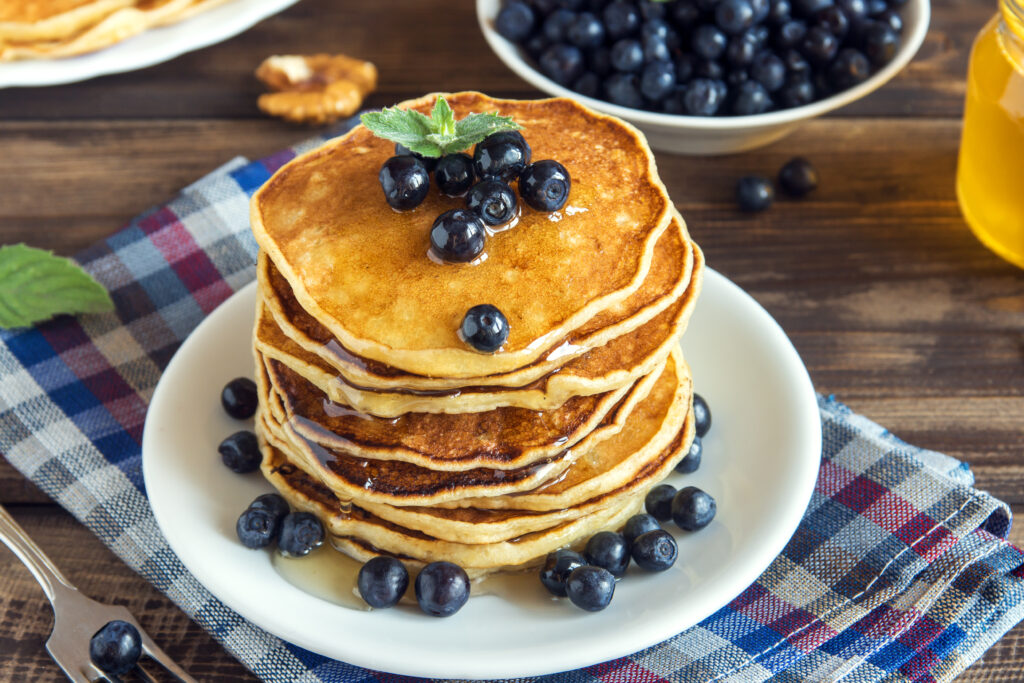 Pancakes are so good we celebrate them twice! National Pancake Day falls on February 25, 2020 and on September 26, 2020, which allows us to double stack our short stacks this year. Pancakes aren't always the healthiest food but there are a few tricks and recipes that up the nutrition without sacrificing the taste. Here are a few healthy pancakes, flapjacks, and yes, even some waffles (although National Waffle Day is technically August 24…).
Protein Pack Your Pancakes
Yes, normally pancakes are a pile of flour, butter and milk but there are plenty of delicious carb conscious buttermilk pancake options for those craving pancakes on a keto diet. Try the Kodiak brand pancake and waffle mix for an option with only 15g net carbs. Or for easy healthy eating, try protein-packed, gluten-free and most importantly already made Viking Waffles that are low in fat but high in flavor. (Think fat loss and weight loss.)

Of course, you can always make your own protein packed healthy pancakes by adding protein powder. Check out Yummly for a wide variety of different flavors and styles of protein powder pancakes. There is even a neat "add vegetables" option. And for healthy treats designed for your wellness lifestyle, pile on blueberries, raspberries, bananas, nuts and whatever whets your appetite.
Don't Flack on Flaxseed
To add a bit of a vitamin punch to your pancakes, try adding some flaxseed to your mix. Flaxseed is high in fiber, antioxidants, and healthy fats[1] making it a perfect addition to your morning routine. Check out this flaxseed oatmeal pancake recipe for a perfect place to start. Or still to an old school favorite with this multigrain pancake recipe.
Looking for tips on how to make fluffy pancakes? Check out this video from Preppy Kitchen. (Who knew it's better to warm milk before using it in a recipe?)
You Gotta Have Syrup!
No pancake is complete without some syrup. For a healthier option, check out Walden Farm's delicious pancake syrup and maple walnut syrup. They are calorie free, fat free, sugar free and carb free, as well as, being gluten free, dairy free and non-GMO! But they are definitely rich in flavor and in taste, making it a perfect topper for your guilt free pancake day celebration!
---
[1] https://www.medicalnewstoday.com/articles/263405#benefits-