Celery Juice Detox–Is It Legit?
---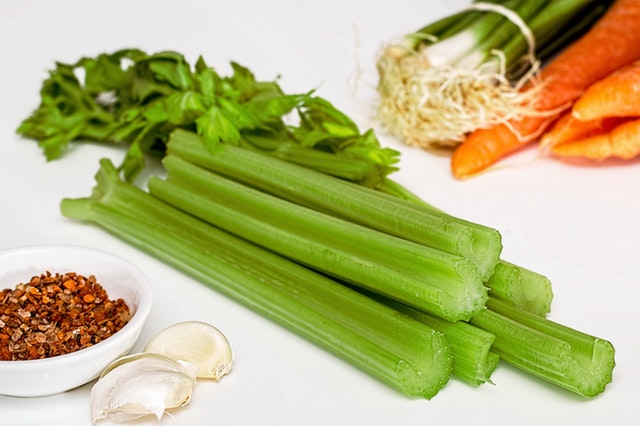 Crispy, crunchy and satisfying, celery is a low-calorie vegetable that's packed with nutrients like potassium, calcium, vitamin K and folate. Celery is also a great way to get your veggies – and one of the latest detox trends. However, is this green beauty a detox miracle or just the latest social media craze? Read more to learn differing points of view.
What's the Skinny on Celery?
Livestrong.com says a one-cup serving of fresh celery juice, produced from four cups of chopped raw celery, has 65 calories, less than 0.7 grams of fat and almost 2.8 grams of protein. In addition, Livestrong's experts point out that celery is chock-full of potassium, and a …"single serving of raw celery juice contains 1,050 grams of potassium, which is over 22 percent of the recommended dietary intake for men and women."
And there is more. A single serving of celery juice contains:
• 162 milligrams of calcium, which is a little over 16 percent of the RDA for adults and 13.5 percent of the RDA for pregnant women
• More than 118 micrograms of vitamin K, which is more than 100 percent of the adequate intake for men and women
• 145 micrograms of folate – over 36 percent of the acceptable intake for men and women
The Cleveland Clinic Weighs In
The Cleveland Clinic notes that celery juice is the latest detox trend and an evolution of the juicing trend that many physicians and dietitians find frustrating. "Our bodies all actually have their own built-in detox machine – the liver. If you treat it right with healthy food, physical activity and a healthy body weight, it can do the heavy lifting in eliminating toxins from your body." Cleveland Clinic's nutrition experts also note that juicing strips away the fiber and everything else is concentrated – including the sugar.
The conclusion? Celery juice isn't bad for you but we'd be better off munching a stalk of celery as part of a healthy diet.
On the flip side, The Chalkboard writes that drinking 16 ounces of organic celery juice every day (almost an entire bunch of celery) "…has a calming effect on the nervous system and (is a) blood purifier and eliminator of toxins from the body…" The claim is that celery juice detoxes our minds and bodies. "Research suggests that celery improves liver health, which can increase your body's own detox capacities long term. If that isn't enough, it can help you rebuild HCL in your gut, which is crucial for fully digesting your food and absorbing important nutrients." However, The Chalkboard suggests starting slowly with six to eight ounces and gradually increasing your intake.
We suggest you check with your doctor or nutritionist before starting any type of juice detox–including celery. While juicing may work for some people, eating well remains a tested way to health and wellbeing.