Coffee Inspired Treatments that Perk Up Your Skin and Your Brain
---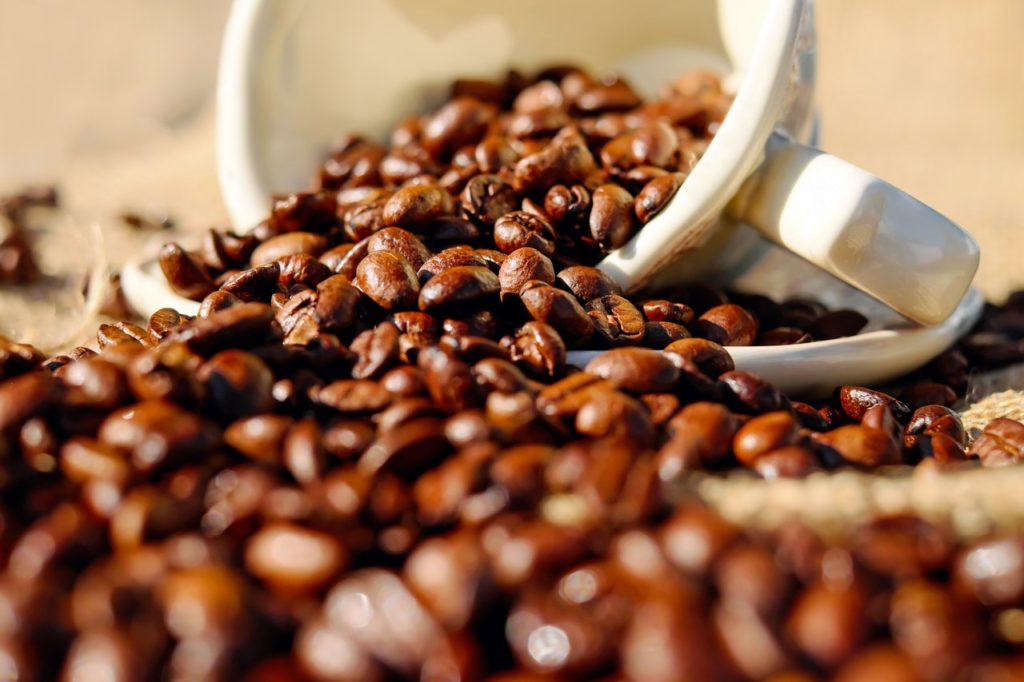 Research shows that coffee has a number of health benefits, including lowering the risk of type 2 diabetes and protecting your liver from damaging diseases like cirrhosis and increasing energy levels. (We're all for that.) Plus, a study conducted at John Hopkins University demonstrated that coffee drinkers have improved short-and long-term memories.  The good news is that the caffeine in coffee can also benefit your skin and help neutralize free radicals – the villains of premature aging that contribute to sun spots and loss of elasticity. According to an article in American Spa[1], the use of caffeine in skin care products and spa treatments is increasing as scientists discover new benefits from topically applied caffeine.
De-puff with Caffeine
In the article, Julie Andrews, president of Kerstin Florian notes that because caffeine contracts blood vessels in the skin, it can reduce puffiness and swelling. In acne products, it can also reduce swelling and inflammation. However, in lip products, caffeine increases blood flow and the lips appear plumper. Caffeine is an ingredient in skincare products like Kerstin Florian's Caviar Age-Defense Crème.
Coffee also improves blood flow in the skin, increasing the circulation of oxygen and nutrients. This perks up your skin just like caffeine perks up your brain.
Cellulite Be Gone
Coffee is also used for cellulite treatments and is a terrific DYI treatment. Like the skin treatments above, the stimulant in the grounds increases blood flow and helps move toxins and fatty deposits. It also lets nutrients to move to these pesky areas, which could ultimately lead to smoother, toned skin. Plus it's easy to make. Just mix freshly ground coffee beans with about a half cup of water, blend with your favorite lotion and apply. And of course enjoy a cup of coffee while you are banishing cellulite.
So what is the cup of Joe takeaway?  Coffee used in skin products and treatments that fight cellulite can reduce swelling, adding to the appearance of a tighter tummy, slimmer thighs and smoother skin.  Plus, it smells great!
DIY Your Coffee Treatments
And if you're in the mood for a delicious coffee-based skin treat, check out this DIY Organic Coffee & Honey Face Mask from the culinary wizards at Le Pain Quotidien. The caffeine in the coffee energizes your body and mind while it works to energize and liven a tired, puffy complexion.
Be Authentic
Costa Rica is famous for its coffee. Resorts like the Costa Rica Marriott Hotel, a Spanish-style hacienda within a 30-acre coffee plantation, offer treatments that use coffee, ash and thermal waters. You will be immersed in the Costa Rican culture. Additionally, experience the wonders of coffee and the beauty of majestic volcanoes, vibrant rain forests and dense tropical foliage.
Thousands of spas and salons at Spafinder also offer seasonal skin and beauty treatments, including coffee-infused products and treatments.
Give the good life with a Spafinder Gift Card.
Discover more special spa offers and promotions.
[1] American Spa, "Caffeine Wakes Up Products and Treatments," Jennifer Nied, November 2016