Green Juices: Believe the benefits!
Published: Tuesday, January 17th 2017
in Nutrition
---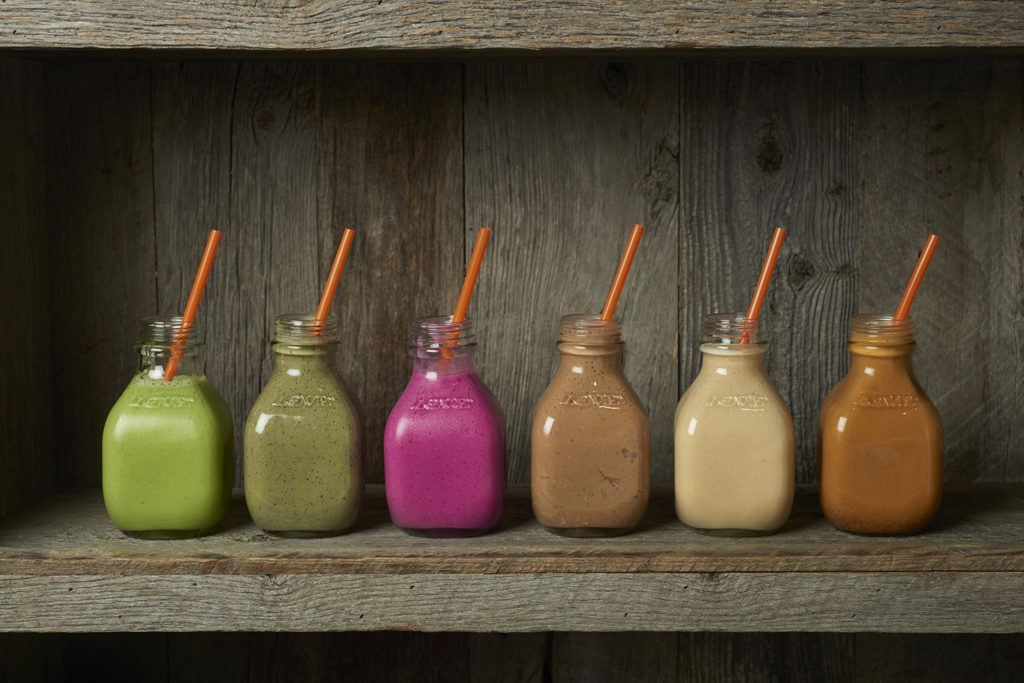 Experts agree: green juices are packed with beneficial vitamins and are usually healthier than sugar-packed fruit juices and smoothies that are loaded with calories and cause sugar to flood your bloodstream.  And while it is better to eat veggies than drink them, and get the benefits of veggie fiber, juices are an excellent choice for people on the go (aren't we all!) and those who find eating pounds of vegetables every day overwhelming.
For those who don't like the taste of kale or spinach, additions like ginger and sweet juices make drinking your greens tasty but be careful – those sugars and carbs can add up quickly. When you eat veggies you feel fuller so if you are dieting, raw vegetables can be a better snack between meals. Nutritionists also say it is important to eat a variety of vegetables and since green juices obviously focus on the green varieties, remember to include veggies like beets, peppers, carrots and cauliflower in your diet.
The vitamin and sugar content in green juices you purchase in a store vary widely, so it's important to read labels carefully, but one serving could have 36% of your daily potassium, 20% to over 100% of vitamin A, and 35% and more of vitamin C –plus iron, B vitamins and vitamin K (Daily Greens Purity has 100% of your daily needs of K in just one bottle.)
The Spafinder Taste Test
Spafinder held a blind green juice taste test in our offices that compared five green juices with similar ingredients from Organic Avenue, Suja Elements, Rawpothecary, BluePrint, and Daily Greens. Tasters had fun blindly tasting each juice, writing down their thoughts, and discovering the favorites.
First Place: Organic Avenue Sweet Greens
"Mmmm!" was the resounding sound in the room when tasters tried Organic Avenue's Sweet Greens variety. With pear, cucumber, Swiss chard, orange, kale, collard greens, lemon, and mint – this juice had a light, smooth citrus taste that masked the greens, which is perfect for anyone who isn't the biggest fan of green juice but still wants all the benefits. (One ingredient, Swiss chard is loaded with biotin, so its great for getting luscious locks.) Keep in mind, the sweet adds up to 39g of sugar, which may be too much for but you can half the serving size and save the rest in the refrigerator for a sweet treat later.
Second Place: Suja Elements King of Greens
In a very close second was Suja Elements King of Greens. Using apple, cucumber, celery, kale, collards, spinach, lemon, ginger, chlorella, and spirulina, King of Greens is packed with some seriously healthy ingredients. Suja is sold exclusively at Whole Foods and also has good karma initiatives: part of its belief statement is, "Equal opportunity organics for all so all may have a long, beautiful life."  110 calories, 0g fat, 21g sugar
Third Place: BluePrint Kale University
One of our taste testers immediately recognized this juice as her go-to for during the week, calling it "complex and exciting!" There are six pounds of kale, apple, ginger, romaine, spinach, cucumber, celery, parsley, and lemon juiced into these bottles and they pack a major healthy punch with just 55 calories, 35% percent vitamin C, 20% vitamin A, and 10% magnesium.
Fourth Place: Daily Greens Purity
Coming in forth was Daily Greens Purity, a blend of kale, parsley, broccoli, cucumber, celery, lemon, and basil, which one of our tasters noted was "probably SUPER healthy," and it is. Purity is chocked full of potassium, iron, B vitamins, and vitamin K (You get 100% of your daily needs of K in just one bottle.)
Fifth Place: Rawpothecary 'Cress Fresh
Last, but certainly not least, was "Cress Fresh," a blend of spinach, watercress, pear, pineapple, coconut water, and nectar. What threw our tasters off was an unexpected texture to the juice and a somewhat bitter aftertaste. But with 104.8% of your daily vitamin A needs and just 14g of sugar (plus the super hydrating benefits of coconut water) we think it's still worth a try.
The "Taste Test" content is excerpted from a previous Spafinder article by Jackie Burns Brisman.