Healthy Ice cream- Pinch me please!
---
The Sweet Tooth Strikes again, so is there such a thing as healthy ice cream?
We're always on the lookout for ways to make the best things in life healthier without sacrificing the taste. Just on the radar are two "healthy" ice cream choices that might make a difference on  your "cheat days".
First we'll start with Arctic Zero.
This delicious option comes in creamy pints and chocolate dipped bars. To find a location close to you, click here.
The company touts their low glycemic, lactose free, certified gluten-free and GMO free products that come in an array of flavors from Brownie Blast to Cookie Dough Chip to Peanut Butter Swirl.

At 75 calories per serving, 14 carbs and 3 grams of protein, a pint of this ice cream will fit into your macronutrients with less guilt than a tub of fries and still deliver a whole lot of taste.
Why does Arctic Zero exist? The founder, Greg Holtman, vividly remembers caring for his mother, who was a type-1 diabetic. While Greg and his family loved sweets, especially ice cream, most desserts contained artificial sweeteners and ingredients.
Unwilling to compromise between indulging his sweet tooth and maintaining a healthy lifestyle, Greg set out to craft a functional, yet indulgent, dessert with premium ingredients. Welcome Arctic Zero. The products use whey protein consulate, chicory root and sea salt as well as a few other ingredients, no artificial sweeteners.
Secondly, let's explore Halo top.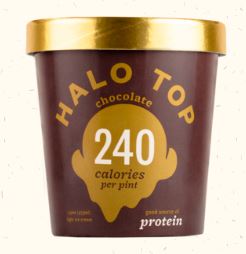 On average 245-340 calories a pint with 24-26 grams of protein, halo top does stack up against competition when it comes to nutrient density. See ice cream comparison here.
It also stacks up in flavor! Chocolate tastes like chocolate, vanilla bean tastes like vanilla bean! The brand line up of cookies & cream and peanut butter cup pairs well with the more exotic sea salt caramel and s'mores flavors. There's a treat for everyone and with less guilt than a pint of artificial sweeteners. Most have probiotic which is a plus as well as protein concentrate.
You can find a retailer for halo top here near you and recipes too.
Healthy eating Spafinder family!
To stay on top of the latest wellness news, receive spa offers and get special members only on day spa/weekend retreats, click here.