Holiday Drinking: Keeping It Healthy-ish
---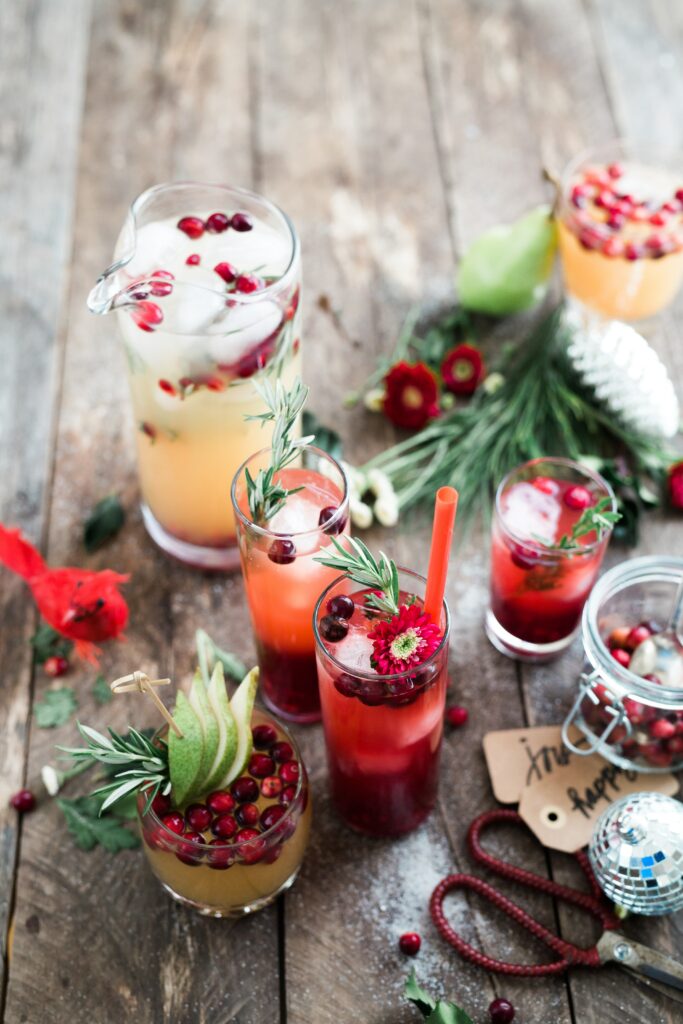 Alcohol is a welcome guest at many holiday celebrations, from champagne toasts to punch bowl favorites. And if you're trying to eat (and drink) healthier, most liquor like tequila, vodka, gin, rum and whiskey contain no carbs or sugar. The trick is to understand which type of alcohol is better for your body–and to not overdo. Here are some quick tips on how to keep your holiday drinking healthy-ish, along with recipes for our top three favorite healthy holiday cocktails from the Spafinder archives.
The Low Sugar-Low Carb Advantage
Even if you are following an extremely low-carb diet like keto, it's ok to imbibe in a drink at holiday gatherings. It just depends on what you drink. As mentioned above, tequila, vodka, gin, rum and whiskey contain no carbs or sugar. However, alcohol still has calories, ranging from 65 calories in a one-ounce shot of 80-proof vodka to 83 calories in a one-ounce shot of 100-proof vodka, rum, gin or whiskey, to 100 calories in a 1.5-ounce shot of tequila. So if you have a cocktail or two, skip seconds on the brownies.
Keto Dieting? Beer Is Not Your Friend
If you are trying to keep it keto, or stick to other low-carb diets like Atkins, beer is tough. An average 12-ounce bottle of beer has 12 to 15 grams of carbs and about 150 calories. However, some low-carb, low-calories beers like these picks from Delish are healthier and typically have a fresh, light taste. But those 2+ grams of carbs per bottle can add up.
The Wine Conundrum
A lot of us enjoy a glass of red or white wine with our BFFs. And while wine has some health benefits, low-carb is not one of them. (A five-ounce glass of wine usually contains five to seven grams of carbs.) That being said, it's ok to enjoy a glass of wine or bubbly. Just do the math when you have more than one.)
Miraval's Mindful Martini, Miraval Arizona Resort & Spa
Leave it to the wellness wizards at Miraval to create a mindful martini. We love the festive look of this glamorous cocktail. Plus, the pomegranate and acai juices make it more nutritious than a typical martini. That's what being mindful is all about.
Makes two cocktails
Ingredients:
3 oz. premium vodka
2 oz. triple sec
1 oz. pomegranate juice
½ oz. acai juice
2 fresh blackberries for garnish
Combine the ingredients in a cocktail shaker filled with ice and shake vigorously.
Strain into two tall martini glasses, garnish with a blackberry and serve immediately.
Vegan Cranberry-Walnut Martini, Sanctuary Camelback Mountain Resort & Spa
We think pretty drinks always taste better. This festive martini from Sanctuary Camelback is especially beautiful and the vodka and the fresh garnishes add a note of holiday cheer. (Sanctuary's executive chef is Food Network star Chef Beau MacMillan.)
Makes one cocktail.
Ingredients:
2 ½ oz vodka
2 oz walnut liqueur
3 fresh cranberries
1 spring rosemary
1 walnut, toasted
Shake the vodka and walnut liqueur in a cocktail shaker with ice.
Strain into a chilled martini glass.
Thread the cranberries onto the rosemary sprig and place in the glass. Garnish with the walnut.
Sol y Sombra, St. Regis Punta Mita Resort
Add a south-of-the-border twist to your Christmas party with this delightfully fresh tequila cocktail from Mexico's St. Regis Punta Mita Resort. The fresh fruit makes this an extra delicious option of these healthy holiday cocktails.
Makes one cocktail
1.75 oz Tequila Blanco
0.75 oz vanilla syrup
0.5 oz cinnamon syrup
0.75 oz lime juice
4 pineapple chunks
4 raspberries
0.75 oz egg white
Garnish
Raspberry
Pineapple slice
Muddle the fruit, add other ingredients, and shake hard with plenty of ice. Strain into a festive glass and garnish.

Spafinder Gift Cards. Perfect for the holidays.