Pregnancy & Diet
---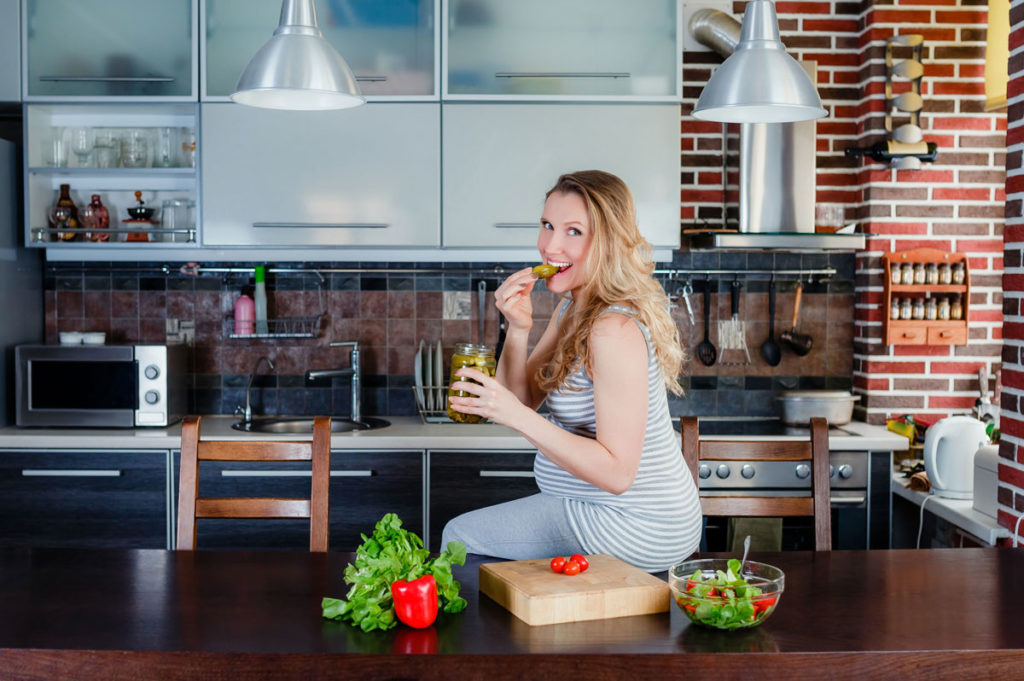 If you're pregnant, thinking about what to eat can seem overwhelming. We like to think of those magical 280 days as an opportunity to embrace a new healthy lifestyle–one that you will share with your baby from the moment you learn you will give birth.
First the Don'ts
Some foods can be harmful to your baby but they probably aren't foods that make up a large portion of your diet.  Experts[1] agree that raw or undercooked meat or fish may contain harmful bacteria, viruses and parasites (think rare steaks, sushi, etc.) and should be avoided. The short list also includes foods that may have listeria, such as deli meats and unpasteurized dairy foods and juices; raw cookie dough; soft cheeses like Camembert, feta and blue cheese; dressings made with raw eggs (so long, Caesar); fish with a high mercury content, such as swordfish and shark; smoked seafood; locally caught fish (who knows what is in the water?); and any food that has been at room temperature for more than two hours.
Accentuate the Positive
It is more productive to focus on the foods that will keep you and your baby healthy. But before you start planning menus, ask your doctor about the ideal diet for you–every woman is different!
Consume recommended amounts of the B-vitamin folate, calcium, zinc, iron and fiber. Iron and some other nutrients may be difficult to get from food and your doctor may recommend supplements and a prenatal vitamin.
If you're a fan of spa cuisine, you know chefs cook with organic and locally grown food which tastes better and is better for you. Washing produce helps, but may not be enough, and the highest pesticide concentrations are in fruits and vegetables with thin skins, such as peaches, apples, and strawberries.[2]
Blueberries, raspberries, watermelon, carrots, kale, and spinach– you know the list! Now is the time to mix it up and add some healthy color to snacks and meals.
Omega-3s can boost your baby's brain and neurological development. Nuts, seeds, fortified eggs and fish are good sources, but look for low-mercury fish such as salmon.
Diet & Morning Sickness
Scientists aren't sure why some pregnant women suffer from nausea and some don't but Miriam Erick, M.S., R.D.N. and author of Managing Morning Sickness[3], suggests eating cold foods (warm food may have an aroma that triggers nausea); eating early in the day; and keeping salty crackers and lemons handy. The scent and taste of lemons can calm your stomach and a slice of lemon in water makes a soothing and refreshing drink.
Who Said You Can't Have Fun?
It's common knowledge that alcohol is on the no list for moms-to-be but if you're pregnant, that doesn't mean you need to be left out when you're enjoying dinner with friends or at a celebration.  No-alcohol craft cocktails are the new "in" drink for those who want to live healthy (the word mocktail is very last year) and bartenders, and nutritionists are creating imaginative and refreshing libations with inspired blends of organic fruits, veggies and spices.
FitPregnancy.com suggests this yummy and super-easy Mango Margarita. (And if you're feeling a little queasy, the ginger gives it a kick and has been shown to calm upset tummies.)
You might also enjoy Spafinder's Pregnancy Spa Guide and this article on pregnancy spa treatments.
[1] WebMD, "What Not to Eat When You're Pregnant."
[2] FitPregnancy.com, "Nutrition During Pregnancy."
[3] FitPregnancy.com, "Food Cures for Morning Sickness and More."