Top 5 Summer Foods
---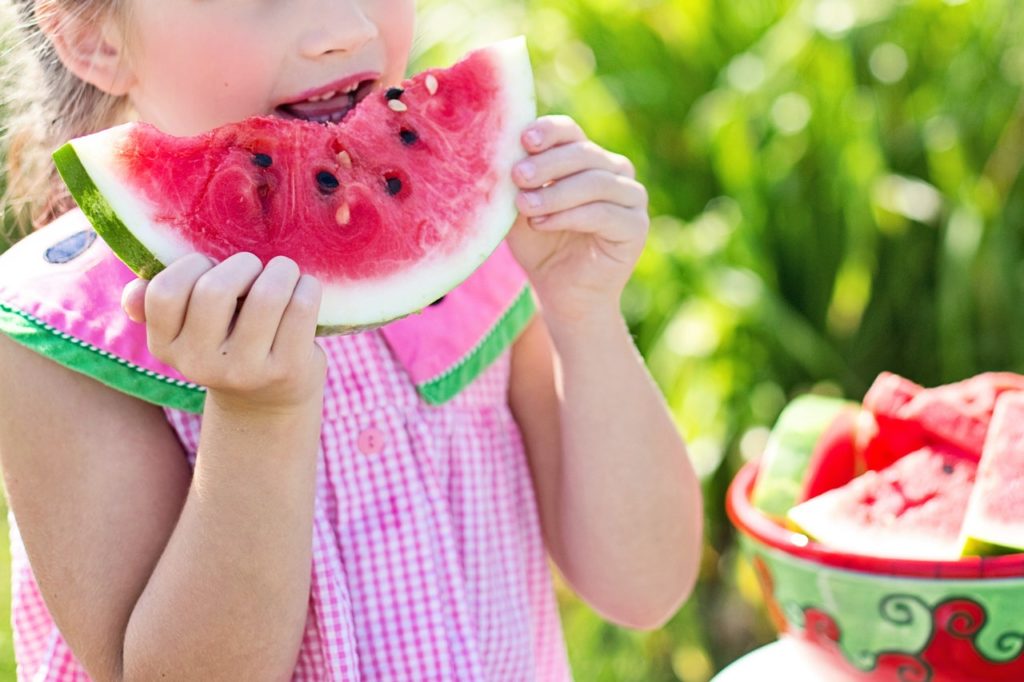 Even if you live a climate where yummy fruits and veggies flourish all year round, they are more luscious and plentiful in the summer. Plus, clever Mother Nature packs them with the vitamins and minerals you need to stay healthy – and ready to play– all summer long. These foods made our top-five list but you can't go wrong with any summer produce.
Blueberries: Bursting with Vitamins and Deliciousness
Blueberries are chock full of antioxidant phytonutrients, which make them a super food-rock star. Plus, blueberries also have high amounts of potassium and vitamin K, along with vitamin C, fiber, manganese and other anti-inflammatory antioxidants.  If you can, it's always best to buy locally grown, organic berries and farmer's markets and grocery stores are bursting with these blue wonders during the summer. Blueberries also freeze well: just arrange an unwashed layer in a freezer bag or container and enjoy them for months.
Let's Hear it for Tomatoes
We think there is nothing better than fresh summer tomatoes – and the heirloom varieties are worth the extra money.  Tomatoes contain healthy amounts of lycopene, which is said to be effective at reducing the risk of sex-hormone-related cancers like breast and prostate cancer. They also have loads of vitamin C, antioxidant flavonoids and vitamin E.
The Melons Have It
Watermelon, cantaloupe, honeydew melons are hydration heroines, which is exactly what you need during a heat wave. Moreover, their high water content helps you feel full and skip sugary treats.  Plus, melons are natural diuretics and help avoid bikini bloat, especially during your period.  And if that's not enough, watermelon contains lycopene, which protects skin cells from sun damage and keeps skin healthy.[1]
The Wonder Fruits: Peaches, Plums, Apricots, Cherries and Nectarines

Named for the pit in the center of these delicious fruits, stone fruits like peaches, plums, apricots, cherries and nectarines are a good source of Vitamins A and C. In addition, they are delicious eaten fresh, added to smoothies and yogurt, used in main dishes and in deserts from pies to tarts to ice creams.
The Scrumptious Strawberry

Like blueberries, strawberries contain disease-fighting flavonoids. They are also one of the top sources of vitamin C, which protects the immune system and fights against certain diseases. In fact, just ½ cup of strawberries provides 70% of the daily requirement of vitamin C.[2]
But let's talk about strawberry shortcake instead. Just-picked, organic summer strawberries are so sweet and delicious that you can easily cut the amount of sugar in favorite deserts. However, it is very important to buy organic berries. According to the Environmental Working Group, strawberries top the list of fruits and vegetables with the highest level of pesticide residue–followed by apples, nectarines and peaches.[3]
Two Summer Spa Recipes
Sign up to receive insider tips, luxury destinations and more.
Purchase a Spafinder Gift Card–perfect for every occasion!
[1] Women's Day, "The Top 16 Foods to Eat in the Summer," Lexi Petronis and Maria Carter, May 2017
[2] DrAxe.com, "Vitamin C Foods, Signs of Deficiency, & Health Benefits"
[3] Time, "Strawberries Have the Most Pesticide Residues: Report, Justin Worland, April 2016