The Ultimate Farm-to-Table: Growing Your Own Heats Up
---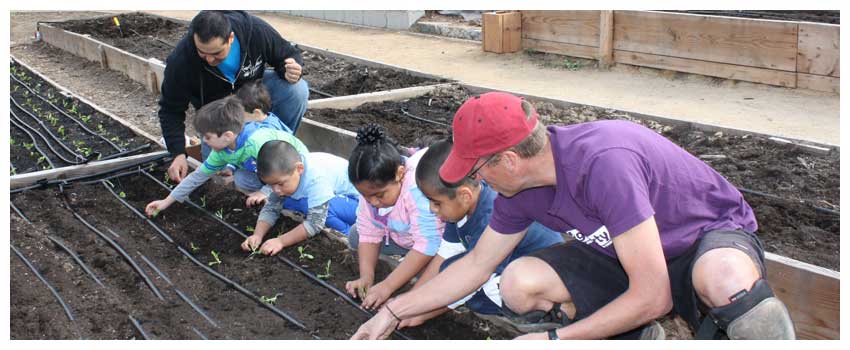 The obsession with farm-to-table, real food (which has top chefs competing to get locally sourced produce on menus fast), has grown exponentially. Now health-conscious foodies are taking the trend in new directions, and growing your own (beets, herbs and gourmet lettuces, that is) is heating up coast-to-coast.
Eating Fresher, LA Style
Leave it to healthy-minded La La Landers to be ahead of the farm-to-table curve with a program that includes 125 community gardens open to the public, more than 800 school gardens, and many other gardens at colleges, hospitals, etc.
Julie Beals, executive director of the Los Angeles Community Garden Council, notes that around the time Former First Lady Michelle Obama started the White House Garden, gardening took off and more young people became interested in growing their own fruit and vegetables.
"Most community gardeners live in apartments or places where they do not have their own land so leasing a plot gives them access to a piece of land to grow food. Some are growing to save on their monthly grocery bill and feed their families healthy food. Many want their children to get away from the screens and go outdoors to learn about nature, and others become involved because it is exciting to plan an evening meal around what you just harvested."
In Southern California, tomatoes and peppers are the most common veggies grown in the summer; in winter, fava beans, cabbage, and kale are popular. Many gardeners use their plots to grow fruit and vegetables that may not be available in grocery stores – or produce and herbs from their native countries in Asia or Central and South America.
In LA, a four-foot by 12-foot plot rents for $5 a month, but the size and fees vary per garden. The largest plots are 900 square feet for $20 per month.
Go Organic on Your Rooftop
If you don't have a back yard where you can grow your own farm-to-table fruits and veggies–or you live in a city that doesn't have an extensive community garden program–a rooftop garden can be a good option. When planning a major installation, it's important to check with a licensed engineer to be sure the roof can support the load (dirt is heavy!) and that the garden design and the structural capacity are compatible. Sun exposure and wind along with water and run off also have to be considered–and don't forget to check with your landlord before planting.
Ready to Get Started?
If you have a yen to wow your family and guests with your own farm-to-table cuisine, try these easy-to-grow veggies:
Sweet little gem lettuce is compact and ideal for small space gardens.
Fruit from a dwarf Meyer lemon tree is a fun way to brighten salads and deserts.
Carrots do well in pots that are one foot deep and organic tomatoes are also easy to grow in pots.
Nothing beats fresh herbs, and you can grow a variety on your kitchen windowsill.