Best Pumpkin Skincare Products In the Spafinder Store
---
Pumpkin spice and everything nice" isn't just your October mantra or go-to Instagram graphic, it's also your glow-to phrase to remind you to treat yourself and your skin this season! This orange squash is a fall favorite to eat, drink, and carve, but it's also a beauty essential that nourishes your face with the best nutrients for a flawless complexion. And your neck, chest, and back too! We're not discounting a head-to-glow from your favorite squash all through autumn, and it's entirely possible with the best pumpkin products from the Spafinder store. Grab your gift card and head to our virtual shop or your local spa, because gourd-geous (get it?) products are waiting for you!
When self-care meets seasonal affairs, we say choose this Pumpkin Soothing Face Mask by Primal Elements. A quick and versatile skincare tool rich in vitamins, you'll immediately conjure up the Halloween spirit with this soothing essential on your skin. As for what's in it, we don't even know where to begin. Pumpkin powder is rich in Vitamin A for skin healing and Vitamin C for protection, repair, and brightening, while the pumpkin enzymes are exfoliating. You can deep dive into your pores to eliminate debris without stripping your skin of essential moisture in the process, which is a total dream for fall skincare. This mask is also made for kaolin clay to upgrade the exfoliation power, plus zinc, copper, and magnesium to shield against environmental damage. It's a pop of pumpkin self-care you can't beat… and perfect for Halloween sleepovers!
Tip: This squash is packed with nutrients like beta-carotene, potassium, vitamins C & E, fiber, zinc, and carotenoids. Plus, enzymes help to deeply exfoliate your skin and remove impurities like dead skin and blackheads, leaving the skin feeling smooth, soft, and ever-so-striking. It's the best way to prepare your skin for a Halloween party!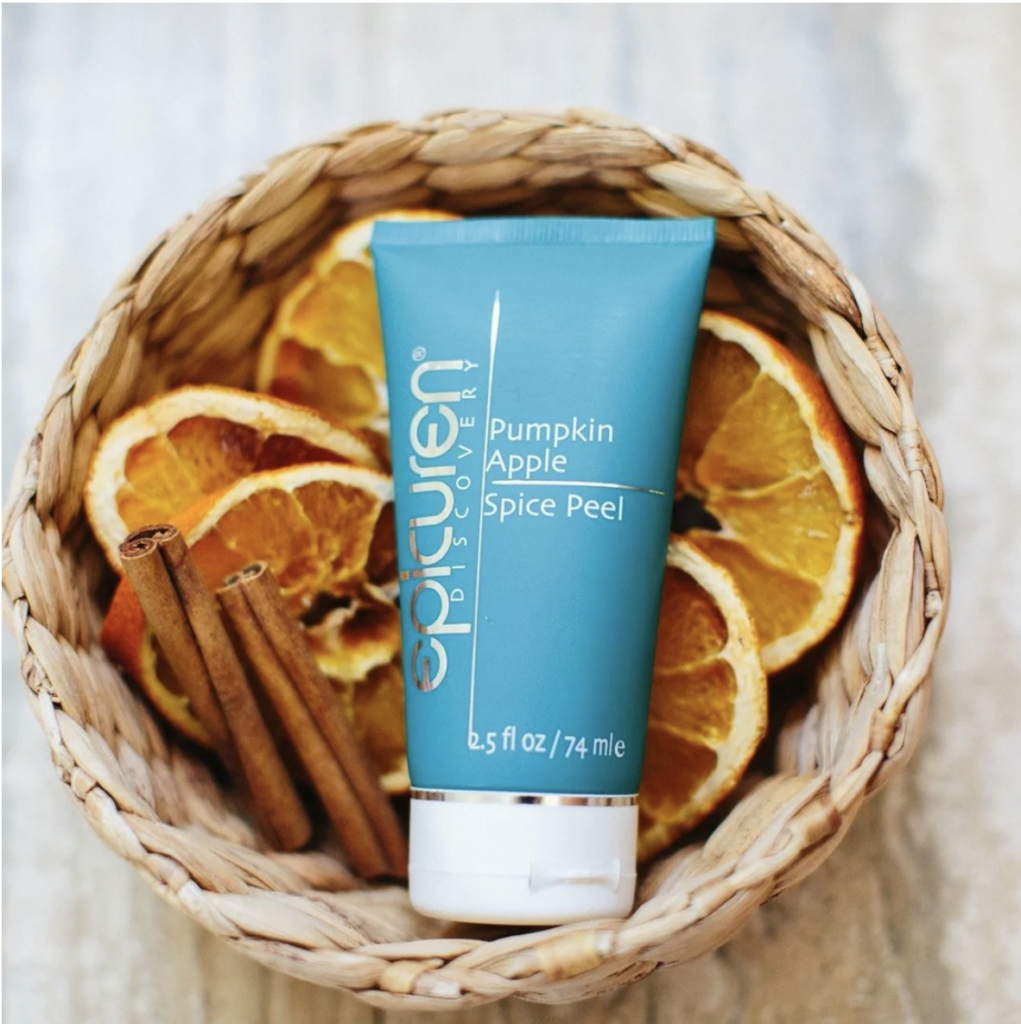 Have ever heard a more autumn-sounding name than this peel by Epicuren Discovery? It helps you put your best face forward by eliminating dead skin and debris from your pores, without leaving you with a red skin for days afterwards like a lot of chemical peels. It's a gentler take on a highly innovative exfoliating beauty technique, and will surely take your skin up a notch this season. How does it work, exactly? First, the mild pumpkin and apple enzymes work to dissolve dead skin cells and encourage turnover . This leaves you with a smooth, fresh, and mega-bright look. Additionally, pumpkin is packed with phytonutrients and antioxidants to shield your skin against environmental stress. Your complexion will be protected against the drying effects of the fall air, along with sun damage in certain parts of the country, to prevent signs of aging and leave skin looking radiant and refined.
Bye bye, bacteria. This at-home pumpkin treatment rivals your most rejuvenating spa facials, taking exfoliation to the next level by helping to deep clean your pores to perfection. Using only the most natural, organic, and sustainable ingredients in Farmhouse Fresh fashion, the Splendid Dirt® Nutrient Mud Mask can do it all. It's made with a seasonal blend of organic pumpkin puree from Oregon, with US-harvested Bentontie and Illite clays to pull bacteria, oil, dirt and other impurities from deep below the skin's surface. Use it alongside the Kale Water Weightless Moisturizer and Green Tea Milk Wash, and you have a perfectly natural food-inspired skincare routine for the fall!
PS We love this name!
Ready to harvest your softest, smoothest, and most rejuvenated hands this autumn? Try this hand facial in a bottle by Sparitual, packed with Pumpkin Fruit Extract and more to make your hands more beautiful than ever. Alongside Licorice Root and advanced Swiss Apple Stem Cells, this product helps to nourish, repair, and slow down signs of aging (This is more needed than you may believe.) Since hands are exposed to the elements, namely wind, water and sun, more than most body parts, the aging process is accelerated. You can ward off rough skin and fine lines when you use a rejuvenating hand serum, like this one by Sparitual.
Tip: For a lifetime of beautiful skin, start as early as your 20s or 30s.