Cooking Safer with Joan Lunden: Non-Toxic Cookware
Published: Monday, March 19th 2012
in Nutrition
---
By, Joan Lunden
Some of us might remember in the 1960s when non-stick pots and pans were introduced in America! Hallelujah! Life was changed in an instant – eggs slid right off the pan onto the plate, and no longer did we have to slave over crusted yucky cookware! However, I also remember in the mid 1980s when, as journalists, we first began reporting on the possible health hazards of the non-stick cookware. Over the past few decades there have been many studies that have linked the traditional non-stick cookware to cancer and Alzheimer's, and in 2006, the EPA finally ruled that companies must stop using the toxic chemicals by 2015. However, only recently has there been a safe non-stick alternative for Americans to use. I am very excited to be partnering with The Cookware Company of Belgium bringing Twiztt, a ceramic-coated line of non-stick cookware, to the U.S.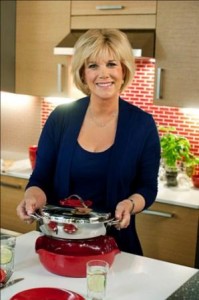 There has been such a movement in this country to cook healthier recipes in order to safeguard our family's health. But while we may be cooking healthier recipes, it is equally important that we are cooking those meals in pots and pans that don't pose a health hazard. The new mineral ceramic-coated cookware is safer because it is made without PTFE (polytetrafluoroethylene) or PFOA (perfluorooctanoic acid), a potentially toxic chemical used in the manufacture of the coatings on the old traditional nonstick pans such as Teflon.
When the traditional non-sticks pans are heated to high temperatures (over 500 degrees − which is something that many people do on a regular basis) the surface is compromised, becomes soft and scratches off into our food and emits fumes toxic enough to poison birds. (Birds are more sensitive to these fumes than humans and other mammals, and often birds are kept in cages near kitchens and have sometimes died when Teflon-coated pans have been overheated.). The manufacturer has long acknowledged that heating Teflon cookware to temperatures as low as 464◦ is harmful to birds but were steadfast in their opinion that the fumes were not a danger to humans.
Our new Twiztt ceramic-coated cookware remains stable even when exposed to high heat, and it is resistant to flaking. So you still get the convenience of non-stick cooking but without the health hazard.
I'm just like you, I like the convenience, and now I can let my pan get nice and hot so that I can sear in flavor without a worry in the world. I've retired my old Teflon-coated cookware in favor of the new ceramic-coated products, and I hope that others will too.
The first of the new cookware is available in an exclusive QVC Launch on March 14th on Cooking with David at 9 p.m. (www.qvc.com) and will be available at retail later this year.
Joan Lunden is one of America's most recognized and trusted television personalities. As host of Good Morning America for almost two decades, she helped millions of American families start each day. The longest-running host ever on early morning television, during her tenure she reported from 26 countries, covered four presidents, five Olympics, and two royal weddings. An award-winning television journalist, best-selling author, motivational speaker, entrepreneur and mother of seven, Lunden defines "today's working mother." She is the host of Lifetime Television's Health Corner, and her latest venture has been the creation of Reveille, a wellness getaway for women to energize spirits, renew sense of self, jump start fitness regimens, learn the tools needed to achieve a healthier balance in their lives and more