Five Vodka Drinks Perfect for July 4th
---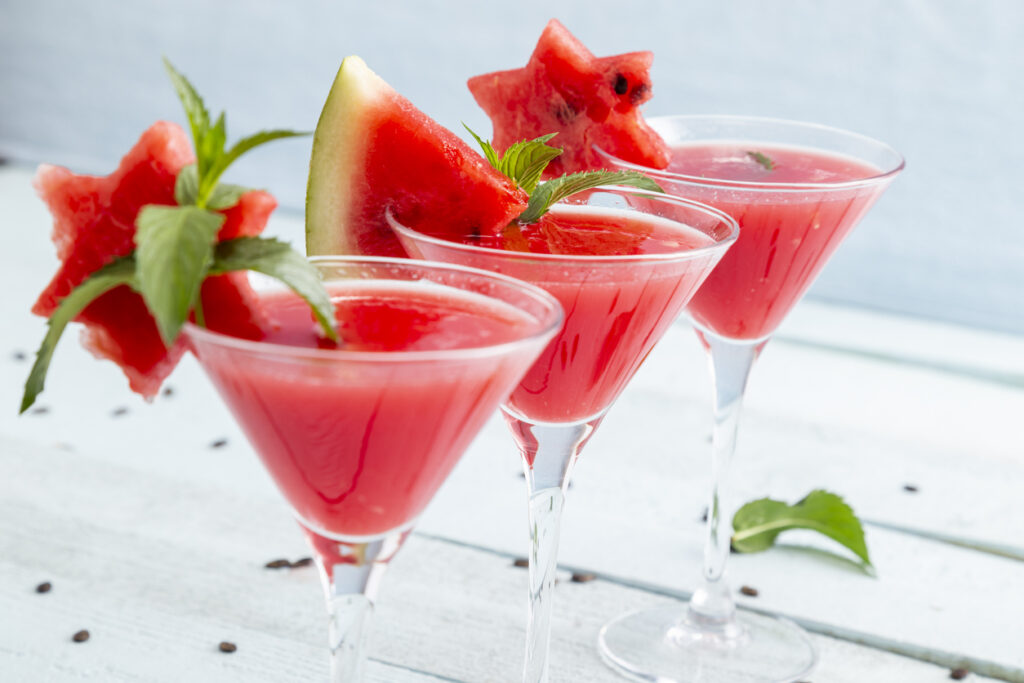 It's hard to determine our favorite thing about July 4th. Is it the barbeques that bring us delicious hot dogs and witty banter with our friends as we take in the cool summer air? The fireworks that we watch from our upper deck and post to our Instagram story? Or perhaps… it's the vodka drinks that put us in the spirit to celebrate America while refreshing us with all our favorites. Yes, that's definitely it. We're excited to get back out there and celebrate Fourth of July in summer 2021, and you can make it a holiday to remember with the best vodka drinks packed with fruit and gorgeous garnishes. Check out the top picks from Spafinder below!
Vodka Lemonade
If you're looking to make your favorite summer drink a little more fun, look no further than this easy recipe that will be a major hit at your July 4th party. The two ingredients in the name are all you need, becoming your main squeeze for the summer! Our tip to you? Try this drink with Tito's Vodka… you won't regret it.
Ingredients
1 cup sugar
1/3 cup water, plus 8 cups
4 lemons, juiced
Vodka
Ice cubes
Directions
Put the sugar and ⅓ cup of water into a saucepan, and apply medium heat. According to Food Network, you should "bring the mixture to a boil, then cook the sugar until dissolved but the syrup is still clear. Do not cook the sugar until it starts to turn color." You can then remove from heat and cool.
In a pitcher, combine the syrup, 8 cups water, lemon juice, Tito's vodka and ice before stirring to create the best summer drink for your Fourth of July party!
Basil Gimlet
Basil is a tasty herb that doesn't just belong in your healthy summer recipes, but also your vodka drinks for the Fourth of July. Basil Gimlet has a tangy flavor that your entire friend group will love, and it's so simple to make. Just grab the Grey Goose vodka that gets you through every party, add a few basil leaves, and voilà!
Ingredients
8 large basil leaves, torn into strips
½ ounce simple syrup
2 ½ ounces vodka
1 lime, juiced
Ice
Directions
Mix 3 of the basil leaves with the Simple Syrup, and place in a cocktail shaker. Add the Grey Goose vodka, lime juice and ice and shake well. Strain into a chilled martini glass and garnish with a basil leaf for the completed drink.
Lemon Drop Martini
If this drink sounds like a summer dream mixed with evening drama… that's because it is. Martinis may be known as an item for late-night cocktail parties, but it gets a sweet twist when you add lemons and Ketel One vodka. Since martinis call for more alcohol than the typical summer drink, you need a quality vodka… and Ketel One will give your guests at the Fourth of July party a memorable day and major taste of summer.
Ingredients
1 ½ ounces Ketel One vodka
½ teaspoon simple syrup
¾ ounces lemon juice, fresh squeezed
Ice Cubes
Directions
Fill a martini glass with lemon juice, followed by sugar.
Fill a cocktail shaker with ice. Add Ketel One vodka, simple syrup, and lemon juice.
Cover and shake vigorously.
Strain into your prepared glass and garnish with a lemon wedge
Vodka Cranberry Cocktail
Ready for a vodka cranberry that will rival any drink you've received at the bar? It's far easier than you think, and destined to be a hit at your Fourth of July party. Grab your favorite vodka and a couple garnishes, and get ready to feel refreshed and berry nice this summer.
Ingredients
¾ cup ice cubes
1 ½ ounces vodka
3 ounces cranberry juice
Lime wedge
Directions
Add vodka, cranberry juice, and ice into a highball glass and stir with a cocktail spoon
Squeeze lime wedge into the glass if desired
Attach the lime wedge to the edge of the glass, and enjoy!
Woo Woo Cocktail
"Woo Woo!" is exactly what your guests at the Fourth of July party will be saying after trying this summer cocktail. Everything about Woo Woo is beautiful – from the deep red hue that looks flawless in your hand to the fruity flavor that's a seasonal favorite. Did we mention it takes less than five minutes to make? Check the details below to try this playful and pretty drink.
Ingredients
2 ounces vodka
1 ounce peach schnapps
3 ounces cranberry juice
Garnish: lime wedge
Directions
Add all ingredients, including vodka, cranberry juice, and peach schnapps, into a glass and stir quickly.
Garnish the glass with the lime wedge, and enjoy!
If you're looking for something light, check out Spafinder's picks for sizzling summer spa spritzers.
Have an occasion to celebrate? Gift Spafinder Gift Cards.