Sizzling Summer Spa Spritzers
---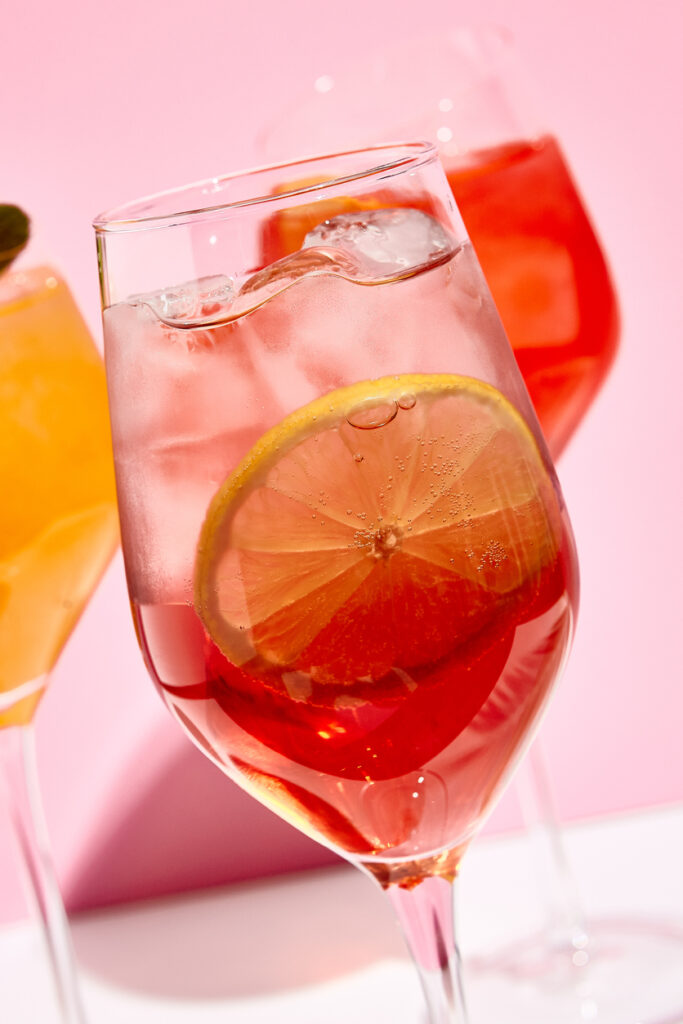 Pool days are even better with summer spritzers. They help you cool down with a little bit of wine, some carbonated water, and a lot of seasonal vibes that are exactly what you need in summer 2021. This beverage is a favorite during the warmer months, and you can refresh and recharge this season with the best summer spritzer recipes. A hint of rosé mixed with your favorites from the fruit platter? Sounds incredible, and the following spritzer recipes (courtesy of Epicurious!) will cool you down between all the beach retreats, poolside spa sessions, hydrating facials, and manicures. Say yes to summer, the Spafinder way.
Campari Spritz – The Classic of the Summer Spritzers
Dry rosé and lemon soda? The ideal summer duo for a sweet-and-sexy cocktail. The red hue is reminiscent of a summer sunset, and looks beautiful in your hand as you receive an outdoor massage by the pool. And then there's the citrus flavor, which is a seasonal delight in its own right making this a go to fav of all the summer spritzers. Blend the ingredients below for a luxurious, lemon-rich spritzer you'll love.
2 oz. Campari
3 oz. dry rosé
Splash of lemon soda
1 lemon wheel
Directions:
Pour Campari and rosé into a rocks glass filled with ice. Finish off with a soda of your choice, and stir gently to blend together. Add a lemon wheel to complete the drink.
Ginger Spritz
Brunch is calling your name this summer, and while we're all about mimosas… you should consider the occasional swap with a ginger spritz. This drink is refreshing and light, and a great way to energize and unwind after a morning run, gym session, or brunch with friends.
1 thin slice peeled ginger
2 oz. Lillet
3 oz. cava
Splash of ginger beer
Directions:
Insert the ginger slice against the inside of a rocks glass before filling with ice, and then add Lillet and cava. Finish off with ginger beer and stir lightly to blend.
Spiked Strawberry Lemon Spritzer
Did somebody say fruit? This spritzer puts a fun twist on the classic strawberry lemonade, with a bit of vodka and sparkling water that's reminiscent of the ocean on beach days. So many summer vibes. Say "cheers!" and toast to summer with this healthy-ish fruity drink that's great for pool days with your best friends.
1/2 cup honey
8 strawberries, plus more for garnish
12 ounces vodka
Juice of 4 lemons
16 ounces sparkling water
1 lemon, sliced
Directions:
This spritzer is a bit more complicated than the others, but so worth it! According to Epicurious, you start in a small saucepan. "Simmer honey and 1/2 cup water over medium-low heat, 2 minutes. Let cool. Place 1 hulled berry in each of 8 glasses; mash," the instructions say. You then fill glasses or cups with ice. In a pitcher, combine honey mixture, vodka, juice and sparkling water before stirring. The last step is the most enjoyable — adding garnishes with strawberries for ultimate summer fun.
Strawberry Mint Spritzer – A Mocktail Summer Spritzer
When you're looking for a non-alcoholic spritzer with a side of strawberry delight, literally, this summer essential is always here to quench your thirst. The mint truly hits the spot on warm summer days, whether you're inside and unwinding after a long work day or sprawled out on the back porch as your massage therapist works their magic. No alcohol required, just the ingredients below!
10 ounces frozen sweetened sliced strawberries
2 liters lemon-lime soda chilled, I use Fresca
12 ounces frozen pink lemonade concentrate thawed
1/2 cup fresh mint roughly chopped
strawberries diced, optional topping
lemon sliced, optional topping
Directions:
Puree strawberries in a blender. In a large pitcher or jug, stir together ¼ cup chopped mint, soda, and lemonade concentrate. Add the pureed strawberries to the bottom of the glasses, and slowly pour in the mint & lemonade mixture on top. Garnish with lemon slices, strawberries, and mint leaves. A true taste of summer!
And if you tried these and loved them, check out more spa inspired summer time cocktails here.
Have an occasion to celebrate? Gift Spafinder Gift Cards.
Most recent from Recipes