A New Spin: 3 Unique Spa-Inspired Mashed Potato Recipes
---
We know it's not Thanksgiving without some sort of mash, so we set out to look for new takes on the always-present mashed potato sides to mix things up. Here are three unique and healthy options from Canyon Ranch, Cal-a-Vie in Vista, California, and Red Mountain Resort in Ivins, Utah. From mint to celery root to wasabi, we're excited to try something new this year. Tell us, do you have go-to recipes you turn to every Thanksgiving, or do you try put a new spin on your menu every couple of years?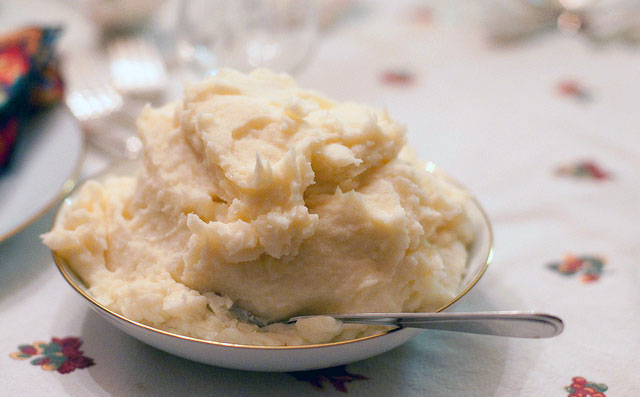 Cal-a-Vie Recipe: Wasabi Mashed Potatoes (Serves 6)
Ingredients:

6 Yukon Gold potatoes, peeled and quartered
2 tbsp nonfat sour cream
¼ cup 1% milk
Salt and white pepper, to taste
4 tsp (about) prepared wasabi, aka Japanese horseradish
1-2 tbsp basil oil, optional
Instructions:
Cook the potatoes in enough salted water to cover in a saucepan until tender; drain well. Whip with a mixer or press through a food mill. Add the sour cream, milk, salt and white pepper and beat at low speed until smooth.
Add the wasabi gradually, beating constantly and checking frequently for taste; you may not need the entire amount. Add the basil oil for color, if desired.
Nutrition information per serving: 108 calories, 27 g carbohydrates, < 1 mg cholesterol, 5g protein, < 1 g fat, 24 mg sodium, 3 g fiber
Canyon Ranch Recipe: Celery Root & Potato Puree ( Serves 8 )
Ingredients:4 cups vegetable stock
2 cups diced celery root (about 1 lb)
4 cups diced, peeled potatoes (about 1½ lbs)
½ cup 2% milk
½ tsp salt
Instructions:
In a large stock pot, bring vegetable stock to a boil.
Reduce heat and add celery root and potatoes. Cover and simmer until vegetables are tender, about 10-15 minutes.
Transfer vegetables and stock to a blender container and add milk and salt. Puree until smooth.
Nutritional information per serving: 95 calories, 21 g carbohydrates, trace fat, 0 mg cholesterol, 3 g protein, 65 mg sodium, 2 g fiber
Red Mountain Recipe: Whipped Neufchatel Mint Potatoes (Serves 6)

Ingredients:1¼ lbs Idaho potatoes, peeled and medium diced
3 oz. neufchatel cheese
2 oz. mint, chopped (⅛ lb)
¼ cup 1% milk
1 tbsp olive oil
Pinch of salt
Pinch of pepper
Instructions:
Wash and peel potatoes.
Add ½-inch of water to the bottom of your steam pot and heat on high heat.
Bring to boil and cook until potatoes are soft, approx. 20 min.
Whip warm potatoes with all other ingredients until smooth.
Nutritional information per serving: 150 calories, 21 g carbohydrates, 6 g fat, 11 mg cholesterol, 4 g protein, 94 mg sodium, 2g fiber
Other spa recipes we love for Thanksgiving dinner:
From Our Kitchen: Forest Farro Stuffing with Fennel, Wild Mushrooms and Sage
Holiday Eating Tips + Spicy Peppered Sweet Potatoes Recipe
Rancho La Puerta Recipe: Grilled Figs with Creamy Honeyed Ricotta and Almonds
The Lodge at Woodloch Recipe: Apple Parsnip Soup
Green Mountain at Fox Run: Maple Pecan Pumpkin Pie
Rancho La Puerta Recipe: Squash-Apple Soup with Thai Red Curry
Green Mountain at Fox Run Recipe: Baked Apples with Fresh Figs and Vermont Maple Syrup