Rosé All Summer Long
---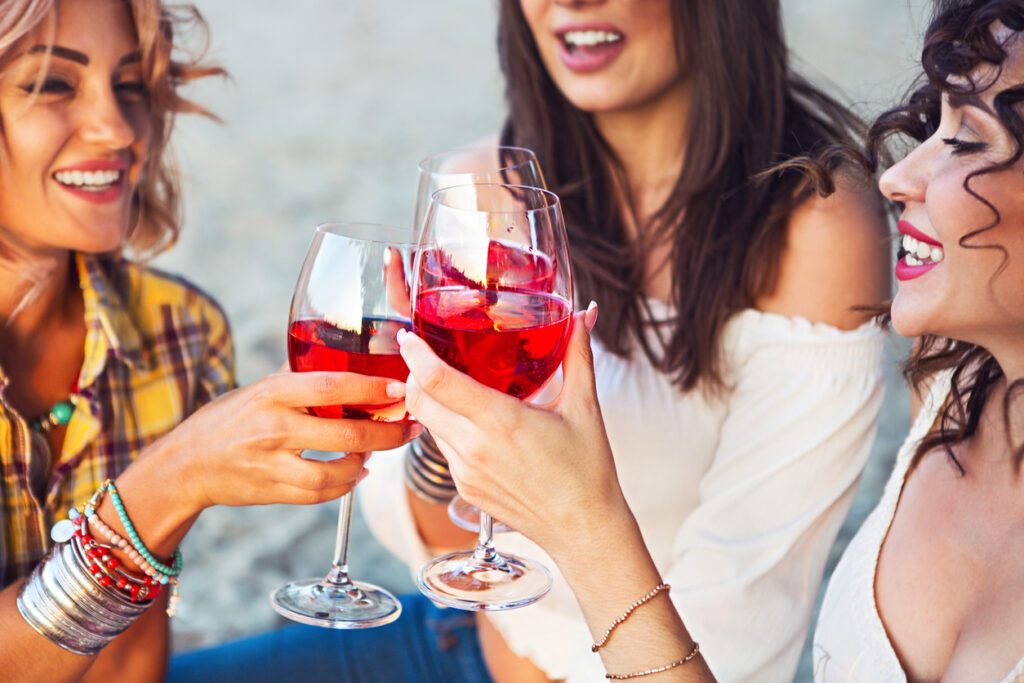 Admit it, you probably have a "Rosé all day" sign hanging in your living room right now. And it's never been timelier than during warm summer days. Rosé wine rolls off the tongue, and has become a favorite at summer barbecues, pool parties, spa days, and other events that are a cause for cooldowns. The sweet pink hue looks beautiful in your hand, and there are dozens of rosé drink recipes that are just waiting to be tried on warm summer days. From the classics to Pinterest-worthy recipes that help you think pink… these are the best ways to do Rosé this summer.
The Pink French 75 Cocktail
Old-school French glamour mixed with modern Pinterest vibes? We'll toast with glasses of this Rosé cocktail at our girl's spa getaway or bridal shower. It's as delicious as it is decadent, made with your favorite liquor and topped off with a lemon twist for a sexy-and-sweet vibe.
3 oz sparkling rosé
1 and ½ oz London dry gin
¾ oz simple syrup
¾ oz fresh lemon juice
Lemon twist for garnish
Rosé Lemonade
This summertime drink is simple and sweet, literally. There's no need for bartender-worthy mixing skills, just two of your favorite liquids in one cup to make it a party. Yes, we're talking about rosé and lemonade. Grab the following ingredients and add to your drink lineup for summer pool parties!
1 cup rosé wine
1/4 cup sugar
1/4 cup water
1/4 cup fresh lemon juice
1 cup cold water
Rosé Wine Granita
Looking for a grown-up version of one of your favorite childhood summer treats, snow cones? Look no further than the Rosé Wine Granita. Also known as a frosé, this drink is a bit trickier to make, as you need to have enough additional sugar and non-alcoholic liquid on hand to keep it frozen on the hottest summer days. But once you master it? You'll never go back. Try a frosé-making party with your girlfriends this summer to make memories and gain incredible drink-making skills!
Susannah at Feast + West shares this recipe and prep tip: To transform this pretty drink into a snow cone, add a thin layer of liquid to a flat dish or two that will fit in your freezer and rake it through with a fork every hour or two until frozen. Serve scoops in a beautiful glass for a favorite summer cocktail or desert.
2 cups rosé wine
1/3 cup lemon juice
1/2 cup water
1/4 cup sugar
Campari Spritz
You can't go wrong with the classics, and we're still obsessed with the Campari Spritz that we told you about in our spritzer guide in June. It features the ultimate summer duo, Rosé and lemon, and has a sultry red hue that resembles the summer sunset you watch each night. The refreshing taste of this drink makes it perfect for pool parties, or sipping as you receive an outdoor massage with your girls!
2 oz. Campari
3 oz. dry rosé
Splash of lemon soda
1 lemon wheel
Rosé Grapefruit Mimosa
Mimosas are commonly associated with brunch, and you can give them a summertime twist by adding fruitiness and your favorite pink wine. Swap out the orange juice for grapefruit juice and add a bit of rosé champagne to this refreshing drink, celebrating good times with your girls as you become innovators of the most popular brunch drink.
1 bottle rosé champagne (chilled)
2 cups grapefruit juice (chilled)
Sliced grapefruit for garnish
Need a gift for a special occasion or just to say Thank You? Spafinder is the answer.