Scallops with Citrus Ginger Sauce – Easy and Delicious!
---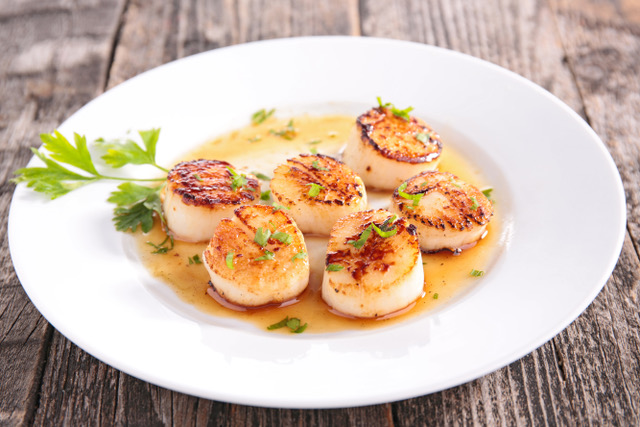 We are celebrating marine life and all the healthy things that come from the sea. Last week,  Spafinder interviewed Jenefer Palmer, founder of OSEA®  natural skincare products, which are derived from certified organic, bioavailable seaweed. Today, we are learning how to make delicious, healthy scallops with a citrus ginger sauce, thanks to Lisa Bryan, real food lover and YouTuber.
The health benefits of scallops
Scallops are an exceptionally healthy food, packed with protein and nutrients. According to Livestrong.com, a serving (six large or 14 small scallops) has just 140 calories and a generous 25 grams of protein, along with these nutrients:
46.3 milligrams of magnesium, 11 percent of the recommended daily value (DV)
532.5 milligrams of phosphorus, 43 percent of the DV
1.9 milligrams of zinc, 18 percent of the DV
27.1 micrograms of selenium, 49 percent of the DV
2.7 micrograms of vitamin B12, 112 percent of the DV
128.4 milligrams of choline, 25 percent of the DV
14 percent of the recommended daily amount of iron
Plus, as Livestrong points out…"they are an environmentally-conscious seafood because they are not at-risk for overfishing like many other species."
One caution: because scallops are bivalve animals like clams and oysters, they filter the water around them, which could contain chemicals or waterborne bacteria or viruses. Check for advisories about seafood in your state and talk to your doctor if you have concerns.
Must watch: our (new) favorite scallop recipe
As soon as we watched Lisa Bryan from Downshiftology make these pan seared scallops, we were hooked (pardon the pun). And her video is filled with cooking tips. Who knew that using a spoon is the best way to peel ginger?!
These scallops are amazingly flavorful and they're 80% protein. Plus, this recipe is gluten-free, paleo, Whole30, keto and low carb. Lisa recommends serving with a fresh vegetable dishes, like bok choy, Swiss chard, mashed cauliflower or green beans.
Wait, there's more
Interested in more healthy recipes? Explore these four tasty and elegant appetizers from the chefs at Pritikin Longevity Center in Miami, Florida. We found the recipes in our holiday archives but they are delicious any time of year.
Most recent from Recipes