Belly Friendly!
Published: Tuesday, July 20th 2010
---
Stacy Denney's spa program for pregnant woman, or those trying to conceive, Barefoot & Pregnant is all about community.  Denney saw the need for an environment where expecting moms could communicate and interact with each other and find a nurturing environment before, during and after their pregnancy.  Born of this need was Barefoot & Pregnant, the country's first maternity spa and its accompanying on-line social community.
Since 2003 Barefoot & Pregnant has been steadily growing and has blossomed into an all encompassing program that helps mothers through their pregnancy and beyond.  Pairing with world class hotels across the country, Barefoot & Pregnant has been able to open three maternity spas that are fully equipped to provide pregnant ladies with the pampering they need, be it an hour or two of attention or a several day stay.  All treatments are specially designed with the safety and comfort of Mommy and Baby in mind, and the practicing estheticians are highly trained to take care of prenatal and postpartum women.  This program is designed to prepare women physically as well as mentally for their child's birth and to give a safe and comfortable space for pregnant women and their partners for relax and get ready for this amazing event!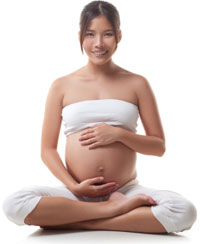 With locations at Casa Madrona, Spa Elia and Hotel Healdsburg in California, pregnant women from all over are flocking to the West Coast to experience the specially crafted maternity treatments.  The treatments menu includes treatments from head to toes paying special attention to the areas that carry extra weight and pressure as the belly gets bigger.  The "Counter Pressure" massage pays extra attention to the back.  This light tough massage concentrates on relieving tension and restoring alignment to back, belly, pelvic floor, hips and thighs.  They also offer belly facials!  During the belly facial a hydrating mask and soothing oils are applied to relieve the growing belly and implements Barefoot & Pregnant Stretch Away cream to minimize stretch marks!  All of the spa locations also offer treatments for "Daddys Too," like Daddy Facials, Pedicures and couples massages!
So take a Babymoon (pre-baby honey-moon-esque trip with your partner) or a Mommymoon (a little alone-time before a second or third baby arrives – leave the little ones with your significant other!) to unwind during this special time.  The Barefoot & Pregnant program that pays special attention to the needs of pregnant women and through their community have grown a network that encourages the relaxation of the mind and revitalization of the body during such an important time.
Most recent from Relationships