Father's Day Gift Guide: Spa Deals, Products, and More!
Published: Monday, June 10th 2013
---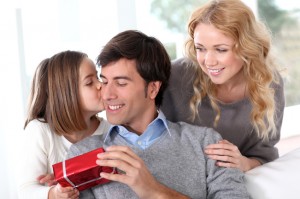 Father's Day is just around the corner (June 16th!) and if you're struggling with what to get dad this year, we're here to help! We've rounded up a selection of great gifts, of course including the best gift of all, a SpaFinder Wellness Gift Card along with some pretty stellar spa and wellness packages, treatments, and deals to use it on!
Spa Gaucin at St Regis Monarch Beach – Dana Point, CA
Athletic Massage – Perfect for active dads, this deep pressure massage takes care of muscles and joints and focuses on areas of tension and tightness. The arms, legs, and hips are stretched as the body is encouraged to open its energy pathways. Whatever his sport, this restorative massage with re-energize and inspire dad! 60-minute, $190; 
75-minute, $235; 
90-minute, $275
Body Works Day Spa – Floral Park, NY
Father's Day Spa Specials – Body Works Day Spa is offering lots of great deals for dad but if your father and mother are as inseparable as peanut butter and jelly we'd highly recommend the Dad's Duet special. This is a one hour couple's massage for just $160!
The Mirage Hotel and Casino – Las Vegas, NV
Traditional Hot Lather Shave – If your pop loves classic cars, Frank Sinatra, and starts off most sentences with the phrase, "Well, back in my day…"  – an old-fashioned hot lather shave is the perfect way for him to use his SpaFinder Wellness Gift Card. This classic barber shop service starts with a warm towel on the skin to open up pores for a closer direct shave. After dad's skin looks as smooth as it did when Elvis was controversial, the barber will finish up with some aftershave and moisturizer. $50
Hiatus Spa + Retreat – Dallas, TX and Austin, TX
Frosty Mug- June's Monthly Retreat – This spa special is perfect for dad's that like to throw back a cold one on a hot summer night. It starts off with an invigorating full-body scrub with organic hops, barley, and malt and is followed with an effervescent spash of a dark Mill Stout to give skin a dose of micro-nutrients. Dad will then chill out with a chilled stone massage to stimulate the senses and them warm back up with a warm Vichy Shower. But of course, this treatment wouldn't be complete without a frosty mug of hand-crafted beer from Austin Beerworks. 80-minutes; $195
Fontainebleau Miami Beach – Miami, FL
Father's Spa Day – Some dad's just deserve to be treated like a king for the day and Lapis, the Spa at Fontainebleau is making that possible. On June 16 they will be featuring a King of the Day spa special that includes a 50-minute Weekend Warrior massage or a deep tissue therapeutic massage plus a Lapis Soak and full access to the spa facilities and the pools at Fountainebleau. $159
Skin Authority  Age Defying Shave Serum
I cannot tell a lie, I am a huge fan of this innovative skin care line and I can tell you many estheticians I've spoken to (even if their spa doesn't carry the line) agree with me! If dad likes a close shave you must get him the Age Defying Shave Serum. The power-player ingredient here is arrectosina. It raises the hairs by stimulating its arrector pipi muscle in order to facilitate a close, smooth shave. Essential extracts cool and calm the skin, while stimulating the senses, all while anti-aging ingredients help to hydrate and plump the skin. 6 fl.oz.; $32 skinauthority.com
You might also like:
The Gift That Keeps On Giving: SpaFinder® Wellness Rewards
Readers' Choice Awards: Top 10 Best Spas for Men
Spa $avant: Top June Spa Deals
SpaFinder Wellness Last Minute: Deals for Procrastinators!
Most recent from Relationships