The Pioneer Spas: The Spa at Doral
---
We're so impressed by the Spa at Doral's evolution from being one of the first destination spas in America—devoted to pampering its clientele in its European-inspired Miami location—to a spa that offers luxurious treatments and an educational journey on how to live healthier and longer. Beautifully done.
In 1959, Doris and Alfred Kaskel found 2,400 acres of swampland in West Miami and created the Doral Hotel and Country Club. Then in 1962, the resort opened its doors welcoming golfers to a new clubhouse and the Blue, Red and Par 3 golf courses.  In 1970, the Kaskel family, who also enjoyed tennis, asked legendary tennis player Arthur Ashe to become the Director of Tennis and then proceeded to add The Doral Saturnia International Spa Resort as one of the resort's amenities in 1987, making it one of the first destination spas in America. At the time, its five stories and visionary design made for a grand location for the European-inspired getaway, where guests enjoyed relaxing spa therapies while learning how to take better care of their bodies through nutritional lectures and individualized exercise programs.
Years later, this initial intent has been maintained but expanded upon, thanks to Doral joining forces with The Pritikin Longevity Center & Spa in 2009. The partnership involved a $5 million renovation to the original 148,000 square-foot Doral space, which included adding a 7,000-square-foot fitness center and private yoga facility.
From Swedish Massage to Global Therapies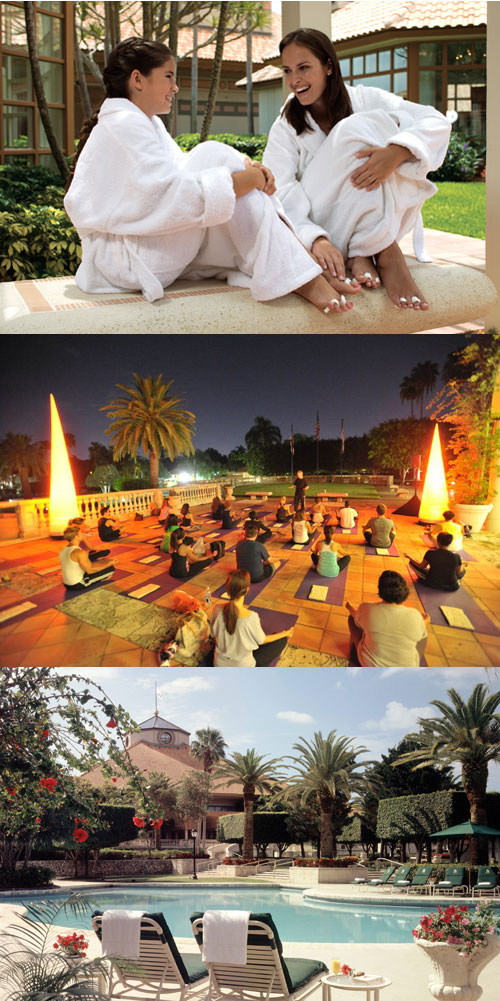 With today's younger generation more attuned to wellness, the spa experience is being perceived as less of a luxury and more essential to self-care. And like many other spa directors, Doral Executive Director William Arango has witnessed this shift in his customers firsthand. "Our spa guests today are more knowledgeable about what spas have to offer and are becoming more aware about wellness' essential role in promoting longevity," he says. "Swedish massages used to be 80 percent of the overall spa business; today's consumer also seeks education, nutritional guidelines and different types of global therapies such as Reiki, Thai massage, neuromuscular therapies and more."
A Place to Learn New Habits
Partnering with the Pritikin Longevity Center & Spa has allowed Doral to greatly expand their wellness program, tailoring each guest's experience to his/her health needs. Whereas ten years ago the Doral visit was mostly experience-based, today's program is a true blend of education and practice.
Looking ahead, the Spa at Doral sees technology becoming a bigger component of the spa experience. Guest may be able to customize their entire escape—music, light, temperature, scents, treatments, food and beverages—through their iPads or mobile devices, making every visit unique to the individual. Whatever the next trend is, The Spa at Doral will be ahead of the curve, helping to define industry standards.
Reporting by Erika Allen
Our 25th Anniversary Celebration continues with more Spa Nostalgia Slideshows >
---