The Pioneer Spas: New Age Health Spa
---
We love how New Age is located in the buoyantly named Neversink, New York. A true wellness pioneer of American spa, the Catskill mountain retreat draws loyal visitors for its ability to adapt to its clients' needs for relaxation, restoration, and reflection. New Age also celebrates their 25th year this year. Congratulations!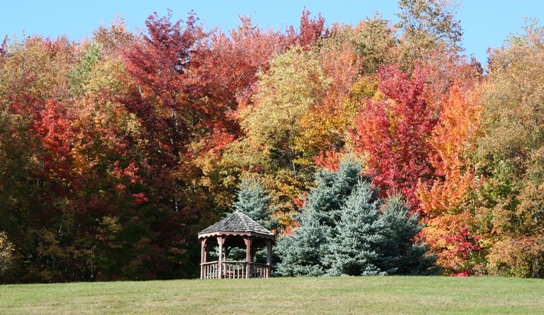 In 1986 Werner Mendel and Stephanie Paradise steered themselves into a new life path when they left their hectic careers in finance and social work, respectively, and purchased the New Age Health Farm, a juicing retreat situated on a pristine piece of land in the Catskill Mountains. Dropping the "Farm" and replacing it with "Spa," the duo set out "to create a place that was free from outside distractions, such as technology, drugs, smoking and alcohol so that people could work diligently on the mind/body connection," says Paradise today. With the location only two hours from New York City, it was the perfect answer to the physical and emotional effects of the go-getting'80s.
Mountain Meditation
Years later, New Age sees many of the same visitors from back in the day—they boast an amazingly loyal clientele. And as these people have grown up with the spa, their needs have changed. Many, for example, "come for relaxation and restoration," says Paradise, rather than a rigorous exercise program.
Of course, for those looking to move their body, New Age offers a host of activities in their excellent fitness facility, including aquarobics, strength training, dance, yoga, meditation, Tai Chi and much more. And all of the exertion is worth the burn when there's one of New Age's inspired signature treatments next on the schedule.

Forerunners of Wellness
All of these activities are designed for an integrated approach to better living. As one of the first American resorts committed to wellness before the term was so ubiquitous—"we were forerunners of the mind/body connection," says Paradise—days at New Age begin with a silent meditation and a combination of exercise, healthy eating and educational workshops and lectures on how to maintain a well-rounded, healthy lifestyle.

With a good balance between the educational and pampering aspects of spa, New Age has worked for years to define what more and more spas are becoming. New Age has known this for a while: It is simply not enough to offer treatments to make clients feel good; they must also be educated on how to bring the newly acquired peace into their everyday lives.
Reporting by Erika Allen
Our 25th Anniversary Celebration continues with more Spa Nostalgia Slideshows >
---