The Pioneer Spas: Spa Evian Source at the Hotel Royal
---
In the heart of one of the famous spa town's finest hotels, the Spa Evian Source was founded in the early '80s, when its visitors became interested in spa options beyond taking the waters. Still, we really admire how the Source has drawn its inspiration from the healing power of its nearby springs and has perfectly maintained its sense of majestic place.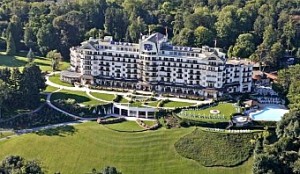 "This spa is a haven. It benefits from what we call the 'turtle effect,'" begins one of Spa Evian Source's impassioned therapists. "Set between water and mountains, it is as if you are protected by a shell, sheltered from unstable energy flows. Here, energy is not dispersed and the effects of the treatment last much longer."
A Spa Town Transitions
Indeed, the turn-of-the-century luxury and location—with its striking views of Lake Geneva and the Alps—has made the Hotel Royal an elite destination for years. Among its high-profile guests are former French president François Mitterrand, who was a frequent Royal visitor. And a G8 Summit was held here.
It's not surprising, therefore, that a hotel of this caliber takes is very attuned to the needs of its guests. Situated in the famous spa town, with its celebrated waters, the Royal was called upon in 1982 to provide its clients, especially women customers, with a selection of treatments that corresponded with the growing interest in spa therapy. Still using the springs as a guiding force, the Spa Evian Source was born.
"Instantaneous Plenitude"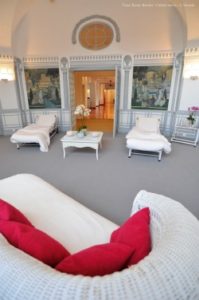 According to spa Public Relations Director, Karine Zegrir, the spa's original vision was to be a "haven of peace and quiet, staffed by a team of specialists who were attentive and discreet and who provided beauty treatments, hydrotherapy, and fitness." Now the spa is still that and much more, providing treatments in four categories: "re-energy," relaxation, body revelation and facial revelation. For "re-energy," there's a selection of global massage services, including Chinese "tu-na" massage, the Ayeurvedic Abhyanga massage, and crystal therapy. For relaxation, a guest can unwind with muscle relaxation exercise of sophrology or indulge in "Instantaneous Plenitude," a series of clay and oil wraps. The body revelation and facial revelation choices are inspired, including a re-firming caviar treatment. Before and after treatments guests can rest in a salon whose walls are adorned with the preserved frescoes of French artist Gustave Jaulmes.
With a clientele that is increasingly spa-savvy, Spa Evian Source is keenly aware of how important spa is to a luxury hotel these days and how having a concept for a spa is necessary as well. Says Karine: "Spas are now practically mandatory in a 4- or 5-star hotel. More than ever, our customers increasingly select hotels based on the quality of the offer to the spa. A hotel is distinguished by the quality of its services, and its spa is an asset. So having a concept has became important and necessary. We should not just sell care, but an experience. This experience is rooted in atmosphere, environment, smells, sensations."
And now, almost 30 years after the spa was opened, primarily serving female guests, men have shown an increasing interest in its services and currently make up about 40 percent of its clients.
"In the past, when we opened, people were just discovering spa," says Karine. "Now they cannot do without it."
Our 25th Anniversary Celebration continues with more Spa Nostalgia Slideshows >
---