South Beach Spa Scene Welcomes ELLE Spa at The Eden Roc Renaissance Hotel
Published: Wednesday, June 22nd 2011
in Spa 101
---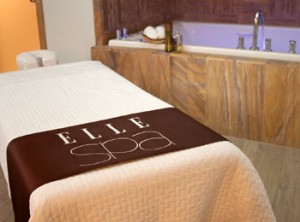 Spa enthusiasts and fashion fiends rejoice: Miami Beach's Eden Roc Renaissance Hotel has partnered with ELLE Magazine for the first-ever ELLE Spa! The super luxe 22,000-square-foot facility, which opened just this month, combines high fashion with ultimate pampering and relaxation by offering guests the latest in salon and spa services, and I was lucky enough to pay a visit.
South Beach's latest addition to the spa scene reflects a space that is both chic and unique. From the spacious outdoor deck to the tasteful fireplace in the relaxation area (even on a sweltering Miami afternoon, lounging in a bathrobe before a fire is enjoyable), ELLE Spa has spared no detail when it comes to creating a sophisticated spa atmosphere.
The treatments are original and tailored to the client, making everyone feel like a VIP. Guests may enjoy the Red Flower organic scrub bar, the perfect supplement to any treatment, to experience customized oils and exfoliators, or the Doctors' Orders Facials, during which estheticians first diagnose the clients' skincare needs and then cater directly to them. Other services include a contrast therapy ritual, during which spa therapists lead guests through the Finnish sauna and cold plunge based on their health needs, making the experience truly personal.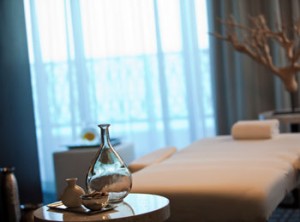 And the customization does not end there! Manicures and pedicures are available in the salon using signature colors created especially for the spa by Essie, and for guests looking to enhance their experience even further, services are available in the spa's ocean-view cabanas where they can take in a 360 degree view of the Atlantic Ocean.
All treatments, products and merchandise available at the swanky retail boutique are carefully curated by ELLE Magazine, ensuring that clients experience the best of the best in the latest spa, beauty and shopping trends.
SpaFinder is pleased to welcome ELLE Spa at The Eden Roc Renaissance Hotel as a new partner!