Aerial Yoga and Exotic Retreats
---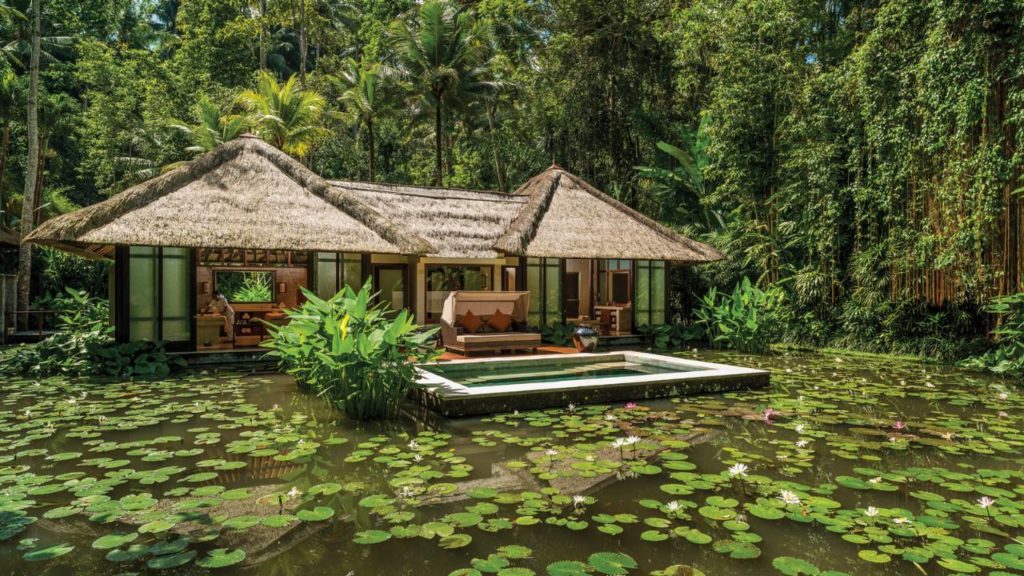 At first glance, the outdoor yoga shala at the Four Seasons Resort Sayan could be a New Age cathedral or a giant turtle, depending on what angle you look from, sprouting majestically from the resort's emerald green rice paddies.
To me, it was a dreamy vision of the fantastic things that always lure me back to Bali.
Located in Ubud, Bali's arts and spiritual town, the Four Seasons Dharma Shanti Yoga Bale is an eco-structure created entirely of sustainable local bamboo, and is the setting for funky anti-gravity yoga classes, meditation classes, life coaching sessions and events.
Or, it can be a simple quiet space to relax and contemplate the tranquil beauty while inhaling deep gusts of clean green oxygen.
Nestled on the sacred Ayung River gorge with careful architecture that blends the luxury property seamlessly into the terraced landscape, the romantic seclusion tends to conjure thoughts of perfect weddings and honeymoons, so you might expect the spa offerings to emphasize pampering and beauty.
But open the spa menu, and you'll find comprehensive wellness and spiritual programs that are unique to this property.
My first morning there, I eagerly left my gorgeous pool villa and walked through the resort's rice paddies and vegetable garden to my first ever anti-gravity yoga class.
Nervously gripping the stretchy hammocks suspended from bamboo rods, I was at first afraid to trust the strips of cloth and let myself flip backwards and upside down.
But with the guidance of the yoga teacher, I found that it was easy, and most importantly that what he said was true. Hanging upside down lets you stretch your spine naturally without putting weight on it. It felt so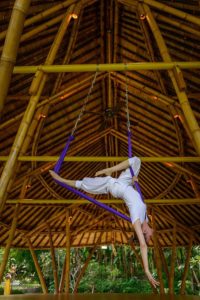 relaxing that I wanted to stay upside down forever.
But we had to move on to the next and increasingly harder poses, like suspending myself horizontally, which involved lots of core muscle control.
I left anti-gravity yoga feeling more accomplished, energized and ready for breakfast on the terrace overlooking the river.
The resorts' Spa Director Luisa Anderson recommended the 7 Chakra Ceremonies, which was one of the spa's signature treatments combining Reiki and Crystal Therapy to heal unbalanced chakras.
Based on my answers to the pre-treatment questionnaire, lovely spa manager Dwi Susanti immediately said she could see from my answers that my heart chakra was unbalanced and that I needed a heart chakra healing ceremony.
My favorite and best dog had unexpectedly died two weeks before my Bali trip, and I was heartbroken and deeply shattered by the loss of my precious, beloved pet. Dwi's diagnosis was completely accurate.
My Anahata or heart chakra ceremony was 150 minutes of blissful relaxation in the spa villa surrounded by a luscious lotus pond.
This rose-based ritual began with a body scrub and floral bath in the outdoor bathroom, followed by a rose oil body massage and a heart-shaped basti (ayurvedic oil bath) filled with healing damascene rose otto placed over the heart to open the heart and clear out negativity.
I fell fast asleep and woke up at the end of the treatment feeling relaxed.
Aside from Anti-Gravity Yoga, the Dharma Shanti Yoga Bale offers 16 complimentary yoga and meditation classes each week. There's a daily 7 a.m. class of Sunrise, Power or Laughter Yoga.
In the afternoons there is the complimentary Life Talk series as well.
To take a trip and try a great wellness retreat check this out.