It's OK to Play (In Fact, It's Just What You Need)
Published: Monday, August 6th 2012
in Mindset
---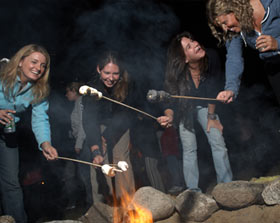 Consider this your official permission to slip away for a fun-filled, relaxing, inspiring (and very affordable) getaway at Joan Lunden's famed Camp Reveille for women, located on the shores of glistening Long Lake in Naples, Maine.
This women's-only camp is a perfect time to plan a getaway with old friends, make new friends, take a break from work, kids and stress, reconnect with nature, hike, gather around the campfire…and best of all, remember how to laugh like a kid again. Summer camp has never been so stress free – and it's no longer just for the kids!
Summer camp basics
Camp starts Thursday, August 16, and runs through Sunday, August 19.
The special $575 package includes accommodations and meals, all group activities (yoga and fitness classes, water sports, tennis, games, crafts (yes, you can make a lanyard!) and more.
This year's breakout sessions include time with Amy Newmark, co-author of Chicken Soup for the Soul, and Joan (you can ask her everything and anything!).