Local Flavor: Spa Treatments Using Native Ingredients
Published: Thursday, September 24th 2015
---
One of the best parts of traveling is getting to experience a taste of your destination's local flair. In many locations the cuisine isn't the only way to enjoy those native ingredients and flavors. Step into the following spas around the world for a chance to truly experience the healing power of their respective destinations. Think of these local spa treatments as the spa version of farm-to-table.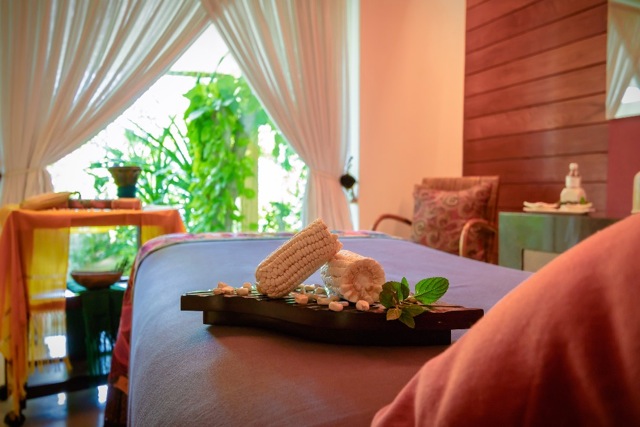 Corn in Mexico: Grand Velas Riviera Maya
One of the Mayan's most sacred plants was corn and guests can experience corn in an entirely new way thanks to Grand Velas' Bacal Massage. This massage begins with a honey exfoliation to detoxify skin followed by an essential oil massage uses Mayan corncobs to apply pressure. This massage is part of the Spa's Journey Through Ancient Mexico collection, which also includes a Coffee + Cocoa Experience, Mayan Jade Facial, and Mayan Shawl Massage.
Cactus & Clay in Las Vegas: BATHHOUSE Spa at Delano Las Vegas and Spa Bellagio
Thanks to the surrounding Mojave Desert, these Las Vegas spas have access to a vast array of healing ingredients. Using cacti to refine, exfoliate, and detoxify the skin, BATHHOUSE Spa features a Cactus and Desert Lily Firming Treatment. And, at Spa Bellagio, desert clay minerals are the skin detoxifying and balancing power player in The Desert Gold Mud Mask.
Mezcal in Mexico: Hacienda Encantada Resort's Milagro Spa
Tequila's smokier sister mezcal is the star of Milagro Spa's new Mezcalotherapy treatment. This facial plus body wrap uses the resort's very own brand of mezcal as well as lime and chaya, a plant believed to be a miracle-worker in Mayan culture. The treatment is geared toward clarifying and deeply hydrating the skin to help prevent premature aging.
Coffee & Roses in Turkey: Ciragan Palace Kempinski Spa Istanbul
Experience Turkey the way the royals would with the Kempinski Spa's Rose Care full-body treatment. The petals of roses native to Turkey blended with brown sugar create a soothing body peel followed by a milk bath. Then you'll enjoy the warmth of a thermal blanket and a full body wrap with rose oil followed by a massage and cup of rose tea. Try the Turkish Coffee Body Scrub for a treatment that's invigorating as a cup of joe. Using a mix of Turkish coffee, mineral salts, and vanilla oil this scrub is excellent for removing dead skin cells and boosting circulation.
Sulphur in St. Lucia: Sugar Beach's Rainforest Spa
Thanks to its location nestled between the Piton Volcanic Mountains, Rainforest Spa has access to healing volcanic sulphur springs where couples can enjoy the Sulphur Seduction Package. Here, you can soak in the detoxifying black waters, experience a sulpher mud bath, an exfoliation treatment, and massage.
Pilsner in Prague: Corinthia Hotel Prague
The Czech Republic has been known for years for their beer baths and the new Beer Spa Package allows guests to experience a treatment that's been enjoyed since the Middle Ages. Guests will go to the Beer Spa Bernard for a day of beer bathing and tasting and relaxation on warmed beds.
Maple Sugar in Lake Placid: Mirror Lake Inn Resort & Spa
Maple is a mainstay on the menus in the Adirondack region of Upstate New York and you can enjoy a calorie-free taste at Mirror Lake Inn thanks to The Adirondack Maple Sugar Body Scrub. The scrub uses a local maple sugar to help to exfoliate the body and infuse it with hydration.
Do you know of a spa treatment that uses local ingredients? Share it in the comments below!
Discover even more fantastic spa treatments to try around the world on spafinder.com.