My First Authentic Hammam
Published: Thursday, January 7th 2010
in Beauty
---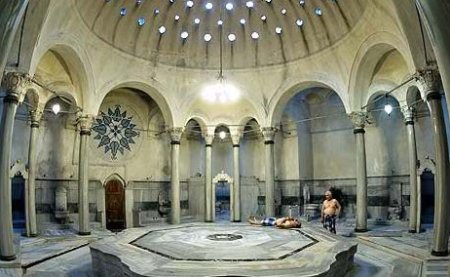 By Dulcy Gregory

My trip to Istanbul last September was whirlwind.  Two and a half days, myriad hotel tours, and one trip to the hammam.  What exactly is a hammam you ask?  Think part serenity… part surprise… and brand new skin!

2010 is the year of the Hammam – according to SpaFinder President, Susie Ellis.  I learned just exactly what a hammam is on a recent trip to Istanbul in September 2009 with Susie, to research hotels for the upcoming Global Spa Summit (which is to take place in Istanbul this May).  After breakfast one morning it was decided that a trip to a local, authentic hammam was in order.

It was warm in Istanbul that week, and the afternoon sun had warmed the city.  We chose Cemberlitas (pronounced chem-behr-LEE-tahsh), a hammam built in the 1500's in the old city section of Istanbul.   A careening taxi ride through the busiest streets prefaced our arrival at the hammam, which was neatly tucked away into the busy street façade.
Tradition meets modern
After a brief introduction to the manager, we were escorted into the women's area of the hammam. I was handed a soft pink pestemal, or fringed towel, and led to the changing area. I felt as if I had transgressed back to my first spa experience – I was a bit confused, wasn't sure exactly how much clothing to keep on, or what would happen once the treatment started. Deciding to treat it as any other massage, I removed my clothes and donned the pestemal before heading to the waiting area.
Before we entered the hammam, we had been given several domino shaped tokens, each labeled for a certain part of the treatment (hammam, massage, facial, etc.) and a small cloth bag. A woman approached me and without saying much, took my tokens and led me into the main chamber, known as the sıcaklık (or caldarium).
Centuries old presentment
A large domed ceiling punctured with holes allowed soft streams of natural light to seep through the warm, humid air.  A few women were resting on their pestemal on a large round marble surface. Others bathed at faucet alcoves along the perimeter of the wall.   One woman, covered in bubbles, was receiving a soapy massage by one of the other attendants.  My attendant took my pestemal and laid it down on the outer edge of the marble stone and motioned for me to lie down.   I quickly settled onto the marble, partly due to my unease of now have nothing on and surprise of how quickly it all happened.
Unparalleled relaxation
My anxieties quickly dissipated. As the warmth of the marble eased my muscles; I had almost begun to doze when my attendant suddenly reappeared and, using the cloth I had been given now as a mitt, began scrubbing my entire body with moderate pressure to remove dead skin.  After the exfoliation, I received a wash of warm water from a tas, or copper bowl.  She then began a gentler, soapy massage using a larger cloth which she fashioned into an airpocket from which to squeeze bubbles.   To finish the bath, I was led into an alcove to a faucet where she washed my hair and all remaining soap away.
The traditional hammam treatment in the sıcaklık was followed by a massage, facial, and foot reflexology. Certainly, the most memorable aspect of the entire afternoon was the time spent in the large round marble room.   I left feeling completely revitalized and jet-lag-free.   It's so clear how the practice has become such a tradition for citizens of Istanbul, and Turkey, but how it has also developed into a luxury for spa-goers worldwide.