Soak in the Health Benefits at a Banya!
Published: Tuesday, February 22nd 2011
---
In preparation for Wellness Week™ we're eager to share with you some of our favorite spa options when it comes to hydration. Russian and Turkish bath houses, or banyas, are a particularly fun and relaxing way to soak in the benefits of hydration and water therapy treatments. The traditions of these spas date back centuries, and their healthy results are only made better by the fact that you can take them in while hanging out with friends.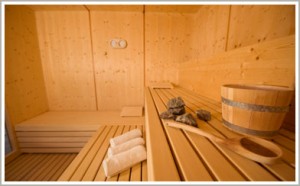 Check out our story about the ritual of the banya and find out how you can benefit from a bath house experience this Wellness Week™! Between the contrast therapy of the hot and cold plunge and the relaxing eucalyptus-scented saunas, we're sure you'll find something at your local bath house that will have you coming back for more, so try one this Wellness Week™!
Social Spa-ing with Health Benefits at Russian Bath Houses
The excitement around Russian bath houses comes not just from the health and relaxation benefits, but because these banyas, or bath houses, also provide the perfect place for social spa-ing. These hot-to-cold-based water treatment traditions have become increasingly popular in the states – especially in big cities like New York, Los Angeles, Miami, and Chicago.
There are many interpretations of banyas, but all use both wet and dry steam. There are often several different rooms heated to different temperatures so the user is able to build his/her tolerance or adjust slowly to the heat, which will exceed 200 degrees.
Health Benefits:
Profuse sweating allows the release of toxins, excess water, and salt that our bodies store. The heat also allows for the muscles to release excess lactic acid and encourages oxygen to flow to the muscles, helping with soreness and muscle repair. Endorphins are also released because the heat of the steam rooms increases cardiovascular activity.
Social Steam Rooms:
Going with friends is a blast. Wander in and out of the rooms, take breaks to swim in the pool or hop in the cold plunge (usually around 52 degrees -freezing!). In the steam rooms, you are encouraged to lounge and hit each other with bunches of dried branches from birch, oak, or eucalyptus trees called venik (far more pleasurable than it sounds; the hitting or beating with these branches translates into a sort of traditional massage). There's also a snack bar and more traditional massages (without branches!) offered by banya attendants or massage therapists.
The Ritual:
Before entering the steam rooms – beginning with the coolest room first – you rinse yourself off then soak your venik (the branches) in hot water so they soften. Traditionally, a felt hat designed to keep heat in, is worn, but a towel wrap will work just as well. Once in the steam room, start on the lowest bench and move up to gradually build up heat tolerance. Before going to the next room, step out to take a cold rinse or rest outside. The cold shower will get your circulation going and can be a very refreshing shock to the system.
When it comes to this bathing ritual, it is important to listen to your body and go at your own pace. Once you're in the next hottest room, it's time to break out the venik, which has a relaxing fragrance and you can give yourself a massage with it.  Five rounds of the hot-to-cold cycle with breaks in between is the traditional standard, but not required.
Looking for a banya or bath house in your area? Check out SpaFinder.com or take a peek at some of our favorites:
Voda: Voda combines luxury and tradition to bring banyas to L.A.
Body by Brooklyn: This huge spa space has great banyas and 10 treatment rooms for massages and facials.
Division Street Baths: A favorite for Chicago's visitors and locals!
Southampton Spa: Enjoy this huge and fabulous space in Southampton, Pennsylvania!
Royal Palace: The Brooklyn based Royal Palace is a fitness and health complex steeped in tradition.
Forest Hills Spa: Located in Queens, N.Y., this banya is fun and affordable!
Watch this YouTube video of the traditional platza massage with venick:https://www.youtube.com/watch?v=22qX_8YBGRs&feature=player_embedded