What to Take with You on a Girlfriends' Getaway
Published: Thursday, August 9th 2018
by Spafinder
---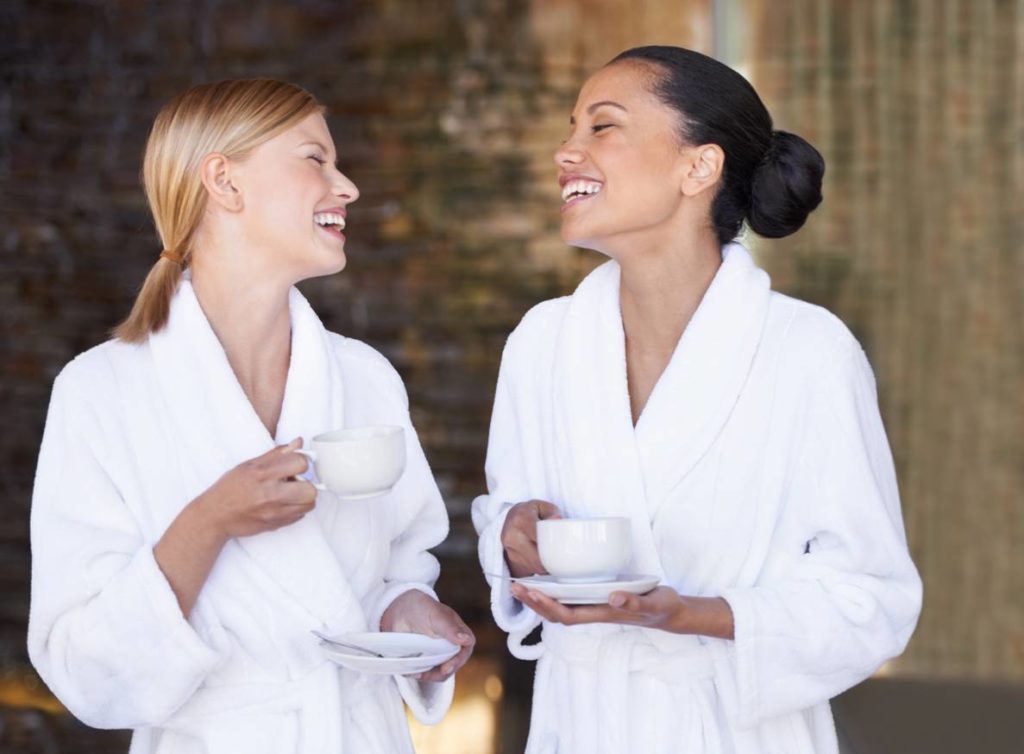 Traveling with your favorite girlfriends is the best of both worlds. You will have a terrific time and you don't have to worry about hauling bags of makeup, hair products and outfits for every occasion. In fact, we think these handy tips will help you pack what you need in one lightweight carry on or tote in less than an hour. Get ready, get set, and start packing for a fabulous girlfriends' getaway!
Pack from the Inside Out

First, pack your panties and be sure to bring extra. Our rule is one for every day of your trip plus two. (Don't ask–just trust us.) In addition, pack bras and panties that can be worn with anything.
Cherish your Tootsies

Packing uncomfortable shoes is the absolute worst. You may be hiking, museum hopping or dancing and you don't want your bruised feet to ruin your day–or your friends' good time. Two to three pairs of shoes should be plenty if you choose styles that are comfortable and go with different outfits. Of course, cute sneakers in a fun color are a must and they go with almost any outfit. Just in case you do get a blister or a sore spot, slip some soft bandages and an antibacterial ointment in your makeup bag.
Think About Technology

Unless you and your girl tribe are doing a detox vacation, you'll probably be using your phone. Our advice: Back up your data and contacts before you leave and invest in a waterproof, heavy duty phone case. In addition, consider purchasing a backup battery with 12 hours of power. It's also a good idea to learn how to use the Find My Phone feature–just in case.
Rely on your Girlfriends
Make up, hair styling, sharing clothes, these are some of the best reasons a girlfriend's getaway works so well. Make sure that your friends know you're relying on them for a fashion update on this vacay getaway and you might just end up packing less than you need to! Friends are always ready to help and letting them know you need them will only bring you closer together.
Mix It Up

The easiest way to pack light is somewhat obvious:  Choose clothes that go together so you can mix and match. This can take a bit of thought but in general solid colors go with anything, black or white are fallbacks and a cute scarf or necklace can give new life to the shirt you wore the day before.
The Spa Life is a Good Life with Girlfriends

Spa destinations like Spafinder's Girlfriend Getaways are devoted to helping you and your spa sisters relax and get healthy. And while spa-style clothes are relaxed and non-pretentious, they are also chic, comfy and joyously light weight.  We suggest packing two swimsuits and cover-ups, yoga pants, cotton tops, a light jacket, a good sports bra or two and sturdy sneaks for hiking and walks.  Also throw in a cute skirt or sundress. Many spas are in glamorous resorts but dress is usually still casual. (These handy tips on what to take to day spas also apply to a spa getaway).
Keep it Organized

Keep travel sizes of your body, skin and hair care products organized in one waterproof bag. And check out mini styling tools. You can also save space by sharing with your besties: You bring the dryer; I'll bring the straightener.
Wrap It Up

Scarves and wraps are a traveler's best friends. They help your basics looks glam and are a great substitute jacket on cool nights. However, try to avoid bringing expensive jewelry that is a tempting target for thieves. Substitute fun necklaces and bracelets that won't break the bank–or your heart–if they go missing.
And don't forget an extra pair of sunglasses!
Sign up to receive insider tips, luxury destinations and more.
Celebrate friendship with a Spafinder Gift Card!