5 Cellulite Removal Treatments–Just in Time for Summer
---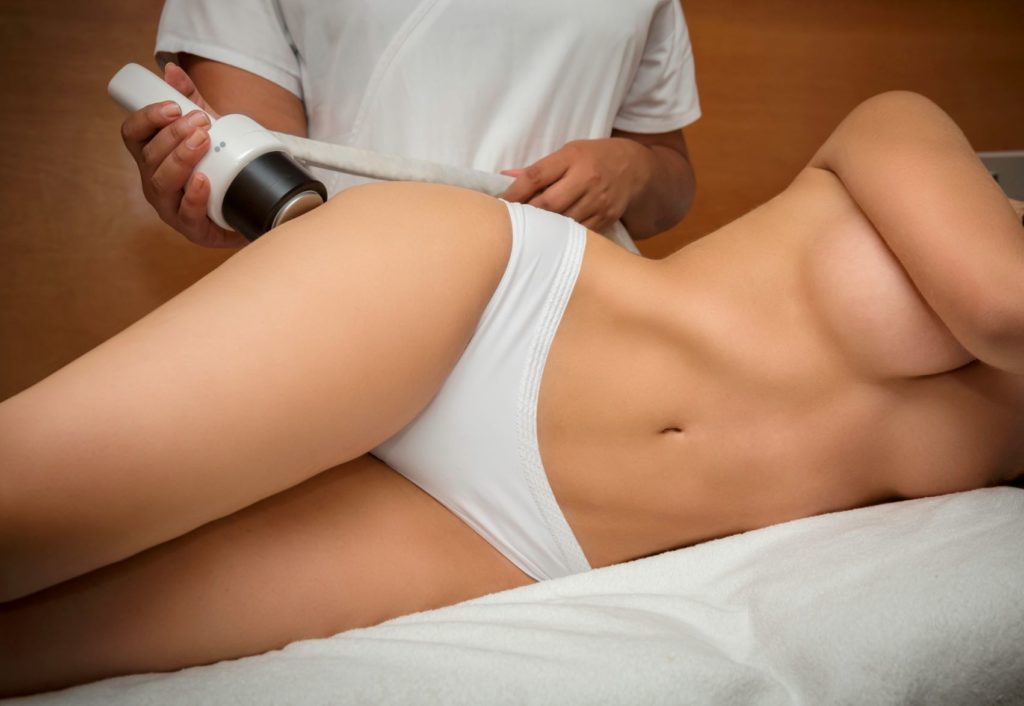 Almost all women have cellulite–unless you are Wonder Woman, but she wears tights so who really knows. In fact, almost 90 percent of us, whether we're a size 2 or size 12, have those pesky lumps and bumps on our thighs, hips or stomach. Those who live in colder climates cover up our orange peel skin with slacks and sweaters. But summer is here and it's time to seriously deal with the dimples. We checked out five high tech summer treatments that reduce cellulite to give you the skinny on which ones could work best for you. (Find medical spas that offer treatments here.)
Cellfina® is aFDA-cleared, minimally invasive treatment. The clinician inserts a needle-sized device beneath your skin and cuts the bands of connective tissue creating cellulite. These tight cords push fat cells to the surface. And when the cords are cut, your skin releases and looks smoother.
What to Expect
This collagen reduction treatment is performed under the supervision of a physician–usually at a medical spa or the doctor's office. It takes less than one hour, and a single treatment lasts for two years or longer. (No worries, the spa will apply a numbing agent to your skin before the small needle is inserted.)
Cellulaze™ is similar to Cellfina but uses a laser fiber to target the structure of cellulite beneath skin. The laser heats the tissue below your skin's surface and turns fat to a liquid. Next, the liquid fat is pressed out though a small tube. (We know, TMI, but it's important to understand collagen treatments.)
According to the manufacturer, cellulaze boosts skin thickness, improves skin elasticity and severs the bands to help make skin dimple free; results can last a year.
What to Expect
This cellulite reduction treatment takes a little longer, usually one to one to one and a half hours. The clinician will apply a local anesthetic and you may have some bruising and discomfort.
VelaShape™ is the firstFDA-cleared, non-invasive body-shaping device that combines infrared light, radio frequency, suction and massage to tone skin and shrink fat cells. As VelaShape heats up fatty tissue and increases lymphatic drainage, it evens out your skin to reveal a smoother, tighter look.
What to Expect
According to Spafinder, your clinician will move a hand-held device in circular motions to melt your fat at 104°F. To avoid burning or overheating, treatments for each area are limited to 10-minute sessions. Cellulite reduction for a body section, such as your thighs, may range from 20 to 35 minutes.
Since everyone is different, it can take a number of treatments to see results–typically four to eight treatments. However, after one treatment, you should notice smoother skin.
Cavitation (shown in the photo above) also helps kill fat cells by applying heat to different layers of the epidermis. The dead fat cells are then excreted through the lymphatic system for weeks thereafter. Basically, this technique uses high-energy waves that implode water and fat, which is then released into your body.
Good to Know
For best results, you will want to have ultrasound cavitation a few times. And if your lymphatic system or liver is compromised in any way, check with your doctor before starting this cellulite treatment.
Cool Sculpting also attacks fat cells but this time by freezing the fat. However, the treatment will take some time to reduce fat in certain areas.
Tip: If you decide to look into a cellulite treatment, your results will last longer if you follow a healthy, balanced diet and exercise regularly.
Learn more about cellulite and why we have it.
Discover eight ways to say goodbye to cellulite.
Use Spafinder at a Medi Spa in our network.