4 Incredible Benefits of Massage Therapy
---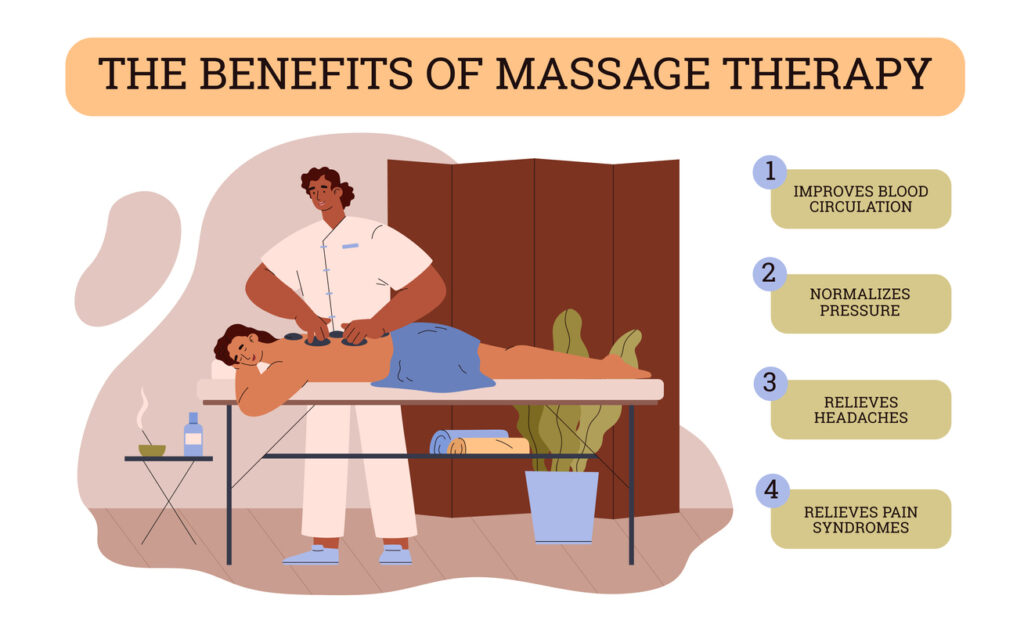 It's not like you need a reason to treat yourself to a soothing massage…but what if we told you that we could provide four of them? Massage therapy is a wellness holy grail that makes all the difference in your physical and mental health. And when you start prioritizing these things and add a Swedish, deep tissue massage or more massage varieties to your routine, that's when the magic happens. From less pain to more gain, here are five incredible benefits of massage therapy you need to know:
Massage Improves Blood Circulation
A well-oiled machine is essential for a healthy life, which is why improved blood circulation is, by far, one of the most crucial benefits of massage therapy. It helps all your organs function properly, along with removing toxins and waste, reducing inflammation, and even lowering your risk of cardiovascular diseases. Are you ready to book your first massage yet? All you need are the hands of a massage therapist to apply pressure and manipulate the soft tissues. This, in turn, will stimulate blood flow and enhance the delivery of oxygen and nutrients for healthier bodily functions.
Massage Normalizes Pressure
Stress and tension within the joints are incredibly common, especially for aging individuals or those with physical jobs. (Yes, typing is physical!) The muscular knots and tightness that follows can severely limit your quality of life, but it doesn't need to be this way. Massage therapy is a highly beneficial technique for releasing these areas of tension and normalizing pressure within the body. Therapists target these points with specific kneading, tapping and deep tissue manipulation, which helps to eliminate muscle tightness and discomfort while improving flexibility. This also makes massage therapy an excellent option for those with joint conditions like lupus or fibromyalgia.
Headache Relief
We'd trade a debilitating migraine for a relaxing massage any day, and you should, too!
This technique is an all-natural, drug-free approach to feeling instantly better — targeting trigger points to reduce neck, shoulders and head muscle tension. Sure, pain medicine may temporarily relieve symptoms. However, an hour with your therapist helps to get to the root of the problem and significantly reduces the intensity and frequency of headaches. At the same time, it also treats various migraine triggers, such as stress and lack of quality sleep.
Pain Relief
Chronic pain is an issue that isn't talked about nearly enough, affecting millions of people daily. However, many quality options are available to treat these concerns and improve your daily life. One of our favorites? Massage therapy! Pain relief is perhaps the most well-known benefit of this technique, as it utilizes the manipulation of soft tissues to strengthen the body in every way. When your massage therapist kneads and taps, they release a stream of endorphins, also known as the body's natural painkillers. While they're most commonly associated with a post-exercise high, these substances also act as mood enhancers and pain relievers for near-instant relief. In addition to short-term benefits, you'll also experience more improvements in joint mobility, muscle tension release, and more over time.