Benefits of Cold and Flotation Therapies
---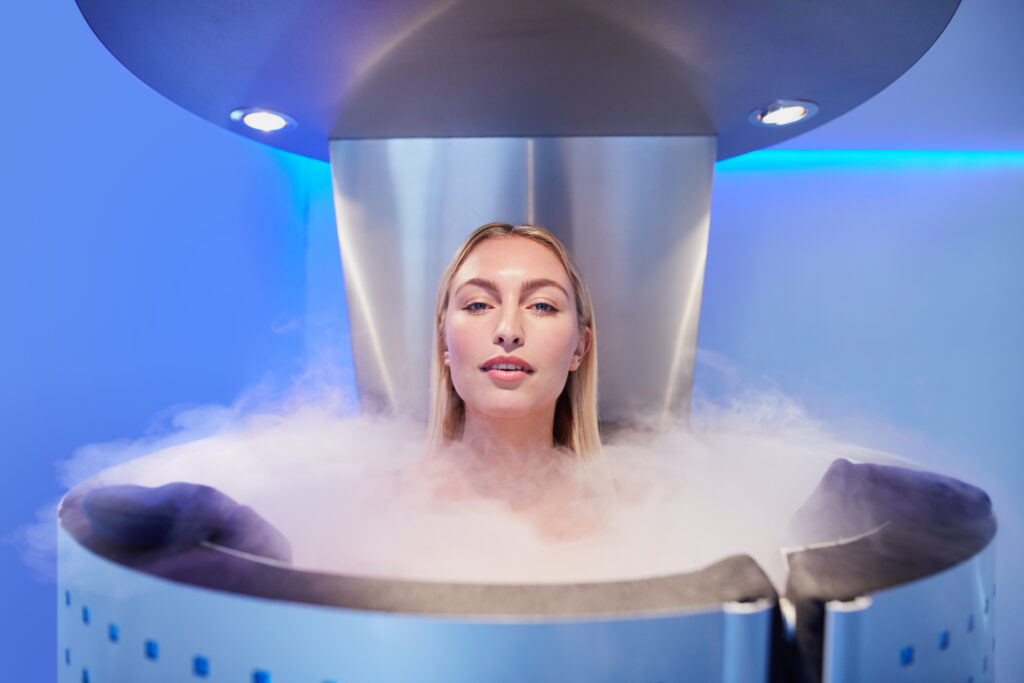 "The cold never bothered me anyway…." Your favorite Disney queen, Elsa, had it right when she sang this lyric in 2013's Frozen. And we're pretty sure she was talking about the benefits of cold therapy. Like many wellness treatments, cold therapies have been around for decades but have inspired state-of-the-art technologies and sensational popularity to in recent years. Elsa didn't sing about the joys of flotation therapy but we're sure she'd also love a sensory deprivation experience. (Just look at Instagram where at-home tubs are all the rage!)
We're here to share the benefits of these wellness therapies . And explain why you should make them part of your wellness journey.
What is cold therapy, and what are the benefits?
Step out of the sauna and into the cryotherapy chamber because cold therapy is the beauty and wellness treatment you need to try. You know how your doctor always recommends that you ice your ankle after a bad fall because it brings down the swelling? The same goes for your skin, and it's a beautiful thing. Placing an ice pack, chilled eye mask, or set of ice globes on your skin will de-constrict the blood vessels in your face. That helps to reduce inflammation and puffiness.
These tools are ideal for energizing dull skin and tired eyes after pulling an all-nighter, and it's just the beginning of these beauty benefits. Cold therapy is the best for those with sensitive or irritable skin, particularly those with conditions like rosacea, eczema, or cystic acne. It's a natural remedy to stop the swelling and reveal your smoothest skin. But don't start reminiscing on the "Ice Bucket Challenge" of 2014 just yet, because there are easier ways to do cold therapy in 2022.
What are the best ways to use cold therapy?
Cold therapy is a simple technique, especially with at-home rituals. Ice globes, like the Glow Globes from Dreambox Beauty, are placed in your freezer. You can implement them into your skincare routine, using them alongside your favorite serums and oils for easier absorption. There are also masks like the Under Eye Rescue Mask by Skin Authority. They reduce puffiness twice as productive when refrigerated. Best of all, these fine products can be purchased with a Spafinder Gift Card in the Spafinder Wellness Shop.
If you're in the mood for head-to-toe cold therapy treatment, there's also the cryotherapy chamber at the spa. You walk in, sit in subzero temperatures for several minutes, and walk out feeling incredible inside and out. Pretty cool, right? The benefits of the whole-body routine in the cryotherapy chamber vary by individual. However, many have cited the release of muscle tension, increased mobility, less skin inflammation, and reduced depression and anxiety.
Feeling super-adventurous? Check out the Win Hoff Method. Hoff advocates that frequent exposure to cold is linked to health benefits, such as speeding up your metabolism and improving your sleep.
What is flotation therapy, and what are the benefits?
Relaxation is the name of the game with flotation therapy, also known as "sensory deprivation." It's a revolutionary treatment that combines all your favorite self-care techniques — warm baths, digital detoxes, nostalgic thoughts, and a spa-like atmosphere. How does it work? The flotation technician dims the lights as you simply float on your back in a shallow tank of water packed with salts, aromas, or other substances, depending on your location. There's no cell phone to reach for or sensory distractions from the outside world. You're alone with your innermost thoughts in a dark and silent pool for up to an hour, and you can use the time however you'd like.
Maybe you'd like to meditate and practice gratitude, focus on your goals, or simply lay back (literally) and think about nothing. It's entirely up to you. The benefits of flotation therapy are mainly internal — relieving stress, anxiety, and depression and helping you sleep better. It can also help to stimulate creativity, improve mental clarity, and deepen your meditation and gratitude practices. On the physical side, many believe flotation therapy can also help to soothe chronic pain, increase energy, and strengthen the immune system for some individuals with the proper plan.
What are the best ways to use flotation therapy?
For the best results, we'd recommend visiting a spa or specialty location for your flotation therapy needs. They're equipped with the proper lighting, equipment, and more to provide the most relaxing experience! However, you can also purchase an at-home sensory deprivation float tank for regular usage. They're similar to your bathtub, sure, but you can't be reading any magazines or scrolling through Instagram as you float. The whole point is to be alone with your thoughts. And you can float as often as you'd like if you purchase a tank for your home.
Why cold and flotation therapies are popular
Why does it seem like more people are realizing the benefits of cold and flotation therapies? One word; accessibility. Cold therapy was previously reserved for movie stars like Joan Crawford, who believed that splashing her face with icy water would smooth and brighten the skin. From cryotherapy chambers and chilled eye masks to ice globes and old-fashioned cold showers, the impact of freezing on your skin can be mind-blowing. Flotation therapy was once new territory that appeared intense or even a bit scary until people jumped in and realized it's exactly what they need. Once you try these wellness therapies, we think you'll agree. These are versatile treatments that we all can enjoy.