Beyond the Couple's Massage
Published: Saturday, January 14th 2017
in Spa
---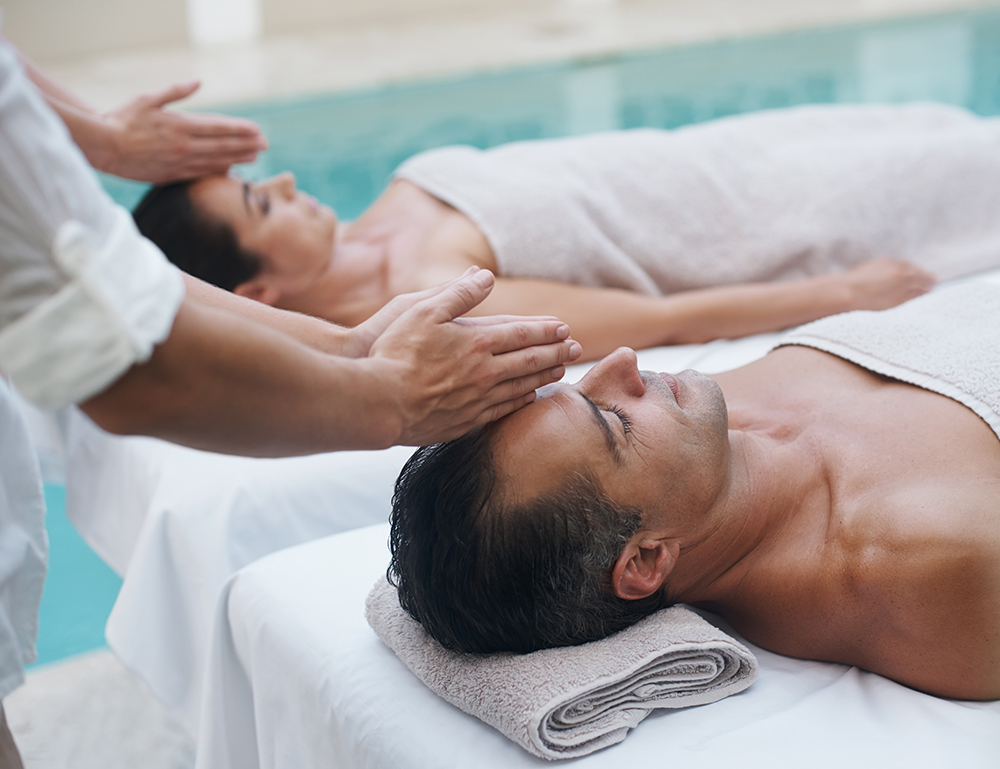 Spa treatments for him and her have come a long way from the ubiquitous couple's massage.  We're not implying massage treatments for couples aren't popular–a quick search on Spafinder.com shows 5,000+ spas offering this service–but today there are a wealth of fun, romantic and exciting spa experiences that can be enjoyed in tamden. Here are just a few possibilities, and we encourage you to use your imagination and explore the many options for spa-ing together.
Ancient& Authentic:  Couples have enjoyed relaxing together for thousands of years, and the famous Ojai Valley Inn in Ojai, California, taps into the quest for ancient and authentic experiences with Kuyam, a Chumash Native American Indian word that means "a place to rest together." Ojai Valley's Kuyam treatment combines the therapeutic effects of desert clay in a sauna-like environment infused with essential oils, intense dry heat and inhalation therapy.  Couples can also enjoy a private Kuyam and a 50-minute massage in the couple's suite – not to mention the fun of slathering mud on each other!
Amp It Up: The Canyon Ranch Spa Club®, at the Venetian® and the Palazzo® in Las Vegas, Nevada, Experience for Two begins in the couple's ritual room with a hair and scalp massage.  As this ahhh-inducing treatment takes effect, you and your partner enjoy a full-body exfoliation, followed by a shower for two, plus a scented bath in the hydro tub.  And then…a full-body massage enhanced with hot stones. Silent, solitary spa experiences have their place but this is couples' heaven.
Side by Side, Face to Face:  Mani/pedis and facials are a great way to introduce your partner to the benefits and pleasures of caring for skin and nails–especially if he is a guy's guy who wouldn't dream of having a pedicure on his own. When you book the appointment, describe the experience you'd like to arrange and ask for suggestions that will enhance his experience, like an extra leg massage. Trust us, he will be hooked.
Let It Rain: Water experiences, like the Water Journey at Lapis, the Spa at Fontainebleau, Miami, are a favorite way for couples to enjoy spa time together.  From the Elements Rain Tunnel to a Energy Deluge Shower to the Bleau Rain Room, the Water Journey can be enjoyed on its own or before or after a couple's massage or a couple's scrub or a couple's facial….you get the idea.
The Adrenaline/Zen Spa Cocktail: The one-two punch of an adrenaline rush (think a class with Cirque du Soleil or white knuckle ice driving) followed by a massage is a potent mind-body cocktail tailor made for couples and a powerful way to get outside of the spa box. See Spafinder's Adrenaline/Zen Trend for ideas and inspiration.
Spas are a respite from everyday life but they also offer fun–and intimate–experiences for couples as more spas design special suites and create spa treatments and rituals with both of you in mind.