Strawberry Moon; Connections, Intentions and Rituals
---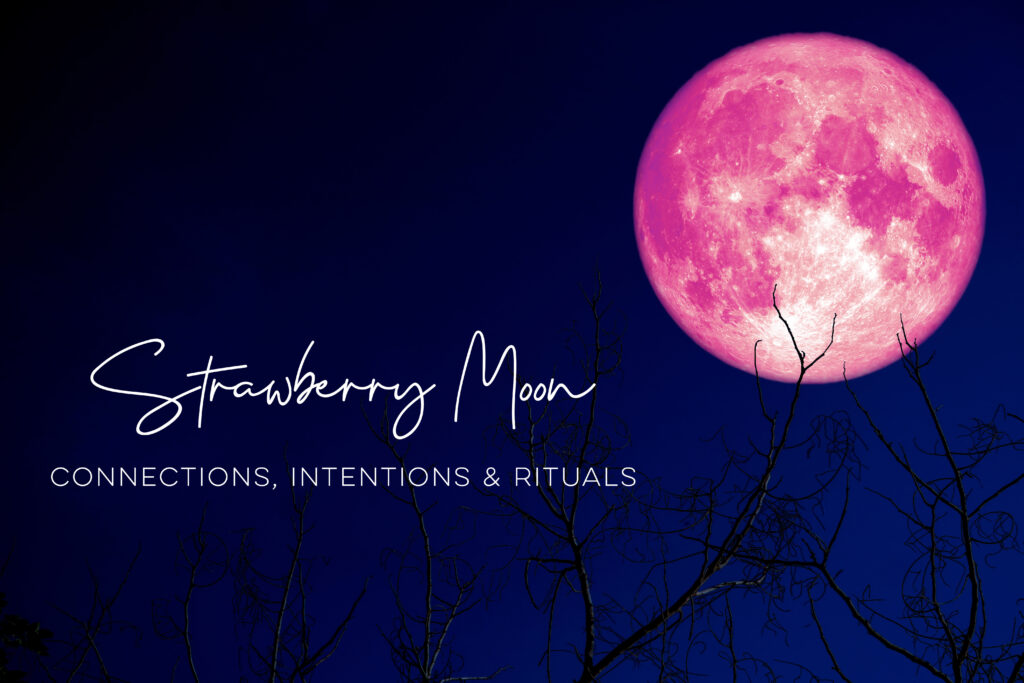 Native American tribes called the June's full moon the Strawberry Moon because the Algonquin Indians memorialized collecting strawberries during this time. June is also known for the month of weddings, named after the Roman Goddess of marriage Juno. Roses also come to life during this time, giving the Strawberry moon, the name Rose Moon as well.
The moon has two phases, waxing which is when the moon is on its way to being full and waning. The latter is symbolic in the closing of a chapter or finally reaching a goal to begin anew. This process generally lasts three days. According to the Farmer's almanac, this June, from the wax to the wane we will receive no rain.*
So what's so important about the full moon this June? Well given that we've been through a whopper of a year this 2020 so far, we thought it might be nice for us to refocus our energies, practice a ritual or two and potentially set the tone for the rest of the year.
Moon Rituals to Connect & Set Intentions
During the full moon, it's the perfect time to cleanse the air, set intentions and love the skin you're in.
Saging & Smudging:
Some say cleanse, we say it is a prime time to sage or smudge.
Before the practice, take some time to consider your intention, set it and, if necessary, write it down.
Some ideas for intention setting might be to remove toxic energies or relationships from your life, another might be to begin a healthy nutrition practice, dedicate an hour a day to self care or to provide self care to someone else.
Say it aloud and make sure it aligns with your goal. If it does not, then simply rewrite it and practice again. Do overs are often necessary.
Once you've set your intention, meditate on it. Speak it out loud, say it internally and pause to really consider it.
On the date of the full moon, simply grab your sage, light it up and walk around your room or home, focused on your intention. Speak it aloud if you like to share with others or simply focus your mind on it.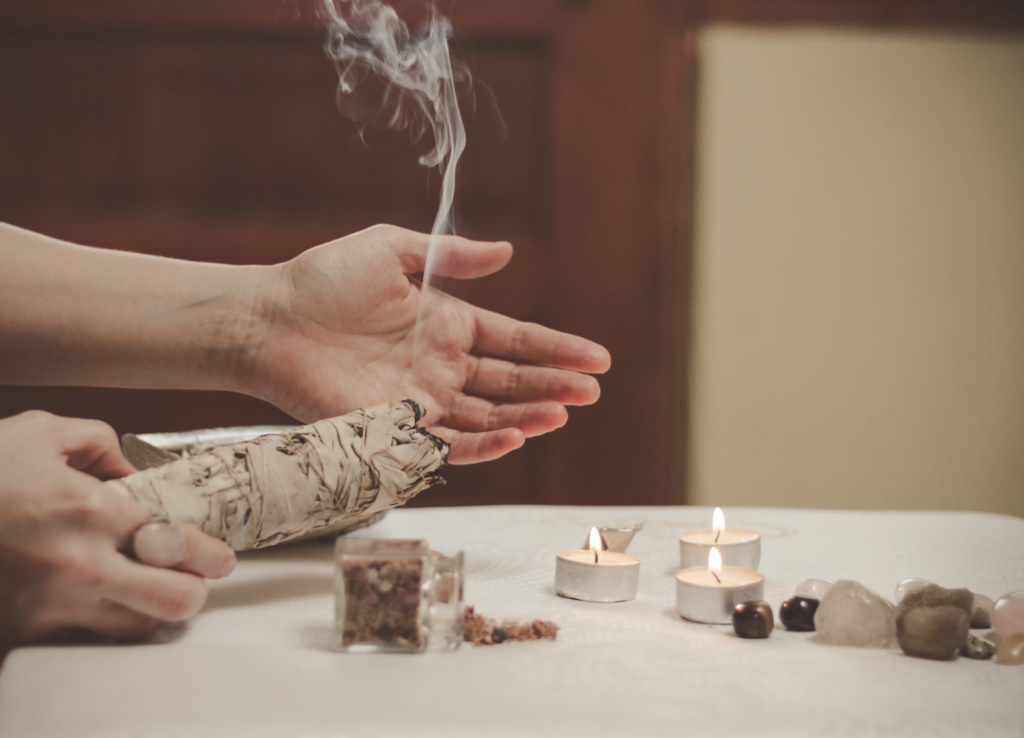 Intention Setting
In the days leading up to the full moon, take a moment to outline your goals. The timing is right to consider how to best honor yourself and those you love in this latter part of the year. Take into consideration what you've learned so far and focus on how to have more of the energy that fuels your spirit.
Jot down your ideas.
Make sure to speak them aloud
Focus on the core thought and feeling behind them
Meditate on these thoughts during the full moon.
Rendezvous with Nature
Find an uninterrupted spot to celebrate the full moon. Whether it's outdoors in the forest, on an open grassfield, in the backyard or by the beach, harmony with nature is a key component to honor this time. This setting is ideal to speak your intentions, to meditate and/or to congregate those you hold dear.
Love the Skin You're In.
Full moons make for Skin Rejuvenation. The skin is said to be more absorbent during this time so consider enriching yours with essential oil treatments, soothing baths and moisturizing creams. The relationship between the moon and water is a strong one. Consider incorporating your essential oil in your bath and focusing on self care which could mean washing away toxic energy and hurtful habits to embrace positivity.
New Beginnings: Weddings were postponed for a few months this year. Let's renew our energy towards this celebration by putting forth positive wishes towards those uniting in the sanctimony of marriage. Welcome your life partner into your world by setting intentions for longevity and harmony. Marriage is a union where two hold each other in times of prosperity, in health and in the varying peaks and valleys of life itself. For those who've put a hold on this ritual, embrace it, set an intention to manifest it and honor it's presence in your life.