The Future is Female— Celebrating Women's History Month & Beyond
---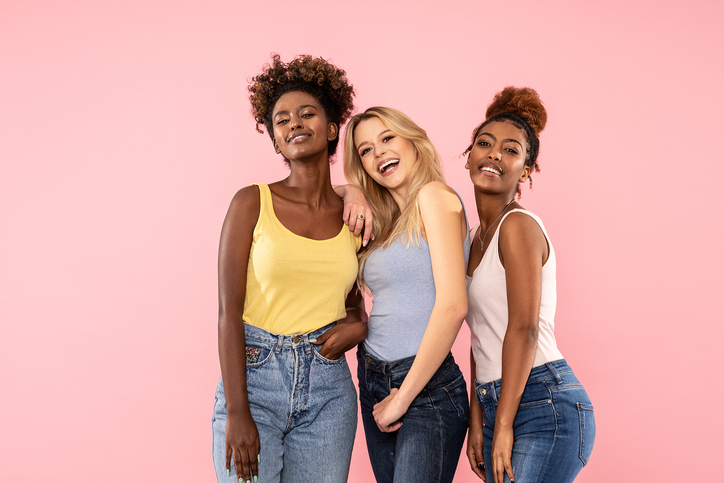 Women's History Month has arrived. March is a time to celebrate the greatest triumphs of the women in our lives. And it's time to honor women who break down barriers and take a journey towards equality while inspiring confidence in others to do the same. The future is female, and Spafinder is thrilled to help spoil our strong women while joining the fight for equality. Of course, there are larger steps to be taken, but a massage, yoga class or manicure can go a long way for the #BossBabes. Plus, it's always a good idea to bond with your sisters, mothers, daughters, and girlfriends over a gorgeous spa day. Read on for a few sweet ideas to honor Women's History Month, and International Women's Day on March 8.
Donate to a good cause
One of the best ways to celebrate Women's History Month, and International Women's Day on the 8th, is to donate to a good cause for women and girls. There are always the bigger organizations that you may have heard about, like Planned Parenthood or Breast Cancer Research Foundation. However, you may benefit most from finding a local charity that needs more support. Dress for Success provides work attire for women, Nomi Network's vision is a world without slavery through continued professional and personal support. Equality Now has a mission to close the gender gap for good. There are many other charities to choose from on the official website for International Women's Day, and you can make a major difference this March with your donation.
Celebrate the #BossBabes
It's always a good idea to shop from small businesses, especially women-owned shops that showcase their creativity and innovation. In the mood to buy some beautiful wall art or a beanie to get you through the colder days, this March? Buy them from a local painter or knitting enthusiast rather than a big retailer. This helps to support the #BossBabes in your life who are doing what they love, and makes a small yet powerful contribution to Women's History Month.
You can also head to the best women-owned spas and salons for a self-care day. Did you know that the global wellness/spa industry is expected to grow to $7 trillion by 2025? This is, in large part, due to the powerful women who run wellness facilities and inspire confidence in their fellow females. And you can give back with a beautiful shoutout. We urge you to post a photo of your fabulous results (blowout, anyone?) on social media for all your followers. This serves as an example of women lifting each other up, and brings more business to your favorite female entrepreneurs.
See your girlfriends more regularly
Listen, we understand that adult life is very busy. You're dealing with work, relationships, parenthood, and more. However, you can still make time for those who matter the most during Women's History Month. And also for the months long after March. Set up a standing reservation every four weeks with your local female friends, promising to meet up for dinner, drinks, a movie, or even a massage to catch up. Hint, hint: a Spafinder gift card is the best gift for your group of friends on International Women's Day. You can also schedule a Facetime call with your far-away girlfriends to show your gratitude. (After all, what would life be like without favorite women?) It's a sweet and simple gesture that most can follow through on, and we can't wait to see you at the spa this month.
Research inspiring women of the past
There are thousands of highly important women that have had a major impact on the world as we know it. Unfortunately, most of them don't make it into our history books. Give yourself an enriching homework assignment this March by learning in-depth about these female leaders for Women's History Month. Everybody knows about Gloria Steinem and Maya Angelou, but did you know that Simone de Beauvoir changed the face of feminism in 1949 with her book The Second Sex? Or Audre Lorde, who wrote poetry about her experience as a Black woman and lesbian at the height of the Civil Rights movement? There's a whole world of feminist heroes who are waiting to be discovered. And you can make it your mission this month and beyond to give them the attention they deserve.
Spoil yourself with a Spafinder Gift Card
Believe it or not, you are an integral part of Women's History Month. The goal is to "include women in the sequel," as Angelica Schuyler sang in the hit musical Hamilton. You can help move towards this goal each day in the smallest ways. An uplifting compliment to a stranger, a promotion at work that inspires fellow women, parenting a strong girl that transforms into an amazing woman… the list goes on and on. Therefore, you totally deserve a spa day to celebrate yourself on International Women's Day. Stock up on Spafinder Gift Cards, and head to the local wellness center, There you'll receive anything from a Swedish massage and steam room session to a much-needed weekend getaway for you and your crew. Self-care is essential all the time, but International Women's Day is a time to treat yourself. Go for it, girl!