Editors' Picks: Our Favorite Beauty & Wellness Products of 2012
---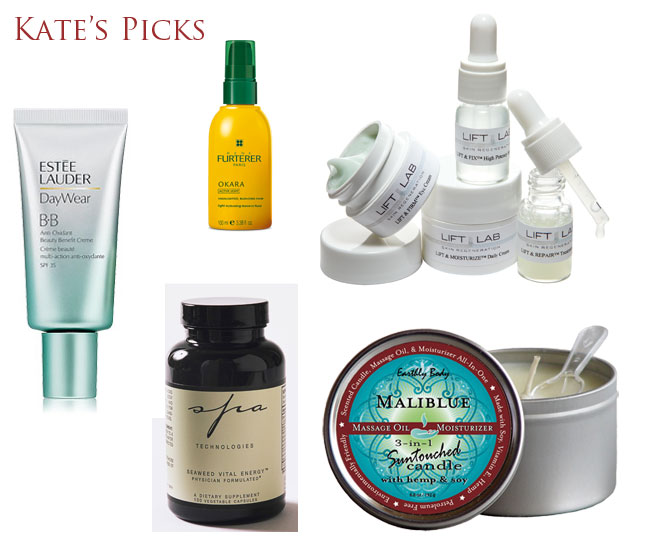 This past year was a whirlwind, and the new products that emerged in the marketplace were no exception. As with every year, we rounded up some standout products that we couldn't get enough of in 2012. Perfect for gifts or a gift to yourself, give these products a try!
Okara Active Light Activating Leave-In Fluid
Nature truly does pack a punch with this hair product, which incorporates okara (derived from soybeans), acacia honey and vitamin E extracts to help us blondes and those with highlighted tresses stay, well, blonde and highlighted. The product (an aromatic blend of grapefruit, peach, raspberry and rose) illuminates my locks and lengthens the time between salon touchups. 3.4 oz., $26; www.renefurtererusa.com
Estée Lauder Daywear Anti-Oxidant Beauty Benefit Creme Broad Spectrum SPF 35
Yes, I'll admit it; I've jumped on the BB bandwagon. There are a lot of BB products out on the market, but Estee Lauder's all-in-one version is lightweight yet hydrating enough that I'm able to use it during any season. Its flawless way of covering any imperfection (so concealing I don't even use foundation!) while protecting my skin proves that BB cream is sure to be not a trend, but a beauty practice that lasts. 1 oz., $38; www.esteelauder.com
LIFTLAB Travel Kit
Travel light takes on a whole new meaning, with LIFTLAB's anti-aging collection available in bite-size carry-on convenience. The kit's four products—LIFT & FIX™ High Potency Solution (.14 oz.) LIFT & REPAIR™ Treatment Serum (.14 oz.), LIFT & MOISTURIZE™ Daily Cream (.27 oz.) and LIFT & FIRM™ Eye Cream (.14 oz.)—contain Cell Protection Proteins™, advanced anti-aging beauty ingredients formulated with potent antioxidants, essential vitamins and natural minerals. Luxury yet TSA compliant. 0.7 oz., $20; www.theliftlab.com
Spa Technologies Seaweed Vital Energy™*
I discovered these vegetable capsules nearly one year ago following a visit to the Spa Montage locations in Beverly Hills and Laguna Beach (which promote the Spa Technologies brand in treatments and products), where my therapist touted the benefits of seaweed—and I've been taking them ever since. The vitamins are designed to deliver nutritional support for body metabolism, colon function and antioxidant support, and are appropriate if you're engaged in such initiatives as body cleansing or weight control (and the capsules are so thin, it doesn't seem like a pain to take them). 1 fl. oz., $27.50; www.spatechnologies.com
Earthly Body 3-in-1 Suntouched Candle
My sister picked up one of Earthly Body's candles for me at a cute little beauty boutique in Franklin, Tennessee, and now I'm obsessed. Made with soy, vitamin E and hemp, this non-toxic and 100-percent-vegan massage oil candle is meant to be lit before a shower or bath, which gives it time to melt into a warm, silky massage oil. After drying off, use the little plastic spoon to apply ½-1 teaspoon of the oil to hands or legs. Nearly 24 hours later, my skin still felt soft and smelled yummy. Size and scents of candles vary, $15.99; www.earthlybody.com
Objects With Purpose Wearable Candles
After burning just a sample of these 100-percent all-natural (now vegan!) candles, I was hooked on the comforting aroma alone, not to mention the fact that the solid wax can be used as perfume and the melted wax as massage oil. I've tried most of the scents now, but I always go back to Gifted—a blend of white tea, fig and tobacco, the perfect mix of musk and comfort that makes it a must-burn on fall and winter nights when you just want to curl up with a book. $24 for the medium size; www.objectswithpurpose.com. You can also purchase from these California locations.
LUSH – Roots Hair Treatment
For me, there is almost nothing better than a good hair day and since using Roots Hair Treatment by LUSH, I've been having a lot of them. Roots works on just that: the roots of your hair to make them healthy and revitalized, which leads to serious shine and va-va-volume—especially good for those with "thine" hair (LUSH's word for thin + fine, aka—me). Thanks to peppermint and spearmint oils, the mask (which you leave on for 15-20 minutes in the shower) tingles and cools your scalp, and we all know the tingles mean it's working. 8.4 oz., $19.95; www.lushusa.com
Skindinavia Makeup Finishing Spray
Once upon a time, I was a total finishing spray naysayer. I didn't believe a few spritzes would ever keep my polished morning look in place all day long…and then came Skindinavia. Many products I'm sent to test I will use, love and then move on to something new. Not so with this miracle worker —I ordered a bunch after I ran out, and I am not ashamed to say I will be a lifer. Recently I have been using it as a primer as well, which seems to defeat the purpose yet it's working even better; I have a fresh face of makeup long after I've gotten home from work. This is a must for anyone that goes from conference rooms to cocktails and doesn't want to lug around her makeup bag! 8 oz., $39; www.skindinavia.com
L'Oreal Concentrated Lash Boosting Serum
In my personal opinion, no look is complete without a set of lush, long lashes, and for the longest time, I would not go out without gluing on my very own. But what any longtime falsies-wearer will tell you is that after enough time, you start ripping your own lashes off with the fake ones. I realized my faux fringe was best left to extra special occasions and invested in lash serums to boost what I was born with. After trying more than my share, I realized that drugstore beauty had prevailed, and the go-to is L'Oreal's Concentrated Lash Boosting Serum. Thanks to this serum, I've been asked by more than a few people if my real lashes were, in fact, real, since they've now gotten just as lush and long as the falsies I once glued on. $14.95 for one tube; www.lorealparisusa.com
Natura Bisse Lip Recovery Balm
Easily the BEST secret weapon against chapped lips, Natura Bisse Lip Recovery Balm perfects my pout in the summer from sunburn and in the winter from the bitter cold, and frankly, I don't know how I ever survived so long without it. Within seconds of putting it on the balm melts into your lips, plumping and smoothing them into complete restoration. Plus, its creamy texture makes it the ideal base for your favorite lip color. 0.3 oz., $65; shop.naturabisse.com
AMOREPACIFIC Tinted Treatment Moisturizer
This tinted treatment moisturizer is a dream. Providing sheer coverage, moisture and antioxidant protection all at once, I'm in love with AMOREPACIFIC's Tinted Treatment Moisturizer and the dewy, fresh look it gives my skin. Using hydrating green tea and bamboo sap, the formula also stimulates skin's natural hyaluronic acid and collagen production. Talk about the full package! 1.6 oz, $70; www.nordstrom.com
Read more about AMOREPACIFIC products in our roundup of the Best of Asian Beauty Products!
Fresh Sugar Rose Tinted Lip Treatment Sunscreen SPF 15
I love how silky smooth this lip treatment goes on, and the Rosé shade is perfect for a little color boost that's not as committal as lipstick. Nourishing, hydrating and protecting (let's not forget that your lips need SPF too!), these pout enhancers are enriched with nourishing sugar (a natural humectant that ensures long-lasting moisture), hydrating meadowfoam seed oil and apricot kernal oil, anti-aging vitamins and essential year-round protection from damaging UV rays. If you're looking for a darker shade for winter, get it in plum! 4.3g, $22.50; www.fresh.com
Miraval's Mindful Eating Book
When I'm in a pinch for a delicious and healthy recipe, I love to turn to Mindful Eating by Miraval Resort & Spa in Tucson, Arizona. The beautiful, first-ever cookbook from this spa was released just this spring and contains 200 recipes, simple techniques and was written under the direction of Miraval's Executive Chef Chad Luethje and the resort's culinary, beverage and nutrition teams. From Black Kale Salad to Chocolate-Cranberry Coconut Macaroons (and even recipes for unique dishes like Skillet Seared Elk with Roasted Shallot, Agave and Blackberry Sage Compote and Navajo Lamb Stew with Toasted Tortilla Chips), you're sure to find a few recipes that will tickle your tastebuds. $34.95; Miraval's online store.
Navitas Naturals Organic Maca*
Improved fertility, enhanced libido, increased energy and stamina and antioxidant support? Yes, please. I stumbled upon this root vegetable that is rich in vitamins, minerals and amino acids just this year. Notably not new though, Peruvians have used maca for generations to enhance general health, increase energy and stamina, and to help treat the symptoms of menopause and low libido for both men and women. You can get it in powder form to sprinkle into yogurt, smoothies or more, and bakers, you can substitute half of the flour in a recipe with maca! Maca is also available in easy and convenient capsule form. Navitas Naturals offers USDA organic maca in both powder and capsules, and in raw and gelatinized. Organic raw powder, 7.1 oz., $17.99; organic raw capsules, 100 capsules, $14.99; www.navitasnaturals.com
Threads for Thought Sustainable Apparel
At a recent Whole Foods Whole Body media event, I got a sneak peek at what's to come, including Threads for Thought, a men's and women's sustainable fashion line with anything from sweatshirts and tops to leggings, skirts and fleece fingerless gloves. I loved the leggings, which will be exclusively sold at Whole Body and feature the bold patterns that are all the rage right now. They're perfect to wear under your ski pants for a day on the slopes. Fabrics are made using the most sustainable materials possible, such as organically grown cotton, and polyester derived from recycled water bottles. Fabrics are dyed using low impact dyes. Leggings, $29.99 at select Whole Foods locations; hoodie, currently on sale for $19.99 at www.threadsforthought.com
As always, contact your physician before trying a new wellness product.