Kinesiology Tape Combats Wrinkles: Not Just for Sports Anymore
---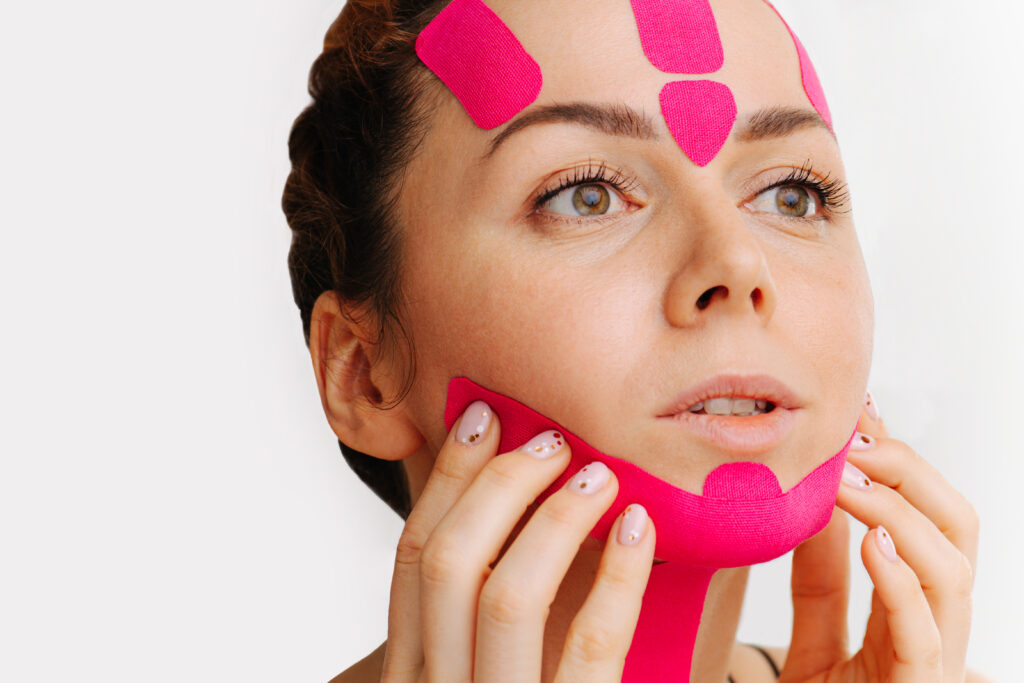 The amount spent in efforts to prevent aging is astounding—the global anti-aging products market is expected to hit US$83.2 billion by 2027! And believe us, we're adding our fair share of funds to that impressive amount. What we'll do for youthful, glow-y skin: Microneedling. Botox. Hydrafacial. Kinesiology tape …wait, what?
That's right. While the practice of face taping isn't new to us per se (we've tried the similar concept known as Frownies facial patches), kinesiology tape is unfamiliar (perhaps innovative) territory we're seriously considering.
Who else thought this multifaceted type of tape was merely for athletes like Michael Phelps?
What Exactly Is Kinesiology Tape?
For those who don't know, kinesiology tape is "a therapeutic tape that's applied strategically to the body to provide support, lessen pain, reduce swelling and improve performance."[1] (Yes, we had to look it up, and, yes, kinesiology tape differs from traditional athletic tape.)
Its thin, stretchy makeup mimics skin's elasticity, while its flexible approach enables wearers a superb range of motion. Kinesiology tape is used for the body, but it's also often applied on the face—albeit not necessarily as a wrinkle remedy, but rather as a solution to alleviate headaches, sinus pain and as a mask to protect winter sports enthusiasts from nature's elements. (We told you this tape was multifaceted!)
And apparently so diverse it's entered the cosmetology-slash-anti-aging sector.
Below, we list three brands offering tips and/or tutorials on how kinesiology tape can tackle wrinkles.
And honestly, these tape manufacturers may be on to something: A roll of tape is far more inexpensive than a cosmetic treatment.
Where to Find Kinesiology Tape for Your Skin
SpiderTech Kinesiology Tape
Key brand takeaways:
According to SpiderTech, its tape can help improve fluid circulation, thereby lifting skin and smoothing wrinkles over time
Tape can diminish the appearance of lines and smooth deep nasolabial folds
Created exclusively out of cotton, void of synthetic materials; two hypoallergenic adhesive options also available
Ability to cut tape into any shape that works best for you
Watch the SpiderTech video on alleviating pandemic skin issues with their tape.
Risori The Ultimate Facetape
Key brand takeaways:
Risori states the wavy pattern on its therapeutic muscle tape promotes circulation to specific facial muscles
Tape improves the look of fine lines
Claims to be the "first face tape of its kind"
Made of stretchy fabric (97% cotton, 3% nylon); hypoallergenic adhesive, acrylic based and latex free
Can be worn up to eight hours (best while sleeping, but you can even wear in the shower)
Watch application tutorial-slash-informational video.
Ares Tape USA
Key brand takeaways:
An Ares blog post suggests the brand's tape can strengthen muscles by increasing blood circulation in areas between the eyebrows, corners of eyes and corners of mouth
Read application instructions here.
What do you think about using tape to combat wrinkles? Tell us your thoughts!
---