The Date to Motivate, with a Massage!
Published: Tuesday, September 21st 2010
in Fitness
---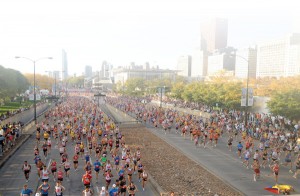 10-10-10 in Chicago is "The Date to Motivate!" This October 10th, athletes inChicago will run the race they have been training for − the Chicago Marathon. In honor of the race, Chicago spa Tiffani Kim Institute has the perfect treat for the city's runners: The Marathon Massage!

Effective for all types of athletes, this is an especially great massage for runners. The Marathon Massage combines deeper tissue manipulation with a customized amount of stretching, lifting, and controlled breathing. Helping to restore balance and equilibrium, the gentle stretching and release techniques are perfect for those who have been training hard for weeks and even months! "Myofascial compression will release adhesions while trigger points and transverse traction utilized on areas of repetitive strain will provide maintenance for your marathon run," says the spa.

The massage, great for before or after the marathon, is $90 for 50 minutes and $115 for 80 minutes.  Tiffany Kim Institute is also offering a discount on their double-massage gift cards, getting you a card for two 50-minute massages for just $150 or two 80-minute massages for $190! So treat the athlete in your life to a relaxing and restoring massage before or after Chicago's Marathon on 10-10-10!