If the Shoe Fits: Picking the Right Gear to Optimize Your Workout!
Published: Wednesday, January 15th 2014
in Fitness
---
by Danielle Dunn, Fitness Director at Hilton Head Health, MBA, B.A., ACE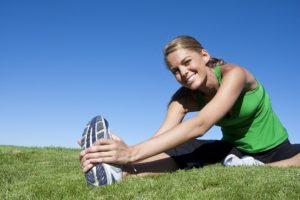 Having the right shoes and workout apparel is an essential part of being ready to exercise by feeling comfortable and confident at the gym. It is very important to be particular about what you wear on your feet and feel comfortable in the right shoes. First and foremost, your feet support you all throughout the day. Furthermore, exercise adds more contact and force to your feet and ankles. Having a stable shoe with the right amount of cushion, support, and protection is key.
The shoes you choose depends heavily on your exercise routine because certain activities require more lightweight options while others more ankle support. This means that after deciding the exercise you will be doing, it's important to find the right shoe which supports the kind of foot you have (arch, lack of arch, pronation – foot rolls inward or supination – foot rolls outward) and supports you on all sides. Having multiple pairs of shoes is also very beneficial. Either for doing a variety of exercises or for being active every day, having at least two or three pairs which you can rotate is most effective for your feet. This method is best because it preserves the life of the shoe (sustaining your investment) and also improves the level of comfort and efficiency experienced during exercise. This will also help decrease risk of injury while ensuring your feet and body receive the most benefit from each type of exercise.
My favorite shoes are Asics. I have been getting these shoes for years because they have the best arch and inner ankle support. Asics offer a variety of styles for running, cross-training, being sport specific, and have several cushion and support varieties. My feet always feel fully supported in Asics and right now I alternate between a pair of Gel 1170 and pair of Gel-Pulse3.
Workout apparel is also important when exercising. Depending on your activity, you may want something that is loose fitting say for jogging or for Pilates/Yoga you may want something more form fitting. Women specifically want to make sure they have enough support and feel comfortable on the top and men on the bottom. The most significant feature for clothing that you want is it to be functional. Of course everyone wants to look fashionable and be wearing the hottest colors of the season, but being able to do the exercise you planned is the most important. My most favorite workout apparel is Lululemon and Under Armour. Lululemon's apparel is made up of a variety of high performance fabrics which are moisture-wicking, four-way stretch, breathable, and have a cottony-soft feel. The company carries alternative fabric lines which include: light fabric, sheer jersey, fleece, translucent, seamless, and swim fabric options too. Lululemon's fabric is long lasting, doesn't change or deteriorate in the washer/dryer, and withholds all its elasticity, feeling like the first day you put the clothing on each and every time.
At work our uniforms are from Under Armour which is another great workout apparel company.
The tanks and tees are stretchy, fit comfortably, are moisture-wicking, quick drying, and are soft and breathable.
With the right clothing and right shoes, it puts you in the right path to exercise!