Eating with the Seasons: 6 Foods to Nourish Your Body This Spring
Published: Wednesday, March 27th 2013
in Nutrition
---
by Rachel Chemerynski
One simple step you can take toward a healthier you is eating with the seasons and since last week kicked off the beginning of spring, the time is now!  Not only is this method a no-brainer (who doesn't love fresh, seasonal produce?), but it's also good for your overall wellbeing. So what does this entail, exactly? Each season—spring, summer, fall/winter—has its own naturally harvested crops, and according to Ayurvedic principles it's in your best interest to eat accordingly—the way nature intended us to. Whether you shop locally from a farmer's market or hit your neighborhood grocery store, we've got six in-season foods to help get you started now!
Fill your grocery bag with these six spring items:
1.      Asparagus: While this lean, green veggie may not have been a childhood favorite, it's definitely on your side when it comes to your health. Packed with antioxidants and vitamins K and C, these green spears are a powerhouse of wellness. Roast and serve as a side for dinner, incorporate into a seasonal risotto, or mix in with your morning eggs.
Make this: Chilled Asparagus Salad from Sundara Inn & Spa
2.      Lemons: While these bright yellow fruits may remind us of 25-cent summer lemonade stands, they're actually in their prime right now. Add fresh lemon juice to stir-fries, homemade salad dressing, or a warm cup of water to jumpstart the day (while supporting your digestion, immune and lymph systems).
Make this: Homemade Frozen Mint Lemonade from Miraval Resort & Spa
3.      Leafy Greens: Dark leafy greens—like kale, collards, arugula and spinach—are jam-packed with chlorophyll, fiber, and phytochemicals, and are known to boost the immune system, purify the blood, improve circulation and even clear congestion (just in time for allergy season!)  While greens tends to be lacking in most diets, you can get your fix by making lots of salads, green smoothies, and stir-fries the next few months.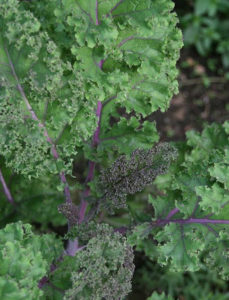 Make this: Arugula Salad with Roasted Tomatoes from Canyon Ranch
4.      Garlic: While this odorous root may not be the best choice for date-night, its anti-inflammatory, immune-boosting properties make it well worth it. Plus, it's a natural aphrodisiac! Add chopped or crushed garlic into homemade sauces, dressings, and soups for a flavorful boost.
Make this: Bucatini Pasta with Wild Mushrooms, Black Garlic & Lemon Zest from The Langham Huntington, Pasadena
5.      Celery: From Ants on a Log to Celery Soup, this green vegetable is a staple in most homes—and for good reason! Celery is loaded with fiber, potassium, and vitamins K, A, and C, making it a nutritious addition to your spring diet. Plus, it's been said to help alleviate bloat (acting as a natural diuretic), just in time for spring break!
Make this: Bloat Away or Body Armor Juice from COMBO Shambhala Estate.
6.      Peas: Pass the peas, please! While teeny, these sweet little pods come jam-packed with nutrients, containing health-boosting antioxidants along with a generous amount of Vitamin K and C, and energizing protein. In fact, these mighty gems are even squeezing their way into certain protein powders! Experiment with a variety of peas, from snow to snap peas.
Make this: Raw Mushroom Salad with Snow Peas and Tahini Dressing from Gwinganna Lifestyle Retreat
Do you eat according to the seasons? What spring foods seem most appealing to you? Share your thoughts below, and stay tuned for more ideas on eating and living with the seasons!
You might also like:
Healthy Eating at the Office: Easy & Tasty Breakfast & Lunch Recipes
Mediterranean Diet Proven to Successfully Prevent Heart Disease! Plus, Three Recipes
The Budget Diet: How to Eat Healthy on a Budget
5 Healthy Foods for Fighting Cancer You Should Shop for Now
Change My Breakfast: 3 Deliciously Healthy Oatmeal Recipes
Rachel Chemerynski is a certified health coach and freelance writer living in Boston, Massachusetts. She is the founder of Healthy Chicks, a wellness community dedicated to inspiring twenty-something women to live happier, health